The folks running new REIT Silver Bay Realty Trust (NYSE:SBY) are very confident in their ability to put together a profitable business by purchasing, fixing up and renting out thousands of single family homes. While I am not a complete skeptic, I am very curious how long it will take Silver Bay to become cash flow positive and then whether the company can generate enough cash flow to pay a dividend that will be attractive to investors.
After going public in December 2012, Silver Bay Realty just released the company's 2013 first-quarter earnings results. A full quarter of results gives us some numbers to look at and possibly start to extrapolate how long it will take to go from cash flow negative to positive. Here are some hand picked numbers from the earnings press release and presentation information.
Homes Inventory Grows Significantly
During the first quarter Silver Bay Realty purchased 1,215 homes, increasing the inventory by 35% to a total of 4,594. The balance sheet listed net investments in real estate at $579.2 million, up from $420.6 million at the end of 2012. As of the end of April, the company owned over 5,000 homes with another 370 under contract to be purchased.
Leasing activity for the quarter produced 810 new leases, up 27% from year end to a total of 2,413. The lease total produces an overall occupancy rate of 53%, but the number was 92% of the homes that were classified as "stabilized" or renovated and ready to be leased.
A final ownership metric reported by Silver Bay Realty is homes owned for more than six months. Of the 2,522 homes in this category, 2,034 or 81% were leased at the end of the quarter.
Financial Results and Analysis
Over the course of Q1, cash and cash equivalents on the balance sheet declined to $92.2 million from $228.1 million. Of course, most of the cash was used to buy properties, but this drop shows a burn rate of $136 million for the quarter and leaves less than $100 million in the bank. The company just recently secured a $200 million revolving line of credit, but that and the cash on hand provides for only another two quarters of asset growth at the current rate. It is possible that once the bulk of the IPO cash has been invested, Silver Bay Realty will shift focus to getting the portfolio rented out and managed.
Reported revenue for the quarter was $7.7 million, of which $7.3 million was rental income. Expenses minus depreciation and amortization were $10.3 million, producing a negative cash flow of $3 million on the operations side of the business. Also note that $7.3 million of rental income is just 1% of the assets on the balance sheet, indicating a 4% annual revenue on assets for the first quarter.
The $7.3 million of rental income divided by the 2,400 rented homes and the three months in the quarter produces an average per lease of $1,014 per month. The average monthly rental rate for leased properties is $1,156, so if every leased property had been rented for the full quarter, rental income would have been about $8.4 million.
Extrapolating for another quarter by adding an additional 1,000 leased homes at $1,000 per month increased rental income by another $1 million, bringing the forecast total for Q2 to $9.3 million. You can see where this is going, and if expenses stay level to slightly increasing each quarter, it will be the third quarter of 2013 before Silver Bay Realty turns operating cash flow positive. Which is good, because at the current rate of purchases and negative cash flow, the company would run out of the now available cash sometime in the same quarter.
Conclusions and Forecasts
At the current market cap of $750 million, Silver Bay Realty needs $37.5 million of annual free cash flow, or in REIT speak, funds from operations, to pay a 5% dividend. If you have 5,000 homes rented at $1,150 per month, quarterly revenue would be $17.25 million or $69 million per year, so expenses of $10 million per quarter, there would be $29 million of FFO.
The questions are how fast the company can grow revenues and what happens to total expenses along the way. Right now I see net cash flow growing at $2, possibly $3 million per quarter, so it will take at least a couple of years before Silver Bay Realty can pay a 3% or 4% level of dividend based on the current market cap and the snapshot of information from the Q1 earnings numbers. It will be really interesting to see what happens over the next couple of quarters. At this point I see no compelling reason to invest until the trends clarify themselves.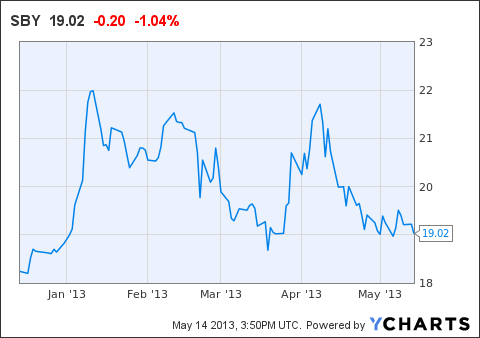 SBY data by YCharts
Disclosure: I have no positions in any stocks mentioned, and no plans to initiate any positions within the next 72 hours. I wrote this article myself, and it expresses my own opinions. I am not receiving compensation for it (other than from Seeking Alpha). I have no business relationship with any company whose stock is mentioned in this article.