Myriad Genetics (NASDAQ:MYGN) is up 23% just 3 weeks after my article dated April 22.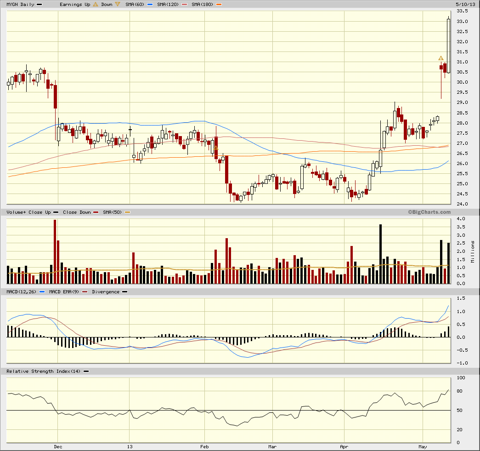 Click to enlarge
Q3 results and new developments
Results reported on May 7 were above expectations (revenue up 21%, earnings up 34%), and the company raised 2013 revenue guidance again, from $575-585M to $595-600M, and EPS guidance from $1.55-1.58 to $1.65-1.67.
Operating income was up 26%, but the buyback (realized at a very favorable average price of $21.65) added some power to earnings.
At the moment, the guidance for 2014 is just for growth in the low single digits, but it is clearly very conservative, given the new products for lung cancer and melanoma scheduled for 2014 and given the fact that R&D expenses are not growing faster than revenue and earnings.
Colaris test's revenue (Colaris is the test for hereditary colon cancer) was particularly strong, up 19%, and also the company had strong companion diagnostic services revenue, up 25%. The latter is only 5% of total revenue, but it is benefiting strongly from diabetes collaboration with Sanofi (NYSE:SNY).
BRACAnalysis, a test for breast and ovarian cancer, reported 9% growth on revenue and the related BART test 392% growth. BRCA testing has already reached 40% penetration, thanks to Medicare reimbursement. It was reportedly after this test that actress Angelina Jolie chose to undergo a preemptive double mastectomy recently.
These numbers show this is a growing business, where every segment is doing well. The growth is coming from increasing volume, not from increasing price; anyway the Obamacare had no adverse effect on prices, as they were confirmed for the old products. For the new items, of course, the price must to be negotiated and that is a work in progress.
Prolaris test for prostate cancer's prognosis was supported by a new article published in March by the Journal of Clinical Oncology; 3,000 tests have been ordered in the last four months, and a Medicare reimbursement, already under negotiation, could take place in 2014 fiscal year.
Finally, MYGN bought the exclusive worldwide rights to the MITF gene, which is utilized to predict hereditary risk from melanoma and renal cell cancer.
Supreme Court decision
This brings us to the question of the upcoming Supreme Court's decision. I am more confident now it will not be a big issue for the business, and not just because the method is protected by other related patents. Five claims are involving isolated DNA, as patent ineligible, being something existing in nature.
The company's defense is that isolated DNA does not exist in nature, but it is a result of human intervention. I see this as a weak argument, and probably MYGN will lose, because isolating an existing fraction of DNA is like cutting a branch from a tree, not a human creation.
Conversely, I see the company winning in the 4 claims involving cDNA (complementary DNA), because this is really something not existing in nature but a product of laboratory.
This product, the cDNA, is necessary for the method and in my view, if the related patents are confirmed, it will be enough to protect the test. Anyway, even if all the 9 patents will be nullified, there are other patents covering the method, so eventually, another company should find different methods and it is not easy.
So I would still buy MYGN on weakness given the good long-term growth prospect and the strong pipeline.
Disclosure: I am long MYGN. I wrote this article myself, and it expresses my own opinions. I am not receiving compensation for it. I have no business relationship with any company whose stock is mentioned in this article.