The BlackBerry Q10 has been released for a couple of weeks now, with the Z10 full touch screen device released worldwide. Reports have been coming in regularly with either positive or negative spin, with investors hanging on to every word. BlackBerry's stock price appears to defy logic at times with increasing short interest and options trading. Staying up to date with all the information on BlackBerry can be challenging at times and this article attempts to meet this need.
Peter Misek, Analyst for Jefferies during a television interview with the Business Network in Canada today reaffirmed that the BlackBerry (NASDAQ:BBRY) launch is going as expected. The only concern Peter Misek had was the delayed launch of the Q10 in the United States, but expressed that this was minor.
Gus Papageorgiou, MBA, CFA (Scotia Capital Inc. - Canada) stated in a research note on May 8th:
BlackBerry will hold its annual BlackBerry Live event in Orlando May 14-16. The keynote will be held on Tuesday, May 14 at 9:00 am EST

BES 10.1 to usher in mobile computing. Could add $0.75 in EPS annually. BlackBerry's updated server will allow iOS and Android devices to access corporate servers without the need for VPN. This makes BlackBerry's cross-platform solution very compelling and could help it gain market share in the mobile device management space.

BBM could go cross-platform. Because non-BlackBerry devices will be able to access BlackBerry's infrastructure, we believe the groundwork has been laid out to port BBM to other platforms. BBM could be used as incentive for enterprises to support BlackBerry Secure Work Space over competing solutions.

Update on BB10 volumes. We believe the company may give an update on BB10 volumes. The Q10 has been selling very well in the UK and Canada with stock outs at many locations. We estimate the company will sell approximately 3.6M BB10 devices in FQ1.

Significant upside opportunity. Buy the stock. We believe the Street's estimates for both hardware and services are too low. With the Q10 selling out and BES 10.1 providing cross-platform BlackBerry services, we believe BlackBerry is well-positioned to beat the Street. We maintain our Sector Outperform rating.
Gus Papageorgiou also reiterated a buy rating ahead of the Orlando BlackBerry Live developers' conference. The ScotiaBank analyst set a target price of $22.35 CDN.
Carphone Warehouse
On the Carphone bestsellers list the Z10 is rated 6th, with only the Samsung and Apple models listed higher. The Q10 is currently ranked 10th and has only been available for two weeks.
About 10 days ago, I noticed most stores were sold out of the Q10. Two days ago, 20% of the stores appeared to be sold out, and as of today only 10% of the stores appeared to be sold out. My impression is that the resupply efforts are successful and are meeting demand. The sell through also appears good as stores have been selling out.
Mobile Data Share
Last month, I wrote an article outlining BlackBerry's increasing market share by analyzing Internet traffic from various sources. I have included the month of May data in this article.
The chart below shows an 11.24% market share for BlackBerry via mobile browser data usage. The previous month in Canada was 10.93% for BlackBerry mobile devices and shows an increase. While the increase is moderate, the data continues to support the thesis that BlackBerry market share is increasing and devices are being adopted in the target markets.
Some Seeking Alpha readers' comments have alluded that the data being used may be inaccurate. While StatCounter data is shown, other data sources have been used to verify the data with a high correlation. Refer to the previous article for a more in-depth discussion of the metrics used, as well as the historical data.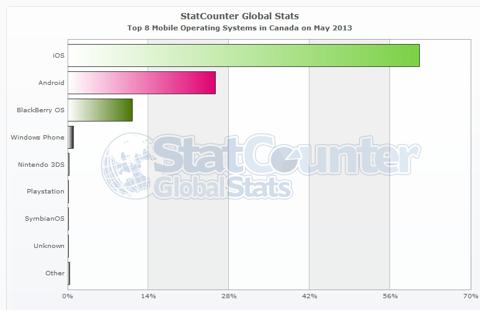 The United Kingdom BlackBerry market share data was 15.76% for the first two weeks of May. Again this data show a continuing adoption of BlackBerry devices. It is interesting to note that the mobile data market share is significantly greater than the Windows Phone devices.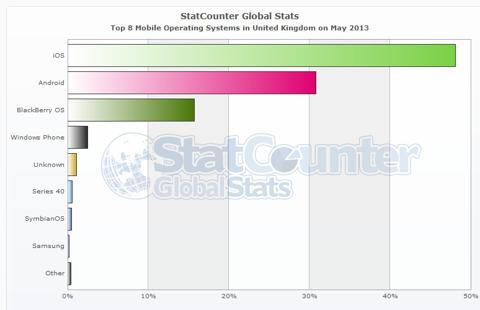 BlackBerry Live Conference
In Orlando Florida, BlackBerry developers are converging to discuss the latest BB10 technology. The conference has just started, and will be held over the next three days. While the conference just started, Thorsten Heins BlackBerry's CEO has already made some major announcements. The announcements are:
New BlackBerry Q5 running BB10 to be released this summer in emerging markets.
Over 120,000 applications developed for BB10.
Software update BB10.1 to be released for the Z10 touch screen device today.
Thorsten Heins differentiated BlackBerry as a mobile company only.
As more information becomes available this week, I will pass it along to my SA readers.
BlackBerry Z10 durable
This is the section where I will probably be receiving much criticism, but I will continue in the name of journalism and providing valuable information.
Last week while taking a relaxing bath, I decided that I needed to read the news with my new BlackBerry Z10. The new touch screen device decided it wanted to take a bath as well. While only submerged for 2-3 seconds (which is an eternity for electronics), I rescued my device from drowning. I quickly powered the device down, removed the battery and performed the necessary CPR.
I dried it over the next three days and was pleasantly surprised that my Z10 started up with no physical damage evident. The reason I am sharing this embarrassing moment is that it illustrates the durability of the new BlackBerry devices. While not designed to be waterproof, there is an element of water resistance that is welcomed. Additionally, being able to remove the battery from the Z10 device is an added benefit to ensure that none of the electronics were shorted.
And yes, I am fully aware that baths and electronics do not mix. We all have lapses of judgment; I once bought an iPhone!
Disclosure: I am long BBRY. I wrote this article myself, and it expresses my own opinions. I am not receiving compensation for it (other than from Seeking Alpha). I have no business relationship with any company whose stock is mentioned in this article.