T. Boone Pickens has lost a lot of money by investing big in the wind and solar sectors. After betting and losing big in renewable energy, he admitted in 2012 that he doesn't think the time to transition to wind and solar is now.
Philip Falcone is another big player, who has seen his fortune tumble lately. His company, Harbinger Capital Partners LLC made about $11 billion by betting against securities backed by subprime mortgages, but things have changed rapidly after a money-losing bet on wireless venture LightSquared Inc.
It seems that things have not been rosy for John Paulson either. Among other well known investors like George Soros and Jacob Rothschild, John Paulson, the founder of Paulson & Co., one of the world's largest hedge funds, has taken several wrong decisions and positions since 2011.
This proves the inherent risks of the markets, and how difficult it is to interpret them. Apparently, "the language of the market" has not been decoded yet.
Do Not Do It Like Paulson
1) In 2011, Paulson lost money. He became overconfident as to the direction of the economy and took a lot of risk. He bet big on a strong economic recovery, and his two largest funds, Paulson Advantage and Advantage Plus, lost 36% and 52% respectively that year.
Paulson piled into U.S. banks, saying they would be the biggest beneficiaries of an economic recovery in the U.S. He built up large stakes in Citigroup (NYSE:C) and Bank of America (NYSE:BAC), predicting in November 2009 that the Charlotte, North Carolina-based lender would almost double in value by the end of 2011 to about $30. Citigroup, which had earned the firm $1 billion in the first 18 months of holding the stock, soured in 2011 along with Bank of America, which lost more than half its value. He sold the stocks in Q4 2011, right before they rallied the following year.
2) The red streak continued into 2012, as he also lost money because of his overly bullish call on gold. He believed that gold was an excellent hedge against inflation and he purchased 4.53 million shares of SPDR Gold Trust for his $21 billion hedge fund Paulson & Co. That left a whopping 44% of Paulson's U.S. traded equities tied to bullion.
SPDR Gold Shares (NYSEARCA:GLD) has dropped more than 25% since late 2012, and Paulson's $500 million Gold Fund, most of it Paulson's own money, lost 27% last month, bringing the decline this year to 47%, according to Bloomberg.
3) Paulson has also picked the wrong companies from the gold sector. Paulson has loaded up on Barrick Gold (NYSE:ABX), NovaGold Resources (NYSEMKT:NG), and Gold Fields (NYSE:GFI). According to the most recent 13F, Paulson has nearly 36 million shares of NovaGold Resources in his portfolio. In early 2013, he was also holding a big position (28 million shares) in AngloGold Ashanti (NYSE:AU).
NovaGold's flagship asset is the 50%-owned Donlin Gold project in Alaska, with a total of approximately 34 million ounces of gold in Proven and Probable reserves. NovaGold also owns 50% of the Galore Creek copper-gold-silver project located in northern British Columbia, and the company continues to evaluate opportunities to monetize the value of Galore Creek in order to apply the proceeds toward the development of Donlin Gold.
NovaGold has fallen by over 50% since 2012, as the company has reported net losses and negative operating cash flow for the past several quarters.
Barrick Gold's stock has also dropped ~50% since 2012, and Citigroup made the situation worse by lowering the target price from $43 to $25 in late April.
In 2013, Barrick is trying to reduce its costs through its disciplined approach to capital allocation. Barrick launched a company-wide overhead review in Q1 2013, and reduced overhead costs by over $100 million for 2012. It also identified $500 million of further reductions to expenditures and has revised its full-year 2013 guidance. The total capex for 2013 will be $5.2-$5.7 billion from previous guidance of $5.7-$6.3 billion, and the exploration will not exceed $340 million from previous guidance of $400-$440 million.
However, it is encouraging that the company kept a low total cash cost of $561 per ounce in Q1 2013, and reaffirmed its 2013 gold production guidance of 7.0-7.4 million ounces at total cash costs of $610-$660 per ounce.
Barrick's assets expand from North and South America to Australia and Africa. This geographical diversification stabilizes earnings, as it helps the company balance temporary operating hiccups in individual markets.
Gold Fields and AngloGold Ashanti have dropped ~40% and ~45% respectively since late 2012. Gold Fields is an unhedged producer of gold with attributable annual production of ~2 million gold ounces from six operating mines in Australia, Ghana, Peru and South Africa. The company also has four projects in resource development and feasibility.
Gold Fields has been on a restructuring mode lately, and the recent shutdown of marginal production impacted negatively its total production in Q1 2013. The company plans to reduce near-mine exploration expenses by more than 50% this year to $28 million from $65 million spent in 2012, and the capital expenditure for international growth projects is also expected to be significantly lower than what was spent last year.
In Q1 2013, AngloGold Ashanti, which has producing assets that are primarily located in Africa, had significantly higher total cash cost per ounce than Barrick although it reduced them in comparison with 2012. In Q1 2013, the company's production was 899,000 oz at a total cash cost of $894/oz, compared to 859,000 oz at $967/oz in Q4 2012.
Given the recent weakness in the gold price, AngloGold is taking steps to control its operating costs and maintain a stable production for the remainder of 2013. In Q2 2013, the company's production is estimated to be at 900,000 oz -950,000 oz at total cash cost of $900/oz-$950/oz.
4) Moreover, Paulson bet against the euro and also shorted European sovereign bonds, including the Greek debt. He was also buying credit-default swaps on European debt, or protection against the chance of default. Spanish banks are of particular concern as their holdings of the country's debt and client withdrawals make them overly dependent on European Central Bank financing, Paulson told investors. He expected the euro to unravel, but that bet proved to be another big failure.
Do It Like Value Digger
I follow the commodities sector closely and my followers have reaped significant rewards in a very short period of time. I started writing for SeekingAlpha just eight months ago, and my followers have gained in a few months around 50% or higher on average from my bullish and bearish calls.
To name a few, my top bearish calls are the bankrupt GMX Resources that went from $7 to $0.21, Africa Oil (AOIFF.PK) from $10.5 to $6, Halcon Resources (NYSE:HK) from $8 to $6, James River Coal (JRCC) from $3.5 to $2, Uranium Energy (NYSEMKT:UEC) from $2.4 to $1.5, Forest Oil (NYSE:FST) from $7 to $4, BPZ Resources (NYSE:BPZ) from $2.7 to $2, and Eagle Rock Energy Partners (NASDAQ:EROC) from $10.3 to $8.5.
Meanwhile, some of my top bullish recommendations are C&C Energia which was bought out and went from $5.7 to $9, Bill Barrett (NYSE:BBG) from $16 to $21, Surge Energy (ZPTAF.PK) from $3 to $4.3, WPX Energy (NYSE:WPX) from $15 to $18, and Petrobras Argentina (NYSE:PZE) from $4.5 to $6.
A small sample of my articles related to the recommendations above are here, here, here and here.
Paulson continues to believe in gold, saying that it is taking longer for inflation to kick in than expected and that the Federal Reserve's printing of money is not yet finding its way into the money supply.
"Although inflation and inflation expectations remain subdued, which appears to have dampened the appetite for gold so far this year, we believe that ongoing central bank purchases and strong gold demand from China and India will help support the gold price in the near-term", Paulson & Co. said in a letter to clients last month.
This is why, I'll focus my recommendations to Mr. Paulson on stocks from the gold and the financial sectors:
1) Among all the gold stocks, I picked Nevsun Resources (NYSEMKT:NSU) in early 2013. It took me a considerable amount of time to analyze meticulously all the gold stocks to pick Nevsun Resources finally. My article is here.
Nevsun's stock has risen slightly since 2012, and it has lost only 10% since the date I recommended it. Nevsun is a growing and profitable gold producer that maintains a strong balance sheet with a ton of cash.
This mid-tier gold player was holding $335.2 million in cash in Q1 2013, while the market cap is $790 million currently. On top of that, the company is long0term debt free, and it also pays a decent dividend.
Nevsun's principal mineral property is Bisha Mine, a gold and copper mine in Eritrea in Africa. However, the company will also produce high grade copper during the next months as the copper plant expansion continues to progress on schedule with concentrate production expected in mid-2013. Moreover, the company expanded its properties with the recent acquisition of the Hambok copper-zinc deposit, which will provide additional feed for the Bisha plant.
2) According to the latest news, CNN sees the light at the end of the tunnel of the Greek economy. Will Mr. Paulson see it too? I can definitely see it, and I urge him to invest in Greece where the worst is behind us.
The Greek economy hit bottom in 2012 and there is a gradual and consistent improvement since then. As I discussed it in my article, the spread of the Greek debt has plunged, and the Greek stock market has yielded more than 100% since last summer.
The privatization of several state-owned firms is going on, and the tourism is bouncing back this year as the bookings have rebounded, projecting a 30% rise for 2013. The tourism industry in Greece has overcome the crisis of the last two years, it has expanded to new markets like Russia, Ukraine, and China, offering currently one of the best value for money vacation packages worldwide.
No, I do not have any hotels to recommend to Mr. Paulson, because I am not engaged in the hospitality industry. However, he can check this out. According to this chart, SPDR S&P 500 (NYSEARCA:SPY) has risen 25% since last summer.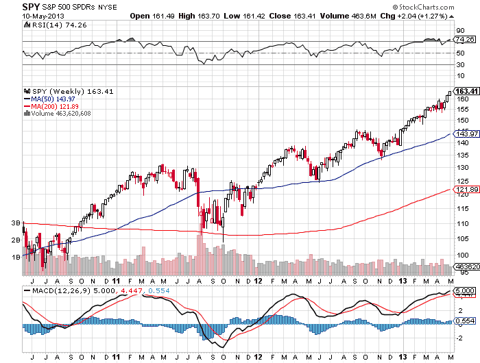 Nevertheless, this is the most hated rally in Wall Street history and many people remain dubious about the current rally amid the fragility of the U.S. economy, the uncertainty in Europe and the worries that the Fed's easy-money policies have been artificially propping up asset prices.
Even with stocks hovering around all-time highs, several hedge funds have missed this historic rally and have underperformed. This is why, some of these hedge funds are currently trying to offset their losses by investing in the Greek banks, which will most likely bear gifts during the next months.
According the latest news, some of the world's leading hedge funds are pouring money into the Greek banking sector in expectation of huge potential returns. Farallon Capital, York Capital Management, QVT Financial and Dromeus are among hedge funds that are set to participate in the recapitalization of the country's banks. The hedge funds are among the largest institutions involved in a €550m (U.S.708m) share issue from Alpha Bank, Greece's second-largest lender, set for completion in mid June. Piraeus Bank and National Bank of Greece are also in recapitalisation mode currently.
"This is the mother of all recovery trades. The situation is hugely attractive because of the asymmetry of the pay-off", said Achilles Risvas, the managing partner of Dromeus, which launched a Greek-focused hedge fund last year.
After all, my second recommendation to Mr Paulson is clear. I recommend he buy the three aforementioned Greek banks (Alpha, Piraeus, National) at their current levels.
Conclusion
"What happens in Wall Street, does not stay in Wall Street", and thus many investors know that Paulson has been wrong in more than one big bets he has made since 2011. In the meantime, those who bet to the opposite direction made a ton of money. Is the worst behind Paulson? Unfortunately, nobody can answer this question with certainty.
Disclosure: I am long OTCPK:ZPTAF. I wrote this article myself, and it expresses my own opinions. I am not receiving compensation for it (other than from Seeking Alpha). I have no business relationship with any company whose stock is mentioned in this article.