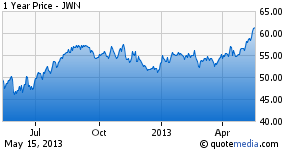 Fashion specialty retailer Nordstrom Inc. (NYSE:JWN) is scheduled to release its first quarter 2013 financial results and hold a conference call with analysts after the closing bell on May 16. Shares of closed on May 14 at $61.24 per share ahead of the earnings announcement, which is an all-time high for the stock's price. Nordstrom Inc. is expected to deliver first quarter 2013 earnings of 76 cents per share when it reports on Thursday afternoon, according to the consensus estimate of analysts providing coverage of the company's stock. So far in 2013, JWN shares are up a healthy 15 percent year-to-date, which is in-line with benchmark indices like the S&P 500. The major development that differentiates the stock of Nordstrom Inc. from the overall market is the fact that JWN shares have rallied 18 percent higher since rebounding off the low for the year of $52.16 per share during the trading session on March 19. Significantly, Nordstrom Inc. has already gained over 8 percent since the month of May began, which signifies strong bullish investor sentiment toward the company ahead of Thursday afternoon's earnings report. Perhaps coincidentally, the most explosive price move of that rally has occurred since May 2 when the company announced the date of the Q1 2013 earnings release. The timeliness of the stock's recent outstanding performance comes during a period when a major expansion of the company's Rack chain of discount stores and e-commerce capabilities are fueling optimism about its prospects for higher growth. A careful examination of these factors and several other favorable developments for Nordstrom Inc. in the first quarter of 2013 will give potential investors a more comprehensive perspective on the optimal price point to enter or add to a position in JWN shares for their portfolios.
At a time when many prominent retail companies are either closing stores or forgoing greater expansion, Nordstrom Inc. announced in its Q4 2012 conference call on February 21 that it will spend up to $790 million in 2013 on opening new stores for its discount Rack chain and developing its existing $1 billion e-commerce infrastructure. The plan calls for capital expenditures of up to $3.7 billion over five years on these initiatives, which also include opening new stores in downtown New York City and throughout Canada during that time period. For investors, these are important strategic plans for Nordstrom executives to implement as the most profound element of the company's legacy is its bold embrace of growth. In the short term, shareholders and potential investors should be aware that the impact of increased capital expenditures will inevitably be to pressure profit margins until the investments begin generating much higher growth within the next five years. Essentially, investors will reap greater returns as the capital investments begin to add to the company's bottom line in the out years, yet the estimates by management indicate that the additional growth will be substantial at that time. Executive vice president and chief financial officer Michael Koppel anticipates that the sales generated as a result of the massive expansion could account for half of the company's sales revenue after five years. Investors were not forced to wait five years for the effects to show up in the price of JWN shares as the company announced eleven new store openings during the quarter since the initiative was introduced during the Q4 2012 earnings announcement on February 21. The ambitious undertaking gave Nordstrom Inc. the ability to issue press releases week after week throughout the quarter that showed investors the level of its commitment to this aggressive growth strategy. The Q1 2013 conference call will give Nordstrom executives the first opportunity to address the success of the capital investment strategy and provide more precise guidance on its immediate impacts on the company's financial results.
Nordstrom Inc. announced that the board of directors approved a large $800 million stock buyback program a week after the Q4 2012 earnings report that will extend into March 2015. The repurchase program adds to the company's existing $344 million buyback and brings the total to over $1.1 billion. At the same time, the company also declared that it was raising its quarterly dividend by 11 percent to 30 cents per share. Taken together, these financial decisions combine with the increased capital investment expenditures to project an image of a vibrant and healthy company that is firing on all cylinders with respect to growth and rewarding its investors. Significantly, at the present market price level of approximately $61 per share the company would be able to repurchase approximately 12 percent of its current public stock float, which is noteworthy as JWN is already 25 percent controlled by Nordstrom family members and insiders. The repurchase program should also contribute to enhancing earnings per share in future quarters by decreasing the quantity of shares outstanding. The financial condition of JWN indicates that both its operational and earnings growth look poised for substantial prospective gains.
Technical indicators reveal that the powerful rally JWN shares are experiencing since the beginning of May have taken the stock's price well above its 8-day and 20-day exponential moving averages for the first time since the middle of January. The strength of the impressive 8 percent price move to all-time highs so far this month indicates that the stock is poised for a breakout with a solid earnings report and positive guidance. If earnings or forward guidance disappoint analysts, then an optimal entry point for JWN is around $57 per share, which represented the old resistance level before the enormous May price move and the high for 2013 on three separate occasions prior to the current rally.
With the encouraging fundamental developments signaling a bold expansion of the company's retail footprint, Nordstrom is showing investors it is ready to make the investments required to grow its business for the future. While many of its competitors are becoming more niche oriented, think J.C. Penney (NYSE:JCP) and Saks Inc. (NYSE:SKS) and others are downsizing themselves out of existence, Nordstrom is going all-in on a growth strategy that management expects will generate huge returns. Analysts covering the company currently have a consensus buy rating on Nordstrom with a price target that is only $2 above the stock's current market price, which could potentially translate into upward revisions with a strong Q1 2013 earnings report and positive guidance. For investors looking to enter a position in JWN, the financial results released on May 16 will provide greater insight into the company's prospects and an outstanding opportunity to add Nordstrom to their stock portfolios.
Disclosure: I have no positions in any stocks mentioned, and no plans to initiate any positions within the next 72 hours. I wrote this article myself, and it expresses my own opinions. I am not receiving compensation for it (other than from Seeking Alpha). I have no business relationship with any company whose stock is mentioned in this article.