With domestic beer consumption in the United States essentially flat since the late 1980s, have foreign brewers taken a risky gamble by merging with the three largest U.S. breweries, or have they made a wise investment that will make them feel like kings of the beer world?
Recent indications are definitely pointing to the latter and demographic trends should insure that U.S. beer sales will keep rising for years to come, with a sharp rise from 2009 to 2014, and a slower but steady uptrend between 2015 to 2023.
Anheuser-Busch (ABHIF.PK), Coors (NYSE:TAP) and Miller Brewing (OTCPK:SBMRY) waged a long but futile battle for increased U.S. beer consumption for the past 20 years, spending untold millions on advertising campaigns that essentially failed to increase the number of U.S. beer drinkers who would drink their beer.
Perhaps the marketing departments of these big breweries failed to consider demographics as a primary reason behind their lackluster sales. But a look at demographic trends clearly shows the Baby Boomers (about 78 million of them born 1945-1964) starting to exit the prime 21-34 beer drinking age bracket in the early 1980s, to be replaced by a nine-million-potential-beer-drinker smaller Generation X (about 69 million born 1965-1984). And it does not take research to prove that small numbers of consumers actually consume less than large numbers of consumers.
Likewise, larger numbers of consumers actually consume more than smaller numbers of consumers. This fact is going to make Belgian-based InBev SA's merger with Anheuser-Busch, Canadian Molson Brewing Co.'s merger with Coors Brewing, and South African Breweries purchase of more than 70 percent of Miller Brewing look pretty smart in the next few years, as Generation X ages out of the prime beer drinking age, and is replaced by the much larger Generation Y (79.5 million born 1985-2004) .
This new generation of potential beer drinkers is currently age 24 and under, is the largest generation in U.S. history, and at more than one million more than the Baby Boomers, will undoubtedly break the beer drinking records set by them in the late 1970s and early 1980s. And their entrance into the prime beer drinking age bracket may already be making a difference, as industry data indicates that beer consumption has been on the increase since at least 2006.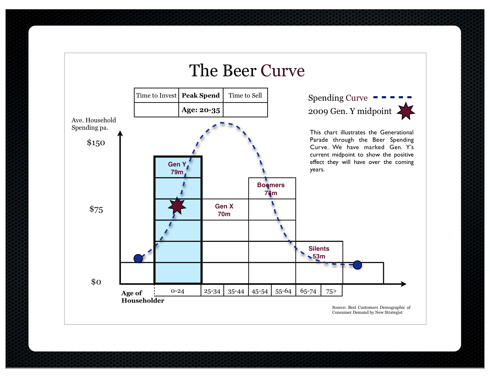 Along with the foreign purchasers of the big U.S. breweries, microbreweries are also going to be the big beneficiaries of the Gen. Y onslaught. In fact, microbreweries have been significantly increasing their production during the entire decade, and more than doubled their production since 2004. In 2007 the growth rate of microbreweries was estimated at 12 percent, compared to only 1.4 percent for both the large domestic and imports.
And while total beer sales in 2008 increased a modest 0.5 percent by volume, micro-brewed beer sales increased by 5.8 percent by volume and more than 10 percent by sales, according to the Brewer's Association. In addition, 114 new microbreweries and brewpubs opened in the U.S. last year, the highest number since 1999. Interesting to note that in 2008 more than 3.8 million members of Gen. Y turned the legal drinking age of 21, an increase of almost 100,000 more than turned 21 in 2007.
Currently, the microbrewery share of U.S. beer sales stands at 6 percent, imports account for 14 percent, and the large U.S. breweries hold 80 percent. Generation X is largely responsible for the increase in import consumption, as it increased by more than a million barrels per year during that generations peak beer drinking years in the 1990s. Gen. X, with its apparently refined taste, also helped spark the interest in microbrews and specialty beers, and saw in the rise of such nascent brewers as Boston Beer Co. (NYSE:SAM) and the privately-held Sierra Nevada Brewing Co., as well as the emergence of hundreds of new microbreweries and brew pubs.
This trend was noticed by the big U.S. brewers who started marketing their own "specialty" beers in the mid- to late-1990s. Sales of these specialty beers have been somewhat tepid overall, and it remains to be seen whether they will catch on with Gen. Y.
Through sheer numbers, though, Generation Y is going to increase U.S. consumption of all beer types, and thus benefit all of the beer producers. However, we believe that microbreweries, and to a lesser extent, imports, stand to gain the most from the emergence of Gen. Y, as this generation has already shown a preference for things that are organic, unique and locally grown; and a relative disdain for big brand products.
Imported beers from Mexico and Latin America also stand to benefit from Gen. Y's large Hispanic population, as marketers have determined that Latino immigrants spend more money on average for beer than other races, and display a marked preference for their homeland beers. This should benefit the Mexican brewery leaders Grupo Modelo S.A.B. [GMODELOC.MX] and Fomento Economico Mexicano, S.A.B. de C.V. (NYSE:FMX)
While the advent of Generation Y portends strong future growth for the beer industry, it has a dark side as well, because an increase in young beer drinkers will undoubtedly lead to more drunk driving fatalities. This trend became emergent in 2005 – the same year that welcomed the first 21-year-old Gen. Ys – when the number of such fatalities began to climb following 32 years of being in decline.
Disclosure: No Positions