As the S&P 500 continues to roar higher into record territory, it is only reasonable that investors question the underpinnings of this market run and the examine potential dangers confronting this massive rise in equity prices.
Interest Rates
Throughout history, the rate of interest charged by a lender was carefully calculated to closely match the potential risk of default that the lender could face on a loan. Historically the more risk of default, the higher the interest rate. Since late 2008, the Federal Reserve has kept interest rates near zero in an attempt to stimulate the economy. The housing bust followed by the credit crisis caused massive deleveraging in the financial and private sectors. The zero interest rate policy of the Federal Reserve has effectively transferred the market risk mitigation process to the taxpayer. Essentially a nationalization of risk.
In the financial crisis, many small businesses and personal credit scores were damaged. As a result many have been effectively shut out from access to the low-interest money. While the Fed intervened in the interest rate by spending billions per month (currently $85 billion per month) to forcibly keep interest rates low, there has been little to no intervention in the realm of access to this cheap money. This has had the effect of allowing those with acceptable credit scores to have an outsized advantage over those that came away from the crisis with credit score damage.
The Hunt for Yield/Dividend Stocks
Another imbalance created by the near zero rate policies has been to effectively shut off investment yield through traditional savings and investment methods, such as savings accounts, bonds, money markets, etc. This has had an outsized effect on retirees, many of whose portfolios were calculated to carry them through their retirement years at rates around 6%. This comes during a demographically sensitive time as baby boomers are retiring at a rate of about 10,000 per day. The returns from traditional investments that many of them have counted on have all but dried up. This has caused many retirees and their money managers to look for yield in places that they normally would not.
Bonds have traditionally been favored by more conservative investors and those with shorter investing horizons, such as retirees, over stocks. The reasoning behind this is that in the event of a systemic failure, the bondholders receive compensation when there is a dissolution as opposed to a stock, which is an equity position and can go to zero or take a long time to recoup losses. Much of this yield-hungry money from retirees has found its way into the dividend yielding stock space. So far, this has worked out fairly well as corporations have enjoyed record profits. This has allowed these companies to continue to pay out a healthy dividend. In turn, it has attracted more yield seeking investors and has resulted in pushing the prices of many of these dividend paying stocks up to the point where they no longer look like a good buy due to their valuations, relative to the current economic environment.
Jobs and Food Stamps
Another serious and too often ignored imbalance that has been created by the extreme monetary easing has been the effect of propping up commodity (including food) and asset prices, while real wages and incomes have declined. According to The Wall Street Journal, real median household incomes have been dropping over the last few years.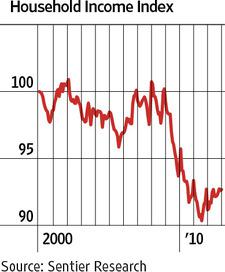 In the fight against deflation, the actions by the Fed have widened the gap between what people make and what they can afford. Forcing this gap wider has had the effect of increasing poverty on the most basic level.
The intent of the Fed has been to bring the unemployment rate down in the hopes that this will enable people to buy the necessities. The problem has been that many of the recently created jobs have been lower paying jobs, as is seen in the wage and income data above. The lower paying jobs do not produce adequate income to allow those employed by them to afford the goods that they need, given that the cost of those goods has remained artificially high due to monetary easing. Many of these people are then forced to seek government assistance, which in turn adds to the national debt, requiring more taxation, which results in a slower economy. This can evolve into a vicious cycle.
FOMC Pre-Announcement Drift
The N.Y. Fed's research department pointed out a major imbalance that has been in the making since 1994:
Since the Federal Open Market Committee (FOMC) began announcing its monetary policy decisions in 1994, U.S. stocks have experienced large excess returns in the twenty-four hours preceding these announcements. These abnormal returns account for more than 80 percent of the U.S. equity premium over the past seventeen years. Other major international equity indexes have experienced similar abnormal returns before FOMC announcements. However, no such return pattern is detectable on U.S. fixed income assets or the exchange value of the dollar. We discuss a few possible explanations for the pre-FOMC announcement drift for equities, none of which appears to be fully consistent with the empirical evidence.
Clearly, this imbalance has been made by the perceptions or misperceptions of traders. This particular misperception has clearly built on itself to a significant extent, as is evidenced by the chart below.
Source: Business Insider.
Margin Debt
Stock margin debt has reached record levels and is clearly a factor in this bull market run. Notice on the chart below how the margin debt has gone parabolic and outstripped even the rise in the S&P 500, much like it did before the rollover in 2007.
Buying stocks on margin and the subsequent margin calls when the market rolled over was a major factor in the boom/bust stock market action of 1929.
Conclusion
On the one hand, the S&P 500 is at all-time highs and rising parabolically, fueled by the Fed's extreme liquidity injections and margin debt. On the other hand, nearly 50 million Americans cannot feed themselves and we see the lowest labor force participation rate since 1979. When the stock market does turn over, it is likely that we will see a significant drop fueled by margin calls and the sudden realization that the massive amounts of liquidity that the Fed has pumped into the market has turned to volatility. For more on this see "Fed Liquidity Fueling Stock Market Volatility Vs. Suppressing It."
Should the Fed's asset purchase programs be seen as having contributed to the problem (volatility), it is likely that those actions would be curtailed and the dollar will continue its rise due to deleveraging and deflation. ETFs and ETNs that can be used to trade the U.S. Dollar include (NYSEARCA:UUP) and (NYSEARCA:UUPT).
Volatility ETFs and ETNs include CVOL, IVOP, SVXY, TVIX, TVIZ, UVXY, VIIX, VIIZ, VIXM, VIXY, VQT, VXX, VXZ, XIV, XVIX, XVZ, XXV, and ZIV. Please do thorough research on all ETFs and ETNs before choosing and entering them as many of them carry significant risks, due to such issues as roll loss, contango, leverage, etc.
ETFs that can be used to trade the U.S. equity indexes include (NYSEARCA:SPY), (NYSEARCA:SDS), (NYSEARCA:DIA), (NYSEARCA:DXD), (NYSEARCA:IWN), (NYSEARCA:TWM), and (NASDAQ:QQQ).

Disclosure: I am long VXX, UVXY, TVIX, SDS. I am short SPY, IWM. I wrote this article myself, and it expresses my own opinions. I am not receiving compensation for it (other than from Seeking Alpha). I have no business relationship with any company whose stock is mentioned in this article.
Disclaimer: Nothing in this article is to be taken as professional financial advice, nor is it a solicitation to buy or sell any type of securities. All financial decisions are your own, seek professional advice before taking action.