Northern Tier Energy (NYSE:NTI) is a strategically located refiner organized as a master limited partnership, or MLP. The company is mostly known for its very large distribution. Northern Tier Energy's has recently announced a quarterly distribution for $1.23 per unit. At current prices, this would lead to an annualized yield of nearly 19%.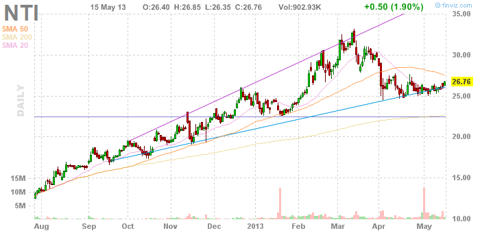 Click to enlarge
(Click to enlarge)
On May 13, Northern Tier Energy reported its Q1 2013 results. For the quarter, Northern Tier Energy saw net income of $119.4M, up from the net loss of $193.6M in Q1 2012. When adjusting for special items, adjusted net income was $108.2M, up from the $5.1M reported in Q1 2012. As a MLP, adjusted EBITDA is a much better gauge of Northern Tier Energy's profitability. In the quarter, Northern Tier Energy reported adjusted EBITDA of $156.6M, a 92% increase from the $81.5M reported in Q1 2012. The vast majority of this increase came from higher profits from the refining segment. Year over year, Northern Tier Energy's refining segment saw its adjusted EBITDA increase $70M, or 79%, to $159M. Northern Tier Energy retail segment also saw its EBITDA increase $1M, or 71%, to $2.4M.

We can clearly see Northern Tier Energy's increased refining segment profitability when look at some of the year over year key operating metrics. Northern Tier Energy's refining throughput increased 12% to 7.7M BBLs, from 6.9M last year. Gross margins per BBL increased 45% to $25.81, from $17.71 last year. Operating expenses increased 8% to $4.89 per BBL from $4.53 last year. Crack spreads also increased, with the 3-2-1 crack spread increasing 24% to $27.64 from $22.30, and the 6-3-2-1 crack spread increasing 37% to $19.55 from $14.30. About 80% of Northern Tier Energy's refining products are comparable to a 3-2-1 crack spread while 95% are comparable to a 6-3-2-1 crack spread.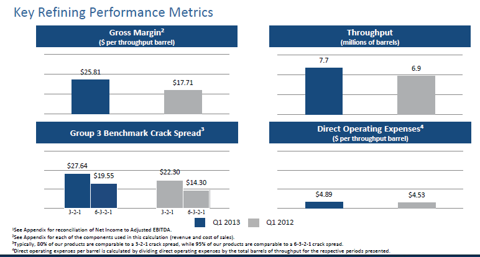 Click to enlarge
(Click to enlarge)
Northern Tier Energy also generated very strong cash flows in the quarter. Excluding working capital, Northern Tier Energy generated $123M in operating cash flow while cash available for distribution was $113.2M. Northern Tier Energy also announced a Q1 2013 quarterly distribution of $1.23 per unit paid on May 30 to unitholders of record as of May 23. At current prices, this would equate to a yield of about 19%. Since its IPO, Northern Tier Energy has paid out $3.98 per unit in distributions. Do note that unlike most publicly traded partnerships, Northern Tier Energy does not have a minimum quarterly distribution. Its quarterly distribution will not be stable and will vary quarter to quarter.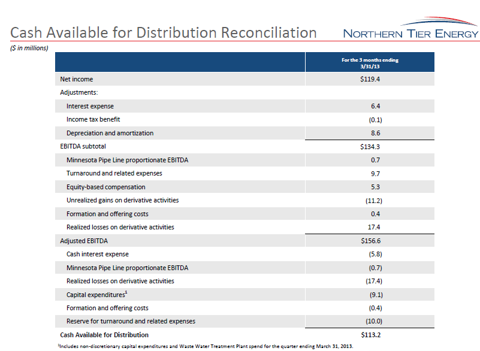 Click to enlarge
(Click to enlarge)
Northern Tier Energy will however see in decrease in profits during Q2 2012 due to planned refinery downtime. During most of April, Northern Tier Energy fully shut down its St. Paul Park refinery. A turnaround of this magnitude is only performed once every 5 to 6 years, with the next one expected in 2018. As a result of this downtime, Northern Tier Energy's guidance for Q2 2013 is for throughput of between 55,000 and 60,000 BBLs/D, and for operating expenses to increase to $7.25 per BBL. The higher expenses are mostly due to the lower throughput. Northern Tier Energy did however take advantage of this downtime to significantly increase the throughput of its refinery. If the expansion projects had been completed prior to April 1, throughput would have been between 91,000 and 96,000 BBLs/D of crude oil and other feedstock. Operating expenses would have been between $4.25 to $4.75 per BBL. Both of these metrics would be significant improvements from Q1 2013 levels.

Click to enlarge
(Click to enlarge)
Northern Tier Energy also plans $39M in capital expenditures during Q2 2013. $6M is attributable to its wastewater treatment plant and $18M is attributable to expansion capital, while the rest is mostly for maintenance. The expansion portion of the capital spending will be funded with either cash on hand or debt, and will not impact the cash available for distribution in Q2 2013. Northern Tier Energy will begin to replenish its cash on hand or repay the debt with incremental EBITDA from the expansion projects in Q3 2013.

Click to enlarge
(Click to enlarge)
Conclusion
Like other refiners, Northern Tier Energy posted a breathtakingly good quarter. Spreads increased, throughput increased, margins exploded higher -- everything an investor would like to see from a refiner. However, Q2 2013 will be much weaker as a result of the planned turnaround. I also suspect that the next distribution will be much smaller than the current $1.23 per unit. With the increased throughput from the refinery expansion, Q3 and Q4 2013 should see a major boost.
As I stated in my previous article, I would prefer for Northern Tier Energy to have more stable distributions. The current yield seems way too high even for a MLP. I worry that when investors see the Q2 2013 distribution that the stock may suffer a correction. We even saw that effect recently, when Northern Tier Energy fell from about $30 to about $25 on fears of a distribution decrease. Due to this stock price volatility, I suggest that Northern Tier Energy only make a small portion of any portfolio.
Disclaimer: The opinions in this article are for informational purposes only and should not be construed as a recommendation to buy or sell the stocks mentioned. Please do your own due diligence before making any investment decision.
Disclosure: I am long NTI, PSX. I wrote this article myself, and it expresses my own opinions. I am not receiving compensation for it (other than from Seeking Alpha). I have no business relationship with any company whose stock is mentioned in this article.