Click to enlargeConocoPhillips (NYSE:COP) held its 2013 annual stockholder's meeting yesterday. The presentation by CEO Ryan Lance was very upbeat. After years of executing its long-term strategic plan, COP is now at a transformational inflection point. The majority of its large asset dispositions are in the rear view mirror. The company is finally on the cusp of the production, margin, and profit growth it has been promising.
(NOTE: All slides shown in this article are from the company's annual presentation on May 14th.)
Asset Monetization Program - The End Is Near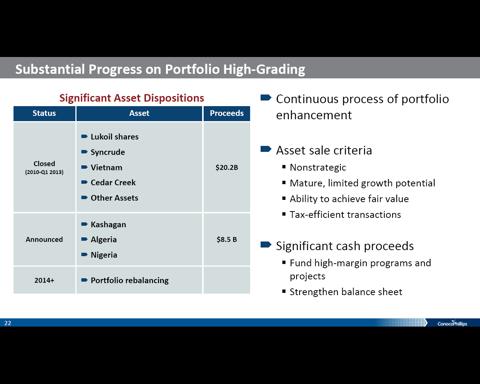 Click to enlarge
I have to admit being a bit skeptical a few years back when COP announced its long-term strategic plan. The plan was centered on the company's ability to sell a group of relatively high-priced assets during a world backdrop of uncertain financial and geopolitical risks. Yet the company has performed flawlessly, in my opinion. As the chart above shows, COP monetized $20.2 billion dollars of assets from 2010 through Q1 2013. It has announced a further $8.5 billion of sales and is working hard on closing them. These sales include its 8.4% interest in the North Caspian Sea Production Sharing Agreement (Kashagan) to ONGC Videsh Limited for around $5 billion. Considering the pipeline infrastructure from the Caspian Sea area directly to China, I still think there is a good chance a Chinese oil company could swoop in with a higher bid and snap up these assets away from India (see ConocoPhillips: Who Will Buy Its $5 Billion Stake In Kashagan - India or China?). Regardless, COP should add $8.5 billion in cash this year to the $5.4 billion it had at the end of Q1 2013. This money is going to fund its major development and growth programs as well as fund the dividend. COP has, in my opinion, proved the skeptics wrong. Its plan is -- and has been -- working beautifully.
On The Cusp Of Production Growth
COP has been a hard company for analysts to model the last few years considering the large asset dispositions, production interruptions in Libya and Bohai Bay, as well as the movement of chunks of production to the "discontinued operations" side of the ledger. However, the fog is lifting. What we see now is an E&P company like no other. COP has a very straightforward, low-risk, and highly profitable production growth profile. Production will bottom in 2013, and then it will grow for years to come. Margins will expand. Profits will increase.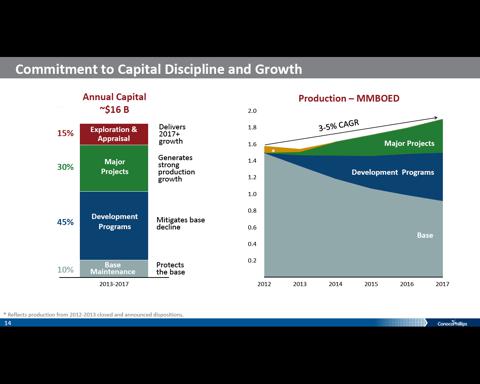 Click to enlarge
As the chart above shows, COP will spend roughly 55% of its capital budget on maintaining its base production relatively flat. To increase production, the company will spend 30% of the budget on major growth projects and 15% on exploration and appraisal. As shown in the slide below, development programs will produce ~600,000 boe/day by 2017, with 60% of that growth coming from lower 48 plays like the Eagle Ford, Bakken, Permian, and legacy conventional wells.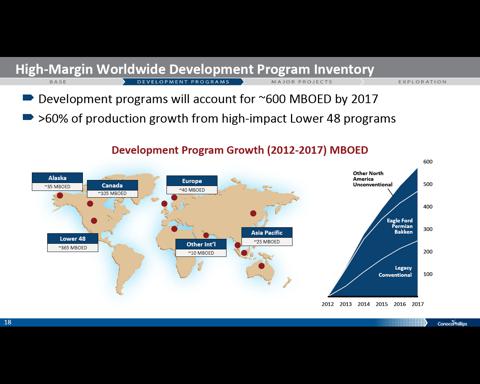 Click to enlarge
High margin growth projects will account for ~400,000 boe/day by 2017. The new production shows how diverse Conoco's asset base is with contributions coming from:
Canadian oil sands
Norway
UK
Malaysia
Australia
The right hand side of the chart below shows the dramatic increase in production from these growth projects.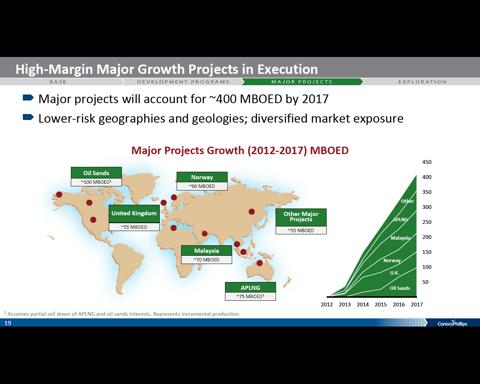 Click to enlarge
Lastly, the company has assembled an excellent portfolio of property in the Gulf of Mexico (see below), including the massive Shenandoah well (30% WI) that came in with 1,000 feet of pay. Look at all the leasehold acreage COP has nearby Shenandoah.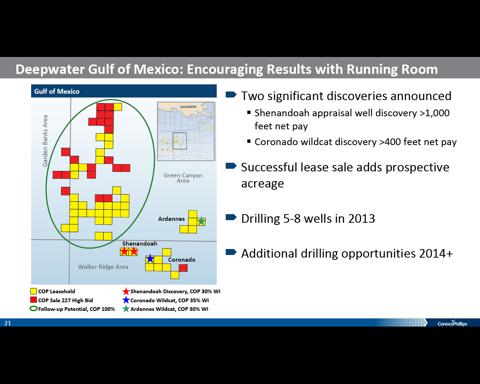 Click to enlarge
Summary and Conclusion
In the first year of being an independent E&P company, COP's CEO Ryan Lance and his management staff have proved themselves highly competent. They have continued to execute the company's strategic long-term plan at a very high level. The market's concern about COP's ability to fund its dividend while executing its production growth plans should be put to rest. While the $5 billion sale of its Kashagan asset is key, I believe the sale will go through as planned. Although Kazakhstan has until May 25th to exercise a preemptive bid, it is now clear the country is not interested in preventing COP from selling its stake. If there is any surprise on this front, it will likely be China coming in with an even higher bid.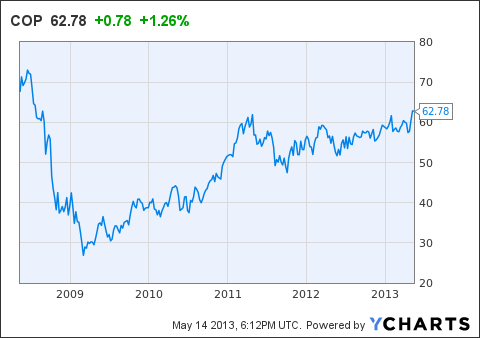 COP = $62.78
Mkt Cap. = $76.8 Billion
EPS (ttm) = $6.16
P/E (ttm) = 10.1
Div (Yield) = $2.64 (4.20%)
I think COP is poised to pop. The 4.2% dividend is secure. Its debt-to-capital ratio is reasonable. The company's strategic plan is on course. Production, margin, profit, and dividend growth is on the horizon. There is no other company quite like ConocoPhillips. COP is a buy.
Disclosure: I am long COP. I wrote this article myself, and it expresses my own opinions. I am not receiving compensation for it (other than from Seeking Alpha). I have no business relationship with any company whose stock is mentioned in this article.
Additional disclosure: I am an engineer, not a CFA. The information and data presented in this article was obtained from company documents and/or sources believed to be reliable, but has not been independently verified. Therefore, the author cannot guarantee its accuracy. Please do your own research and contact a qualified investment advisor. I am not responsible for investment decisions you make. Thanks for reading and good luck!