Amicus Therapeutics (NASDAQ:FOLD) is a biopharmaceutical company that is developing novel, first-in-class treatments for a broad range of human genetic diseases, with a focus on delivering new benefits to individuals with lysosomal storage diseases. Amicus' lead programs include the small molecule pharmacological chaperones migalastat HCl as a monotherapy and in combination with enzyme replacement therapy (ERT) for Fabry disease, and AT2220 (duvoglustat HCl) in combination with ERT for Pompe disease.
Amicus and its partner GlaxoSmithKline (NYSE:GSK) are conducting two Phase 3 global studies (Study 011 and Study 012) of oral migalastat HCl monotherapy in patients with Fabry disease.
Study 011 is comparing migalastat HCl to placebo to support a potential U.S. marketing application. The study consists of a 6-month, double-blind period (Stage 1) when subjects received migalastat HCl 150 mg or placebo, a 6-month open label-follow up period (Stage 2) when all patients received migalastat HCl, and an ongoing 12-month open-label extension. The Stage 1 results have been reported while Stage 2 data are anticipated in the third quarter of 2013.
Study 012 is comparing open-label migalastat HCl to current standard of care ERTs (Sanofi's (NYSE:SNY) Fabrazyme and Shire's (NASDAQ:SHPG) Replagal) to support global registration. A total of 60 patients were randomized 1.5:1 to switch from ERT to migalastat HCl or remain on ERT. Data are anticipated in the second half of 2014 on the primary outcome measure, which is renal function assessed by iohexol Glomerular Filtration Rate (GFR) at 18 months.
The FDA has agreed to meet with the company (Type C meeting) to discuss potential changes to the statistical analysis plan for the 12 month migalastat Phase III monotherapy data. Amicus will look for guidance from the FDA on analyzing the data for "totality" since there will be no single primary endpoint and the company will propose an additional statistical analysis plan beyond what was used for the six-month interim data analysis. The FDA has demonstrated significant flexibility with regard to the first Phase III clinical trial for migalastat monotherapy. The agency has agreed to treat the data from the first six months as an interim analysis and to consider data from the entire 12 months. The FDA further indicated that no single endpoint will be determinative and that the totality of the data will be evaluated. The Type C meeting to be conducted later this quarter will further facilitate constructive discussions between Amicus and the FDA.
In addition, Amicus is planning an IND submission for migalastat co-formulated with proprietary ERT for Fabry disease by year-end-2013 and the program will enter the clinic in early 2014. Additionally, a repeat-dose study evaluating an I.V. formulation of AT2220 co-administered with ERT for Pompe disease will begin in the third quarter of 2013. Manufacturing is complete and the protocol will be finalized soon.
The Positives:
1. Amicus' pharmacological chaperone technology provides orally available differentiated treatments for Orphan diseases, of which treatments currently garner premium pricing.
2. Migalastat has been granted accelerated review by the FDA and is using a proprietary assay to measure the surrogate endpoint approved by the FDA. The FDA recognizes the unmet need in treating Fabry disease and has demonstrated significant flexibility in agreeing to review the entirety of the data instead of any specific endpoint.
3. While migalastat will initially be administered as a monotherapy for patients possessing specific genetic mutations, development of migalastat as a co-therapy with ERT as well as a co-formulation with ERT may provide an opportunity to treat the entire Fabry patient population
4. The expanded partnership with GlaxoSmithKline continues to defray a significant portion of the R&D costs associated with migalastat's development while now allowing Amicus to control the U.S. marketing and commercialization efforts. Amicus ended the first quarter of 2013 with approximately $84.8MM in cash, cash equivalents and marketable securities, which according to management will sustain the company's operations through the second half of 2014.
5. Analyst Edward Nash of Cowen and Company is optimistic that long-term treatment with migalastat will deliver positive data to support conditional approval for the drug and believes that combination therapies with ERT for both Fabry and Pompe diseases will provide larger commercial potential for Amicus. Therefore, he is bullish on Amicus shares and set an Outperform rating without offering a price target.
The Negatives:
1. The Stage 1 interim data from Study 011, the first Phase III clinical trial for migalastat monotherapy, failed to reach statistical significance. Although the Phase II extension study has demonstrated that long-term treatment with migalastat leads to continued reduction of kidney interstitial capillary GL-3 levels, the risk still exists that the Stage 2 data will not meet the FDA's criteria.
2. Fabry disease is a small market where ERT is entrenched as the current standard of care. While migalastat may provide significant improvements over ERT, full market penetration will require considerable commercialization efforts on the part of Amicus in order to overcome current barriers to entry established by Sanofi and Shire.
3. Payers may resist reimbursement of a small molecule therapy for an Orphan disease indication where ERT already provides a benefit. This concern becomes even more important if migalastat is approved for co-treatment with ERT.
4. While Amicus has established a strong partnership to help bear the costs of research and development with GlaxoSmithKline, it continues to burn significant cash and may need to raise additional capital, which would dilute shareholder value. The company's net loss for the first quarter 2013 was $17.5 million, compared to a net loss of $13.1 million, for the first quarter 2012.
5. Analyst Gregory Wade of Wedbush sees little likelihood of the development of a strong dataset to support approval of migalastat monotherapy. He noted that even using the amenable mutation test and baseline IC GL-3 cutoff of ≥0.3, there was only a 63.6% response rate (pre-specified primary endpoint), which appeared very different between men who obtained a 57% response and women at 75%. From these results, it does not appear that Amicus has identified with sufficient precision the patient population amenable to treatment with migalastat monotherapy. Therefore, he is bearish on Amicus shares and set an Underperform rating and one year price target of $1.5 per share.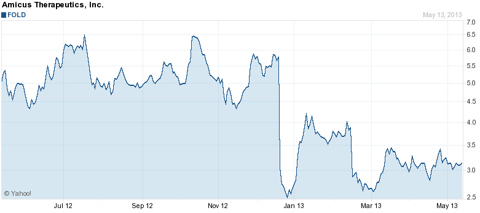 Disclosure: I have no positions in any stocks mentioned, and no plans to initiate any positions within the next 72 hours. I wrote this article myself, and it expresses my own opinions. I am not receiving compensation for it (other than from Seeking Alpha). I have no business relationship with any company whose stock is mentioned in this article.
Additional disclosure: Biomed Group is a group of investment professionals and writers. We did not receive compensation for this article, and we have no business relationship with any company whose stock is mentioned in this article. This information is not to be construed as an offer to buy or sell any security mentioned on this article.