Venture Capitalists can make off like bandits when it comes to getting in on the ground floor of a new hot start-up. Some start-ups get bought before even having the chance to IPO leaving the public market investor without any direct opportunity to make money. Instagram was a new hot start-up that was recently bought by Facebook for $1 Billion dollars. Google is buying up start-ups one after the other and for billions. Facebook is now in talks to spend another billion dollars on yet another hot start-up. Facebook itself used to be a hot start-up and again Venture Capitalists were the ones that reaped the lions share of profit before even investment bankers and average public market investors on the Street.
Is there a way for public market investors to get in on the ground floor? Yes! It all starts with analyzing Business Development Companies (BDCs) and companies that share similar models as BDCs. A tremendous opportunity awaits public market investors who position themselves early in upcoming start-ups through the vehicle of BDCs. Lets analyze a few below.
First Hand Technology Value Fund (NASDAQ:SVVC)
First Hand Technology Value Fund, Inc. is an investment fund that provides investors access to attractive opportunities in privately-held technology and cleantech companies. Its current portfolio includes companies in the advanced materials, semiconductor, social networking, solar energy, and telecommunications industries.
First Hand Technology Value Fund is a Maryland corporation and registered with the SEC as a business development company under the Investment Company Act of 1940. This provides the company with certain structural advantages, including public liquidity and a beneficial tax structure.
It strives to achieve its investment objective of long-term growth of capital by providing venture capital to private technology and cleantech companies. Its investment process employs extensive due diligence and utilizes the industry experience of its investment team to carefully select appropriate investments for its shareholders.
First Hand is led by Kevin Landis, a seasoned technology and cleantech investor with more than 25 years of experience in technology and investment management. First Hand's team has been responsible for over $150 million of investments in more than 25 private companies over the past dozen years. First Hand's notable investments include Facebook at 7.7% and Twitter at 9.3% of its fund. First Hand Technology Value Fund trades at $18.75 per share.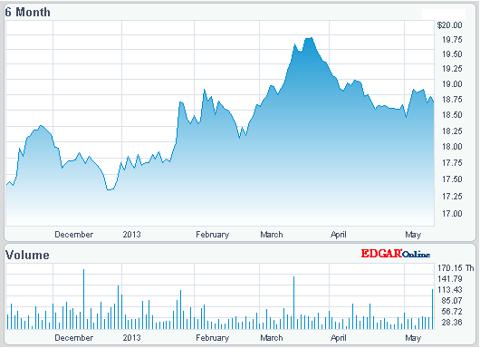 Keating Capital, Inc. (KIPO)
Keating Capital is a Business Development Company (or BDC) that specializes in making pre-IPO investments in innovative, emerging growth companies that are committed to and capable of becoming public. They are non-controlling investors and do not require board seats and observation rights. Keating Capital is managed by Keating Investments, LLC, an SEC-registered investment adviser founded in 1997.
During Q1 2012, 44 IPOs raised $5.8 billion in gross proceeds, the highest first quarter volume since 2007, and an increase of 33% from the year earlier period. Keating Capital, like other BDCs, believes this strong IPO activity is built on the momentum carried over from Q4 2011. During Q1 2012, 48 companies began the IPO registration process, seeking an average of $274 million in gross proceeds per filing.
On April 5, 2012, the Jumpstart Our Business Startups Act ("JOBS Act") was signed into law. The JOBS Act was designed to facilitate emerging growth companies to raise capital and complete the IPO process. This benefits portfolio companies of BDCs like Keating Capital. Keating Capital trades at around $6.00 per share.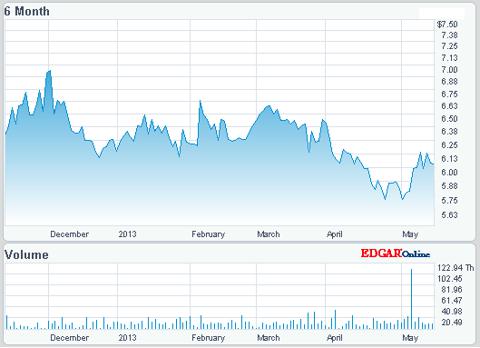 GSV Capital Corp. (NASDAQ:GSVC)
Launched in April 2011 by one of the world's preeminent voices on growth investing, GSV Capital Corp. offers the first publicly traded security enabling all kinds of investors to own a piece of the world's most dynamic, VC-backed private companies. "GSV" stands for Global Silicon Valley. The Valley, as it's often called, has redefined entrepreneurism and, in many ways, business in general. GSV aims to redefine growth investing. 'Global Silicon Valley' represents this powerful ideology.
The circumstances that led to the inception of GSV Capital started a decade ago. Its team has been immersed in growth investing for another ten years prior to that. Suffice to say that the U.S. capital markets' structure has changed dramatically since the high-water mark in 2000. The number of IPOs is down 75%, and the median market cap of companies going public has skyrocketed nearly eight-fold, to over $1 billion from $130 million during the '90s. And the characteristics of IPO companies have evolved, too. Among other things, now they tend to wait longer before making the move.
Smart, ambitious individuals from around the globe used to flock to the west coast to strike it rich. The lure was loads of stock and like the California Gold Rush 150 years earlier, it lasted less than a decade. With shares becoming liquid in eight to ten years-as opposed to three or four-the appeal lost a lot of its luster. So companies and employees need liquidity sooner. And outside investors desperately want access to the "stars of tomorrow." This is where GSV Capital and other BDCs come into play. GSV Capital currently trades at around $7.00 per share.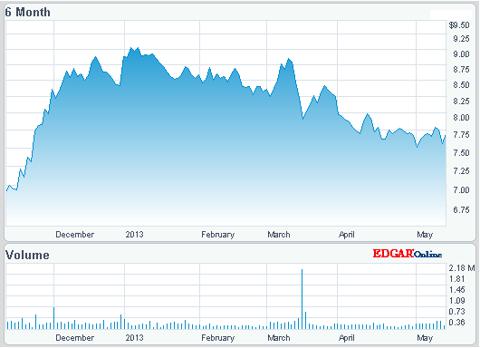 Capital Southwest Corporation (NASDAQ:CSWC)
Since Capital Southwest was formed in 1961, it has made it its goal to invest in companies with strong management teams and sound financial performance. It has the flexibility to hold investments indefinitely. It has a patient investment strategy that enables its portfolio companies to achieve their full potential.
Over the past few decades, its investments have ranged from a few hundred thousand dollars in the acquisition of a complementary product line to multi-million dollars in the acquisition of a strategic platform of goods and services. CSC is continuing to help its portfolio companies to grow and prosper while always looking for new opportunities.
Capital Southwest's recipe for success is a committed management team with significant ownership. In over half of its active investments, it remains a non-controlling shareholder. When operating control and ownership control remain with the management team, Capital Southwest allows them to have the flexibility to execute plans that serve customers, employees and shareholders well for the long term. Capital Southwest investment sectors include Aerospace, Industrial Technologies, Energy Services and Specialty Chemicals. Capital Southwest currently trades at $133.00 per share.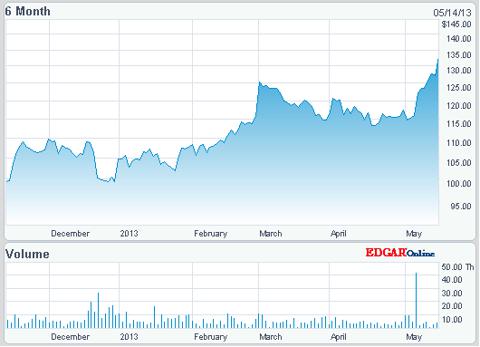 Triangle Captial (NYSE:TCAP)
Triangle Capital Corporation is a business development company specializing in private equity and mezzanine investments. It focuses on leveraged buyouts, management buyouts, ESOPs, change of control transactions, acquisition financing, growth financing and re-capitalizations in lower middle market, mature and later stage companies. The firm prefers to make investments in many business sectors including manufacturing, distribution, transportation, energy, communications, health services, restaurants, media and others. It primarily invests in companies located throughout the United States, with an emphasis on the Southeast and Mid-Atlantic.
The firm makes equity investments between $1 million and $25 million and debt investments between $5 million and $30 million per transaction in companies having annual revenues between $20 million and $200 million and EBITDA between $3 million and $25 million and can also co-invest. It primarily invests in senior subordinated debt securities secured by second lien security interests in portfolio company assets, coupled with equity interests. The firm also invests in senior debt securities secured by first lien security interests in portfolio companies. Triangle Capital Corporation was founded in 2002 and is based in Raleigh, North Carolina. Triangle Capital currently trades at $29.00 per share.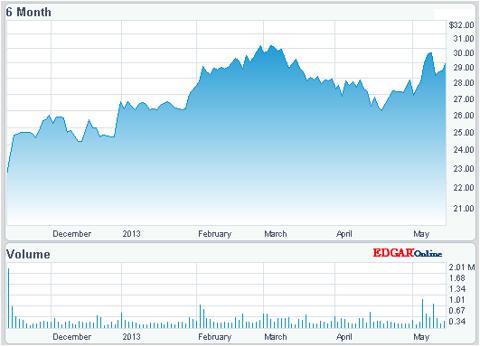 Main Street Capital (NYSE:MAIN)
Main Street Capital Corporation is a business development company specializing in equity, equity related and debt investments in small and lower middle market companies. The firm focuses on investments in warrants, PIK (Payment in Kind) interest, convertible securities, junior secured or unsecured, subordinated loans, private equity, venture debt, mezzanine investments, mature, mid venture, industry consolidation, later stage, late venture, emerging growth, management buyouts, ownership transitions, re-capitalizations, strategic acquisitions, business expansion, growth financing and other growth initiatives primarily for later stage businesses. It does not seek to invest in start-up companies or companies with speculative business plans. It seeks to invest in traditional or basic businesses. The firm primarily invests in companies based in the Southern, South Central, and Southwestern regions of the United States, but also considers other domestic investment opportunities.
It invests between $2 million and $15 million in companies with revenues between $10 million and $100 million, enterprise values between $3 million and $50 million and EBITDA between $1 million and $10 million. The firm seeks to charge a fixed interest rate between 12 percent and 14 percent, payable in cash in case of its mezzanine loan investments. The firm typically invests in the form of term debt with equity participation and/or direct equity investments. It prefers to maintain fully diluted equity positions in its portfolio companies of 5 percent to 50 percent and may have controlling interests in some instances. The firm also co-invests with other investment firms. It seeks to exit its debt investments through the repayment of the investment from internally generated cash flow and/or refinancing within a period of three to seven years. Main Street Capital Corporation was founded in 1997 and is based at Houston, Texas. Main Street Capital Corporation currently trades at $31.00 per share.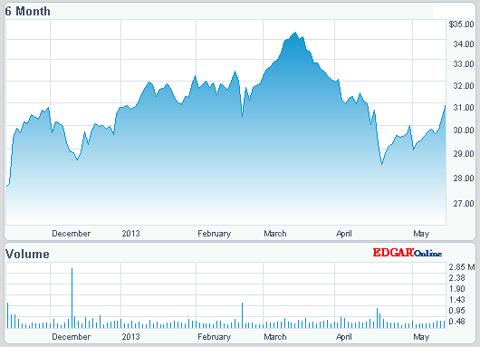 Invent Ventures Inc. (OTCPK:IDEA)
Invent Ventures is a team of institutional co-founders, incubating new concepts and turning ideas into businesses. It has an outstanding track record of securing interest in some of the hottest up and coming companies in Silicon Valley. The firm constructs initial prototypes, crafts teams around each idea and provides access to capital. Its process is unique and maximizes efficiencies in how companies are conceived, built and brought to market. Its claim to fame is that it is one of the only public companies in the U.S. that is focused exclusively on actually building tech startups.
A remarkable percentage of the world's most successful companies, mostly in the high tech space, call Silicon Valley home. It's also the world's undisputed hub for up-and-comers, representing roughly a third of the VC investment in all of the U.S. This little piece of the Bay Area is much more than just a spot on the map. It's bigger than the collective identity of a bunch of tech bellwethers, or even the alter ego of the broader technology sector.
'Silicon Valley' has become a mindset. It's an addiction to constant innovation. A devotion to the brightest talent and an appetite for boldness. It's a magnet for capital and growth investors. It's the ambitious pursuit of a destiny achieved by the likes of Apple, Google, Cisco, Adobe, and Oracle by companies that are, at present, far more humble.
The INVENT structure provides all of its stakeholders with access to early stage venture capital through its curated and actively managed portfolio of technology businesses. It is truly a new type of company, offering unparalleled access to the fastest growing industries. Notable Invent Ventures holdings include Stockr, Sanguine Biosciences and LottoPals. Invent Ventures currently trades at $0.25 per share and hence a lot of associated upside compared to other Business Development Companies.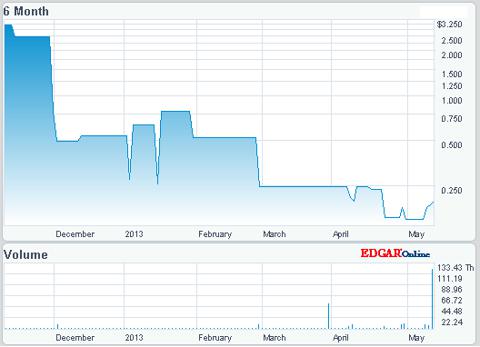 Chancellor Group, Inc. (OTCPK:CHAG)
The Chancellor Group, founded in 1986 and based in Amarillo Texas, started as an oil and gas exploration company with properties in Texas and Australia. The Chancellor Group has begun to expand its investments into the technology and entertainment sectors and in particular mobile applications. The Chancellor group holds 61% interest in Pimovi, a company specializing in developing apps for wearable Point of View video streamed by devices like Google Glass or GoPro cameras worn by celebrities, sports figures and musicians. Recently, ventures that focus on mobile apps such as Instagram, Angry Birds or more recently, Waze, have been valued in the billions with potential acquirers being suitors like Google and Facebook. Like Invent Ventures, The Chancellor Group holds substantial opportunity for its shareholders to get into these private start-ups on the ground floor.
Investors used to have access to emerging, rapidly growing companies with big potential earlier in the life-cycle, jumping in on IPOs at $100 million or $300 million market cap. Times have indeed changed. This is why an additional strategy of the Chancellor Group is to utilize the private marketplaces like SecondMarket and SharesPost to determine a fair valuation for its ventures that in turn translates to the public valuation of Chancellor Group stock. The Chancellor Group currently trades at around $0.10 per share.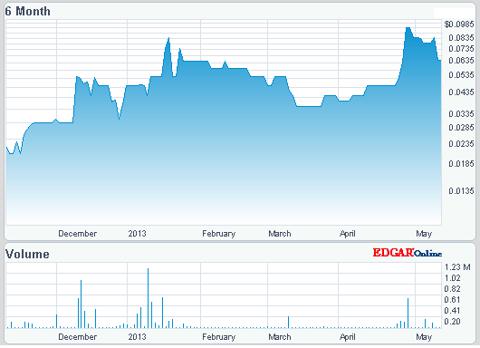 Safeguard Scientifics, Inc. (NYSE:SFE)
As a visionary for the development of growth-stage healthcare and technology companies, Safeguard Scientifics, Inc. is a partner for entrepreneurs looking to accelerate growth and build long-term value in its businesses.
Leveraging Safeguard's rich and colorful history of building market leaders, along with its team's collective operational expertise and successful entrepreneurial endeavors, Safeguard has built a powerful platform of resources to support its partner companies with strategies and relationships most vital for success. It provides value that extends beyond capital and work as a team to foster growth.
Since 1953, Safeguard has provided capital, management expertise and operational support to hundreds of high-growth, entrepreneurial companies, deploying billions of dollars and creating billions in market value through well-timed exits of those holdings. Fostering numerous success stories over the years, its strong reputation and viability enable them to generate better deal flow, attract accomplished entrepreneurs and top syndication partners, and gain access to the management and boards of Fortune 500 companies for various strategic and M&A opportunities.
Safeguard is regarded as a catalyst for value creation for innovative healthcare and technology businesses and a key source of capital and strategic resources for entrepreneurs.
Safeguard's current management team has deployed more than $351M of capital in its partner companies since January 2006. The firm as also built value and realized more than $646M through well-timed exit transactions from current and legacy partner companies and private equity holdings that represented transactions undertaken by Safeguard's current and previous management teams. The firms partner companies have been acquired by industry leaders like GE Healthcare, Shire, Eli Lilly, Oracle and McKesson, to name a few. Throughout its 60 year history, it has successfully completed more than 100 M&A transactions and more than 20 IPOs. Safeguard continues to build value in tomorrow's market leaders, many of whom are in our current family of innovative partner companies. Safeguard currently trades at $16.00 per share.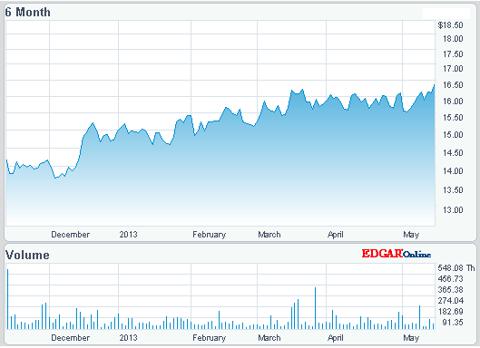 Ground floor opportunities exist with Business Development Companies and companies with similar models. These BDCs, funds and innovators will achieve parity with one another as investors begin to see an alternate way of making great returns on valuations connected to private companies before the IPO process and better yet, before any kind of billion dollar acquisition.
Disclosure: I have no positions in any stocks mentioned, but may initiate a long position in SFE over the next 72 hours. I wrote this article myself, and it expresses my own opinions. I am not receiving compensation for it. I have no business relationship with any company whose stock is mentioned in this article.