In what we consider to be a fantastic transaction for both management and shareholders, Alexza Pharmaceuticals (NASDAQ:ALXA) announced on June 16, 2009 that it has entered into an agreement with Symphony-Allegro to acquire the rights to all product candidates subject to the December 2006 agreement with Symphony Capital Partners Inc. et al.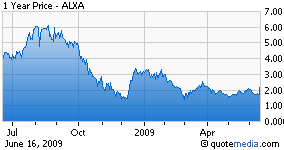 The formation of Symphony-Allegro, initially funded with $50 million in capital to facilitate the development activities for AZ-002, AZ-004, and AZ-104, has been a substantial impediment to partnering discussions on these three candidates, and a significant overhang on the stock. Our May 8, 2009 report, entitled "The Symphony-Allegro Squeeze," outlined our belief that the stock would remain under pressure until this overhang was lifted.

To re-acquire the full rights to these three candidates, Alexza will issue Symphony-Allegro 10 million shares of newly registered common stock, plus 5 million warrants to acquire additional shares (at 1:1) at an exercise price of $2.26/share. Symphony-Capital's new total ownership in Alexza Pharmaceuticals will stand around 23% once the deal closes in the third quarter 2009. Symphony-Capital will also nominate one member to the board of directors.

Alexza has also agreed to pay Symphony-Capital a cash payment / royalty fee based on any upfront cash received from the partnering opportunities with AZ-002, AZ-004, and AZ-104. On the conference call, management noted that this cash payment rate on the upfront fee was 25% on the first $100 million, and correlated closely thereafter with Symphony-Capital's overall ownership position of around 23%.

Considering the current value of the Symphony Allegro buyout price at the end of the first quarter 2009 stood at $92 million, we view this as a very favorable transaction for management. Current shareholders are diluted by about 1/3rd (33.1 million shares outstanding as of June 2009 + 10 million new shares to be issued in the third quarter), but this is far less than what management would have had to come up with to raise $92 million.

Plus, we remind investors that the buy-out price was increasing by a rate of 27% per annum. So settling on the deal today saves an estimated $25 million a year from now.

With this significant overhang out of the way, we believe that management can now move forward with partnering discussions on each individual product, instead of having to worry about raising enough upfront cash to buy-out Symphony-Allegro in cash. Plus, Alexza gets to keep the existing cash balance in the Symphony-Allegro account, which stood at $17.6 million at the end of the first quarter.

The stock is reacting favorably to the news. We are raising our price target to $3 per share. Investors can now -- finally! -- focus on the pipeline, and more specifically the new drug application for AZ-004. Upside to our target comes with the signing of a partnership for AZ-004 perhaps later this year.