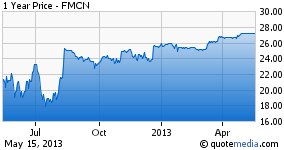 China company Focus Media's (NASDAQ:FMCN) pending "going private" transaction appears to be on course. If the transaction completes, shareholders can expect to receive $27.50 per American Depositary Share of Focus Media. The shareholder vote on April 29th showed an overwhelming majority of shareholders were in favor of the transaction with 99.5% of shareholders voting in favor. The company expects the merger to be completed this month, May 2013. The share price is currently within a few cents of the proposed price of $27.50 but should shareholders be worried?
For a little information about the background, Focus Media's "Going Private" proposal was announced last August when it was presented by Focus Media's Chairman and CEO, Jason Jiang. The proposal is to take the company private with both equity and debt financing whereby shareholders will receive cash for their shares. Although the transaction hit a snag in November when Citigroup (NYSE:C) indicated it wanted to do the transaction at a slightly lower price and when one of the private equity firms backed out of the transaction completely (no reason was given), the proposed transaction was back on course late last year.
The transaction, explained in the 13E-3 filed with the SEC, is somewhat complex with four entities owned and controlled by the chairman entering the transaction as the "consortium" along with a company called Fosun International (OTCPK:FOSUF). Fosun and Mr. Jiang's companies will trade their ownership in Focus Media for ownership in Giovanna Group holdings, a Cayman Islands limited liability company set up for this transaction. Giovanna Group holdings owns Giovanna Intermediate Limited which owns Giovanna Parent Limited which owns Giovanna Acquisition Limited. Under the agreement, the latter will merge with Focus Media and become the surviving company owned partially by the chairman's companies and by Fosun.
Also under this agreement, a number of banks will issue $1.525 billion in debt financing to allow for the purchase of a number of the remaining shares at $27.50/ADS. The overall gist of the agreement is to swap out a portion the current equity for debt, creating a more leveraged company with less equity and the ADS will no longer be listed on the NASDAQ. Focus Media doesn't list an official reason for this transaction but it may be that the management is tired of the scrutiny it faced over its accounting while being listed on a U.S. exchange.
The part of this transaction which I find most interesting is that debt financing on which this going private transaction depends. This debt financing carries a rate of 5.25% over LIBOR for $1.075 billion of the debt and LIBOR + 2% for $450 million of the debt. Under normal circumstances, the rate on the debt seems normal for this type of transaction but this author has a few concerns. Shareholders anticipating that their shares will be purchased at $27.50 might do well to consider the debt aspect as well because the exchange of their ADS for cash is directly dependent on the banks following through with the debt financing.
In full disclosure, I've had concerns about the company for a while. I don't short companies often but I was short Focus Media two years ago on a hunch. It seemed the company was making large investments to purchase businesses where it would have made little sense in an arm's length transaction. Focus Media purportedly has a thriving and profitable network of display ads in stores and could theoretically use cash to expand this network. Instead the company was spending money to purchase businesses which almost routinely failed. Further, the company didn't seem to be learning anything from taking these often heavy losses.
These losses were sometimes abysmal. For example, it paid $168M for CGEN Digital Media Company Limited, which ultimately resulted in a $190.5M loss on disposal. Focus Media lists a series of numerous other subsidiaries which resulted in large, often complete, losses on disposal, as pointed out by Bronte Capital's John Hempton. Even Focus Media's investment of $61 million for a stake in VisionChina (NASDAQ:VISN) on January 13, 2011, which it still owns, has been heading south. VisionChina, which recently did a 1-for-20 reverse split, is traded on the NASDAQ and that investment is down over 95% since Focus Media made that investment. If Focus Media keeps taking losses then why hadn't the company learned from those mistakes and started concentrating on expanding their own display advertising network which, according to their financial statements, is wildly profitable??
I felt greatly validated several months after taking my short position when Muddy Waters' Carson Block came out with allegations against Focus Media, accusing the company of deception. The allegations dropped the ADS price, which was around $28 when I went short to an intra-day low of $10. Muddy Waters' allegations included saying Focus Media was using the massive losses in subsidiaries to explain away the lack of cash. Muddy Waters stated, "Our research shows that FMCN has claimed to acquire, write down, and dispose of companies that it never actually purchased. Investors should be concerned about to where cash actually moved in these transactions, and about the integrity of reported results."
Other points mentioned by Muddy Waters was Focus Media's unusual purchase of a ginseng plantation and an accusation that the company overstated its display network.
On January 6, 2012, Focus Media responded to Muddy Water's allegations and explained away the ginseng plantation as being done "In connection with their effort to improve the tax efficiency ...." With regards to the Muddy Water's accusation that Focus Media was overstating the number of screens, Focus Media put out a report saying they did a census on the number of screens and that they found their own count was accurate. However on that report it shows their classification of certain poster board advertisements in their network as "Focus Media LCD 1.0 picture frame devices." A few months later on March 19th, per the 20-F annual report, the company reclassified these LCD 1.0 picture frame devices to their "poster board network division." The previous classification was odd because a poster isn't exactly an LCD (Liquid Crystal Display) and certainly Focus Media's initial terming of a poster as a "device" also seems odd. To Focus Media's credit they are communicating, but it still seems as though there's an air of deception about the company. From my experience, when a company is deceptive in one area and that deception comes to light, that's usually only scratching the surface.
Muddy Waters' allegations a year and a half ago and the resulting fallout seems to be fading into memory and trust seems to have grown back merely through the passing of time. I personally don't know whether Focus Media's financial statements are accurate or whether the statements are cooked to some degree. I just find a number of items odd. Even getting $1.5 billion in debt financing with $1.1 billion of that at around 6% when the company says it has over $1 billion in cash and short-term investments on the books and purportedly is making money, seems strange. Why pay the difference in interest rates between what the company can receive for the slightly more than $1 billion it says it has on the books and the $1.075 billion loan proposed in the transaction at around 6%?? Focus Media also lists a new $200 million loan just received in December at LIBOR + 3.9%. Why do they insist on keeping that much cash and not paying down debt -- are they trying to lose money through the difference in rates, are they keeping the money for more money-losing acquisitions unrelated to their core competency or is there something else, potentially more sinister going on?? Somebody had to ask this question.
I used a somewhat unorthodox method to try to quantify the risk of the debt based on equity being swapped for debt in this proposed transaction. Basically a ballpark value of the risk to the debt should be a theoretical "put" option with the current value being the market cap and the strike being the $1.525 billion of the debt. I made a couple of adjustments to the Black-Scholes calculation since the CEO's proposed buyout letter last August appeared to have a profound effect on both increasing the share price and markedly reducing the volatility afterward. To adjust, I used a price of $20/share which was the approximate share price about one week prior to the announcement of the proposal and I also calculated the volatility from the share prices preceding the proposal. With Black-Scholes, that theoretical put option for five years has a value of about $430 million. This risk is mostly carried by the five year, $1.075 billion portion of the new debt since the remaining portion of the debt is only a ten-month term loan. Obviously any prepayment would reduce this risk but these are rough numbers. In my opinion, there seems to be a disconnect between the valuation that the stock market gave the equity and the rate which will be charged for the debt financing being used to purchase part of that equity. If the market was right then it's very likely that the lenders will be taking on too much risk relative to the LIBOR + 5.25% they are charging.
While such a theoretical put option might give a feel for the risk, it's only based on the prior stock price. Realistically, either Focus Media's financial numbers are good or they're not. That depends on whether Muddy Waters was correct in their insinuations of Focus Media cooking the books. Because of that, the potential outcomes are probably much more binary than a lognormal bell curve used to estimate a put option. That financial statement accuracy was certainly the primary question which was on investors' minds in the past, especially after the Muddy Waters' allegations came out. I don't believe that risk should be discounted by the banks today.
In regard to the going private transaction, Focus Media did set up an 'independent committee' to do an assessment of the fairness of the proposed transaction. This independent committee contracted with JP Morgan to determine whether the proposed price of $27.50 per ADS was fair--but only to the extent that the analysis was based on Focus Media's financials. In doing the analysis, JP Morgan was very clear that they did not independently verify the accuracy of any the information provided to them by Focus Media's management and did not conduct any appraisal of Focus Media's assets. Additionally, JP Morgan's discounted cash flow analysis used in their valuation of the share price depended heavily on future projections provided to them by Focus Media's management. In other words, not only is the $27.50 share price based on an assumption that Focus Media's historical numbers are good and accurate, it also relies on future projections by Focus Media's own management--where Focus Media estimates company revenues will grow at an aggressive average annual rate of 18.3% with an average 33.6% net profit margin at least through 2017.
The terms of JP Morgan's (NYSE:JPM) compensation for their fairness evaluation is $2 million plus $500,000 if the merger goes through plus another $500,000 at the discretion of the "independent committee", also if the merger goes through. Yes, that's correct--JP Morgan was contracted by the independent committee with payment terms of an incentive if the merger closes and another incentive provided at the discretion of the independent committee, also if the merger closes. A 50% bonus contingent on the merger closing. Does such a bonus give JP Morgan an incentive to give an accurate and unbiased analysis...or to stretch toward a number which makes the merger more likely to close??
I don't know if this going private deal will ultimately go through or not but I'm obviously in the minority in thinking there's more risk than meets the eye. At the earnings conference call, an analyst brought up a question about whether the debt financing was committed and was pacified by management. Based on the share price and the option prices, the market certainly thinks there's very little which can go wrong with the proposed merger at this point. There are also a number of banks slated to provide the debt financing for this going private transaction and not just one or two banks. This adds confidence simply by the number of banks engaged to provide financing for portions of this proposed debt.
Given the size of this transaction, it would make sense that each of the banks did their own, independent due diligence to verify the accuracy of Focus Media's financial statements, especially in light of the Muddy Waters' allegations. I would imagine none of the banks were lulled into complacency by the safety in numbers effect of having other banks share the risk. However, I will also note that if Muddy Waters' research has merit, there will be a profound negative impact on the banks' loans and on those clients on whose behalf the banks are investing. If the banks weren't independently thorough then they've accepted a lot of risk. I doubt anyone would be happy with a lifetime supply of ginseng in exchange for their investment in the debt.
Why should you care? Sometimes companies surrounded by controversy find a way to stay in the spotlight. If Focus Media's proposed going private merger falls apart, either because the banks start re-thinking their risk or for some other reason, it would almost certainly have a negative effect on the stock price. The current price is only a few cents away from the proposed $27.50 and, in my opinion, not worth the risk of holding for those few cents. On the short side, it seems unlikely the offer would be raised so the downside to a short position may only be a few cents. Likewise, put options would likely give a large return if this transaction somehow isn't consummated.
One thing seems certain: If this proposed transaction goes through, it will put to an end the long, strange chapter of Focus Media's tenure as a public company surrounded by controversy.
Disclosure: I have no positions in any stocks mentioned, and no plans to initiate any positions within the next 72 hours. I wrote this article myself, and it expresses my own opinions. I am not receiving compensation for it. I have no business relationship with any company whose stock is mentioned in this article.
Additional disclosure: I am not currently long nor short the stock but I hold Focus Media long-term put options.