Despite many rounds of quantitative easing (QE) by the Federal Reserve and ever more aggressive easing of monetary policy across the world's major central banks, the deflationist mentality remains stubbornly strong, particularly in the U.S. Ironically, this persistence makes central banks ever more eager to ease policy further in a self-reinforcing feedback loop. Because deflationists see imminent collapse everywhere (like a slightly lower growth rate for China equals a recession), then any sustained price increase must represent a bubble. Housing prices in the U.S. are about one year into a recovery off the bottom and already some think that a bubble is forming. Trulia (TRLA), a company that specializes in providing real estate research and tools for consumers and real estate professionals, has stepped into the controversy with its own "Bubble Watch."
In Bubble Watch, Trulia Chief Economist Jed Kolko, Ph.D. explains that housing is not back in bubble territory based on incomes (which determine how much people can pay), rents (which determine "…how much people value housing even if they won't benefit from price appreciation"), and historical prices which provide an anchor for assessing trends. Trulia used multiple data sources including its own price monitor, the Case-Shiller national index, data from the Federal Housing Finance Agency (FHFA), metro per-capita income from the U.S. Bureau of Economic Analysis, and national owner-equivalent rents from the U.S. Bureau of Labor Statistics. Trulia measures the accuracy of its model based on how well it could have predicted the crash from the last housing bubble. Kolko claims that the Trulia Bubble Watch model has a relatively strong -0.83 correlation "…between metro-level price over- or-undervaluation in 2006 Q1 and the subsequent metro-level peak-to-trough price."
Putting it all together, Kolko estimates that nationwide, U.S. homes are still 7% undervalued. Ninety-one of America's 100 largest metro areas remain undervalued. Of course, since real estate markets are local, these aggregated statistics hide some important extremes. Cities like Las Vegas, Detroit, and Cleveland are undervalued by -20% or worse. Four of the top seven overvalued cities/regions are located in California. The other three are in Texas.
Orange County tops the list at 9%, followed by Austin and San Antonio at 7% and 5%, respectively. Los Angeles is overvalued by 5%, San Jose 3%, and San Francisco at 2%. Finally, Houston is also overvalued by 2%. Inclusion in this list is much more significant for the Texas regions than for the California regions. At the peak of the housing bubble, Austin and San Antonio only reached overvaluations of 12% while Houston peaked at an 8% overvaluation. California's bubble took overvaluations above 50% for Northern California and above 70% for Southern California.
This list intrigues me because homebuilders have for years cited the relative strength of various Texas housing markets despite the plentiful land. The nation's oil and gas boom is of course enriching the Texas economy.
In California, prices are propped up by tight land supply, the removal of foreclosures and short sales from inventory through 2013′s California Homeowner Bill of Rights and investor demand, and select robust job markets. I have recently talked with real estate agents in California to get a better sense of what is happening, and they are telling me that the current frenzy in California (the SF Bay Area to be precise) feels like it happened overnight, like someone flipped a switch about nine months ago. Agents are busy now whereas they felt lucky to make 2 or 3 sales last year. Creating price comparisons ("comps") is difficult because of rampant over-bidding by eager and frantic buyers. One flyer I found from a realtor insisted that NOW is the best time to sell your home…a clear attempt to scare up inventory in a tight market.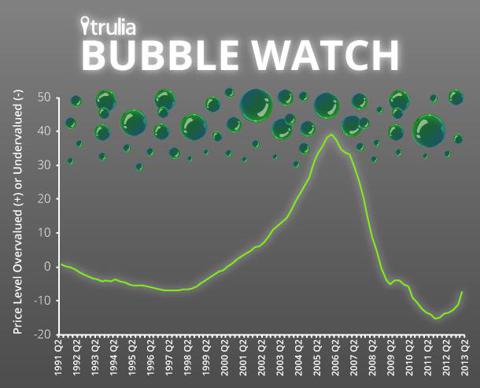 Estimated over/undervaluation of U.S. housing
Source: Trulia Bubble Watch for May, 2013
I also checked out Trulia's rent versus buy calculator. According to Trulia's model, there is not a single metro area in the country where it is cheaper to rent than buy, not even in California or Texas. I had to set a mortgage rate of 5.5%, and an income tax bracket of 25% or lower to finally get one area where renting made more sense than buying: San Francisco. The calculation can change dramatically for different parameters depending on the region of the country.
So, overall, there is no housing bubble in the U.S. Kolko expects housing demand to soon cool down as prices continue to rise, investors lose interest as cheap properties become more scarce, and interest rates go up. In particular, higher prices should bring more inventory to market, and we already know from the earnings reports of homebuilders that they are rushing as prudently as they can to get more homes built. Even spec homes, homes that are built in advance of orders, are returning to the market. Perhaps most importantly, credit conditions remain tight, adding yet one more brake to housing demand (for example, see "On the Frontlines, the Housing Recovery Is Visible But Needlessly Slow").
Speaking of interest rates, rates crept higher over the past two weeks. The increase is ever so slight and still off of record low rates, but it bears watching. It is starting to look like rates put in a more lasting bottom in June/July of last year. There must be some tipping point that could pressure even more fence-sitters to hop into the housing market before rising rates begin to constrain demand. The chart below shows the yield on the 10-year Treasury from the St. Louis Federal Reserve.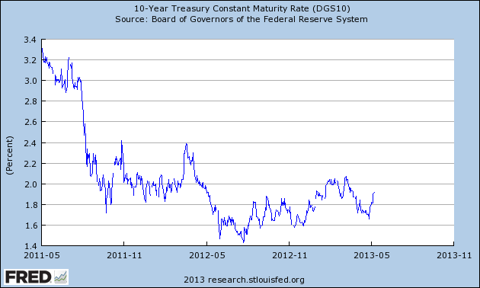 10-Year Treasury Constant Maturity Rate
Be careful out there!
Disclosure: I have no positions in any stocks mentioned, and no plans to initiate any positions within the next 72 hours. I wrote this article myself, and it expresses my own opinions. I am not receiving compensation for it (other than from Seeking Alpha). I have no business relationship with any company whose stock is mentioned in this article.