One of the most exciting gold development projects in years is making excellent progress, according to BMO Capital Markets analyst John Hayes.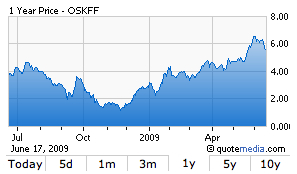 Osisko Mining Corp. (OSKFF.PK) is trying to bring its lucrative Canadian Malartic gold project into production. But before it can build a mine, it has to relocate citizens in the town of Malartic, Quebec, who are living at the mine site. Mr. Hayes just completed a site visit of the project, and reported that the relocation program is advancing "smoothly" and should be completed this year, although he noted that some households still have not settled on relocation options. Work is advancing on a number of new institutional buildings, including a school for the relocated residents.
Meanwhile, the project is moving towards permitting. A committee that is reviewing Osisko's development plans is expected to make a recommendation to the government by July 9th, Mr. Hayes noted. Osisko is already preparing the site so that construction can start as soon as permits are received, and is doing more exploration drilling.
Mr. Hayes wrote:
Based on what we have seen over the last two site visits, Osisko is ready to transition smoothly and efficiently into the construction phase and, in doing so, push diligently toward intermediate producer status.
He rates the stock an "outperform." BMO does not put price targets on junior companies.