When you look at the earnings per share growth rate for most of the "usual suspects" among dividend growth stocks over the past decade, you will come across a collection of stocks that have largely turned in a good decade by growing earnings by 8-12% annually.
Over the past ten years, Kellogg (NYSE:K) has grown earnings by 8.0% annually.
General Mills (NYSE:GIS) has grown earnings by 9.5% over the past decade.
Over the past decade, Pepsi (NYSE:PEP) has grown earnings by 9.0%.
In the case of Coca-Cola (NYSE:KO), the company has grown earnings by 9.0% over the past ten years.
On a normalized basis, Johnson & Johnson (NYSE:JNJ) has grown earnings by 11.0% over the past decade.
And Procter & Gamble (NYSE:PG) achieved 9.0% annual growth during this stretch of time.
Yet one notable "usual suspect" delivered ten-year results that lagged typical expectations: Kimberly-Clark (NYSE:KMB). The maker of Kleenex tissue and Huggies diapers only grew earnings by 2.5% over the past ten years.
That surely means that dividend investors in Kleenex stock experienced terrible results over the past decade, right?
In a word: nope.
When we review the data, we can see that 2003 was an interesting time to be an investor in Kimberly-Clark stock because the company traded at an average P/E ratio of 14.9x earnings throughout the decade. That price incorporated a huge margin of safety. I don't mean that in the Benjamin Graham "net current asset value" sense of the phrase, but rather, this one: a company with high earnings quality selling diapers, tissues, and dozens of other products had fallen from its typical trading range of 19-21x earnings to 14-15x earnings. At that price, you could afford to handle a couple of bad years and still do all right.
Additionally, the company was in the process of increasing its payout ratio from the 35% range to the 50-55% range. The implication is that, as the company's valuation was adjusting upward, the company was also giving investors nice dividend hikes, giving investors a chance to reinvest at a much more attractive valuation than what we see today.
Check out this chart from Chuck Carnevale's excellent F.A.S.T. Graphs service that gives you the opportunity to see what a $10,000 investment in Kimberly-Clark looked like over the past decade with reinvested dividends.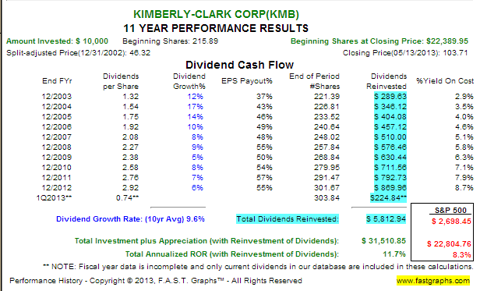 Click to enlarge
Look at those results. You got back 58% of your purchase price back in nominal dollars from dividends alone. Through the power of reinvested dividends, you increased your total share count from 215 shares to 303 shares. As a reward for delaying your gratification, you own a dividend machine that currently spits out $981 in annual income, or 9.81% of whatever amount of Kimberly-Clark stock you bought in 2003.
And here is an even crazier part: You would have beaten the performance of the S&P 500 by over 3% annually even though you only owned a company that was growing earnings by 2.5% annually. That is what happens you combine a great company with an attractive valuation that is accelerating its dividend payout ratio. Most of my writing focus on buying excellent companies at reasonable prices, but it really is magical to behold what happens when you buy an excellent company at a highly attractive price. The margin of safety (combined with the Board of Director's decision to accelerate the payout ratio) provided such ballast for the company's future returns that it was able to deliver these results on the heels of 2.5% earnings growth.
The story of Kimberly-Clark's success this past decade can provide a useful frame through which to make future investing decisions. No matter how great the company, we cannot escape the fact that all the future dividends and total returns that flow from owning the company are a function of the price we paid for it. If you buy Coca-Cola, Colgate-Palmolive (NYSE:CL), or even Kimberly-Clark today, you are not positioning yourself to do well if the company only grows earnings at 3-4% for the next ten years. Basically, the current pricing environment is such that if you get disappointing earnings growth from these companies, you will get disappointing returns.
However, if Coca-Cola and Colgate-Palmolive keep growing earnings at that 9-10% rate like they have been, the long-term investors buying at today's prices will likely do fine. If you are certain that Coca-Cola will continue to grow volume modestly, earn 25-30% returns on equity, and translate those facts into 9-10% annual earnings growth, then it may not be a bad idea to buy the stock today. The problem is, you are not well protected in the event that you only get 3-4% earnings growth from those companies.
Personally, I find the odds of Coca-Cola and Colgate-Palmolive to keep chugging along at 9-10% earnings growth rates to be quite high given that their particular brands remain strong and the returns on equity for both companies remain strong (err, more specifically in Colgate's case, the company's 30% return on capital remains strong and is expected to approach 40% in the next two years, perhaps explaining why it is priced accordingly).
Kimberly-Clark provides the perfect case study to demonstrate why investors benefit from insisting upon a margin of safety with stock purchases. It is an intoxicating idea to still get rich even if your company underperforms expectations and only grows earnings at 2.5% annually. Right now, if you buy Coca-Cola, Pepsi, General Mills, or even Kimberly-Clark, you are not getting that kind of margin of safety if earnings disappoint. Kimberly Clark's P/E expansion from 16 to 22, and the twenty percentage point spike in the payout ratio, was a godsend for investors this past decade. The Kimberly-Clark story this past decade can be a great case study to keep in the back of your mind when you think about paying over 20x earnings for certain blue chips at today's market prices.
Disclosure: I am long JNJ, PG. I wrote this article myself, and it expresses my own opinions. I am not receiving compensation for it (other than from Seeking Alpha). I have no business relationship with any company whose stock is mentioned in this article.