By Ken Nagy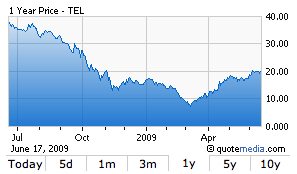 Tyco Electronics (TEL) (Analyst Report) is a leader in the fragmented passive components market. The company is the number-one supplier into the auto and industrial markets, and the number-two supplier into the computing and telecom/datacom markets (company sources). TEL's financial muscle and scale of operations puts it in a strong position with respect to other players, and also makes it a more suitable supplier choice in the current market environment.

The company has operations all over the globe, which negates a dependence on any particular geography. However, it is significantly leveraged to the automotive and computing verticals, which are relatively low-growth markets. TEL has a smaller exposure to the higher-growth, more volatile handset and consumer markets. Management will likely find a strategy to balance growth and stability, but the primary focus for the time being is improving profitability.

The Network Solutions segment was a mixed bag in Q1. The company saw some positive currency impact in the last quarter. The energy market in North America grew double-digits, but the softness in Asia and EMEA resulted in a -11.8% decline overall. Management stated that the company was gaining share in North America, as a result of its new marketing program and the success of the newly introduced high-voltage product line.

The longer-term drivers in this market include energy efficient and alternative energy solutions. Tyco's products are targeted at these areas within the energy market. Therefore, while the recession is expected to slow down the business, growth is inevitable in the post-recession period.

The service provider section of the network solutions segment grew double-digits sequentially. Management focus in this area is on the fiber-to-the-home technology. While customers are continuing to invest in FTTH and other broadband wireless projects, spending on upgrades and maintenance of existing networks is undergoing a temporary decline, especially at U.S. customers.

Currency had a positive impact on sales in the last quarter. Building networks revenue also witnessed a sharp decline in Q2. The lower revenue was attributed to the slowdown in commercial construction, as well as deferred project spending stemming from IT budget cuts.

Undersea telecom had a very strong quarter. This is a project-driven business, so it tends to be lumpy. The increase in the last quarter was on account of certain projects in the Middle East, Africa and Southeast Asia that finally took off. We are encouraged to note that margins in this business continued to increase in Q2. Management stated that orders were holding up, and the company continued to carry over a billion dollars worth of backlog. This is a relatively longer-cycle business, lending some visibility in the currently uncertain market.

Tyco bagged three new projects in the third quarter of 2008, revenue recognition from which is expected to continue into 2010. Segment revenue is currently expected to grow regain momentum through the remainder of 2009.

Sejuti Banerjea contributed to this post.