On Tuesday May 14, it was announced that Vale S.A. (NYSE:VALE) was resuming coking coal shipments from its Moatize operation in Mozambique, following a two-day stoppage due to the blockading of the Linha do Sena Railway by brick makers demanding additional compensation for lost production for up to two family generations. In the wake of the company's news regarding its Moatize operation, I wanted to examine several catalysts behind my decision to consider this beaten down mining play.
Overview: Based in Rio De Janeiro, Brazil, Vale S.A. in the research, production, and marketing of iron ore and pellets, nickel, fertilizers, copper, coal, manganese, ferro-alloys, cobalt, platinum group metals, and precious metals in Brazil and internationally. (Yahoo! Finance) On Tuesday, shares of VALE, which currently possess a market cap of $84.10 billion, a P/E ratio of 13.17, a forward P/E ratio of 6.98, and a forward yield of 4.59% ($0.75), settled at $16.33/share.
Trend Status: Based on Tuesday's closing price, shares of VALE are trading 2.17% below its 20-day simple moving average, 5.13% below its 50-day simple moving average, and 9.91% below its 200-day simple moving average. These numbers indicate a short-term, mid-term and long-term downtrend for the stock, which generally translates into a selling mode for traders.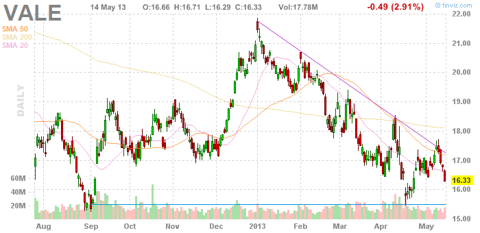 Click to enlarge
Strong Q1 Performance: On Wednesday April 24, Vale S.A. reported the results of what I believe to be a very strong first quarter. The company's Q1 EPS of $0.62/share beat street estimates by $0.06/share and its revenue of $11.1 billion missed street estimates by roughly $1.0 billion.
According to SA contributor Trefis both Coal and Nickel production contributed to the company's Q1 results. "The production of coal rose by 16.6% compared to the Q1 2012 figure of 1.5 million tons due to improved operations at its Australian mines, which offset the 16.8% production decline at Moatize in Mozambique due to heavy rainfall. Total finished nickel production in the quarter was 65,000 tons, 1.7% higher sequentially and 3% higher year-over-year." Coal and Nickel production are going to play a vital role in the turnaround of Vale S.A. and if production growth continues to weaken, shares could fall even further.
Are there any near-term roadblocks to consider when it comes to Vale S.A.? I personally think there are. The most notable road block is clearly China's demand, or lack thereof for 2013 and 2014. According to Wang Liquan, deputy secretary-general of China Iron & Steel Association, who noted that "although Chinese iron ore imports grew last year, this year they are expected to drop considerably." If Chinese demand continues to drop over the long haul, Vale S.A. could see its profits take a considerable hit and shares may begin to trade well below their 52-week range of $15.27 and $21.88.
Conclusion: When it comes to those who may be looking to establish a position in Vale S.A. I'd continue to keep a watchful eye on any cost-cutting initiatives that may occur over the next 12-24 months (similar to the company's most recent pull-out at the $6 billion dollar Rio Colorado project), as well as any key developments that could help improve both the company's coal and nickel production.
Disclosure: I have no positions in any stocks mentioned, and no plans to initiate any positions within the next 72 hours. I wrote this article myself, and it expresses my own opinions. I am not receiving compensation for it (other than from Seeking Alpha). I have no business relationship with any company whose stock is mentioned in this article.