By David Urani
The NAHB/Wells Fargo Housing Market Index showed a decent increase for May, to 44 from April's 41. This is a good sign following a decline in April, which seemed to be driven largely by a difficulty in securing lots, finding labor, and by higher costs. Those issues still remain in this market, and as a result inventory remains scarce. However, the higher index reading for this month indicates signs of homebuyers getting more urgent to find homes among the tightening supply. The sub-components for present conditions, expected sales in the next six months, and buyer traffic all increased.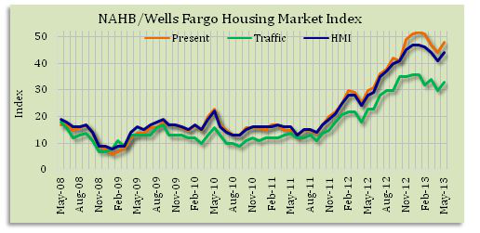 But going back to the issue of input costs, one intriguing trend has been a recent plunge in lumber prices. Since topping out in March around $400 (per 1,000 board feet), lumber futures have entered a steep slide, approximately 20% down to the current price of $322.30. Obviously if this is demand-driven it could foreshadow problems in the housing market, but there are enough other factors out there to suggest that is likely not the case.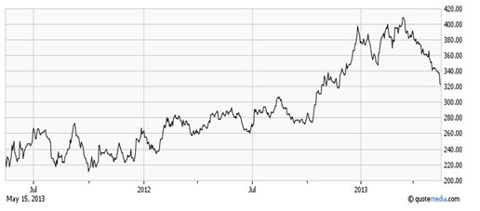 A recent survey of North American mills for last month suggests that lumber production hit its highest rate in six years in reaction to the increasing demand. That has been met with worries about Chinese imports potentially declining as that country seeks to tame its own housing bubble. Furthermore, relatively cold and damp weather this spring may be restricting homebuilding to an extent.
So in a way, rather than being an ominous sign for homebuilders, it may instead just be a favorable turn of events for gross margins.