Two of the stocks that I follow closely were in the news today. In both cases, Jana Partners, a leading activist hedge fund has taken about a 3% stake in both companies.
The question is, should investors jump on board just because Jana took a large position?
Let's start with Zynga (NASDAQ:ZNGA). As per my last take on the company, I said that the future value of Zynga lies in its ability to transform from a pure social gaming company to a real money gambling company.
I have also said that the price of the stock will be a function of the company's gambling strategy, as it unfolds over time. And the strategy investors should follow is to buy Zynga's stock on weakening and sell into rallies, but always buy at higher lows and sell at higher highs. We stop trading the stock only when we get official word on the company's gambling endeavors.
I was ready to call for a short-term sell on Zynga before the Jana news came out. However, when a big player jumps on board and takes out of circulation 3% of any stock, then it is only natural there will be upside pressure. So while there is currently no additional fundamental information about Zynga, the fact that Jana took a stake is positive by default.
However if one looks at today's chart, he will notice that while the stock rallied, it was sold off very fast. Also please notice that while volume was higher than normal, it was nothing extraordinary. So the way to play Zynga going forward is to sell it at its current resistance -- around $3.63 -- and then try to buy it back again along the lower trend line as shown in the chart below.
However, if the stock closes above the $3.63 level, then technically we have to follow and buy. Because when it does cross above that level, it will be the higher high I was talking about.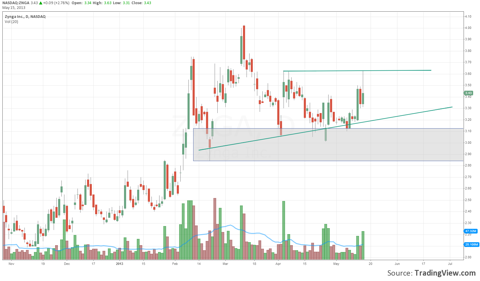 Click to enlarge
As for Groupon (NASDAQ:GRPN), things are a little more complicated. For the most part I have been neutral on Groupon for a while now and I was really surprised the stock traded above the $6 level.
Groupon is a good business and like I have said in the past the company will continue to be a world class leader in the coupon space, but I don't see many catalysts to be a buyer of the stock at the moment (all my Groupon logic here).
The company's latest Q1 2013 results were ok, but nothing to be excited about.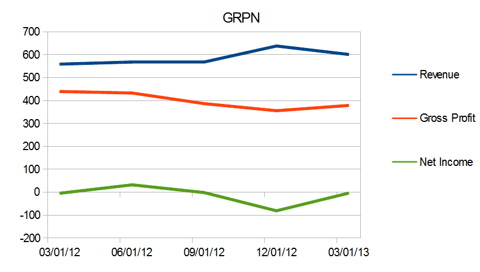 Click to enlarge
The forward P/E of Groupon is about 24, with a P/B ratio of 6. In fact analysts have an average 12 months forward price target of $6.13, which is much higher than today's close. Not many reasons to be a buyer in my book.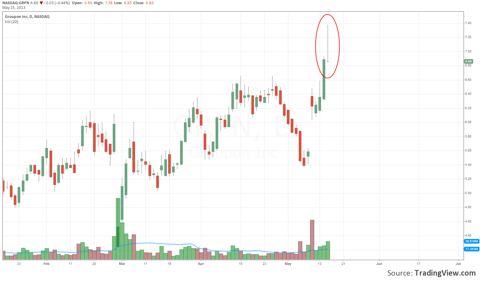 Click to enlarge
On a technical note, while the stock was up as much as 7% on the news, the market nevertheless sold the stock and by the end of the trade session, the stock had given back all gains and then some, closing negative for the day (ouch).
Bottom Line
I continue to like Zynga and I continue to believe that the gambling business will be the main catalyst for shareholders to make a lot of money in the next two years or so. Until then, I continue to recommend swing-trading the stock. So I would be a buyer of Zynga if it corrects, or if the stock were to break above the $3.63 level.
As for Groupon, I can't find many reasons to justify why Jana took such a large stake. The business is just fine and the company is holding its own, but other than that, there are not too many things to be excited about. As such, I recommend taking profits for holders of the stock and waiting for a substantial correction to re-enter.
Disclosure: I have no positions in any stocks mentioned, and no plans to initiate any positions within the next 72 hours. I wrote this article myself, and it expresses my own opinions. I am not receiving compensation for it (other than from Seeking Alpha). I have no business relationship with any company whose stock is mentioned in this article.