Nokia (NYSE:NOK) confounded our expectations on Tuesday, May 14th by introducing the Nokia Lumia 925, a slim-lined successor to the Lumia 920. The phone maintained screen width of 4.5" but dropped height, width and weight to come to a much more market friendly 139g, a significant reduction on the Lumia 920's 185g. Throughout the run-up to this event, we had carefully designed, well-executed leaks from Nokia. This culminated in the buzz-building advert shown on the British Channel 4 on Sunday, May 12th, which quickly went viral across the world. In short, Nokia's marketing team had done their job. Then Tuesday happened. Nokia gave an incredibly dry, tedious, presentation which somehow managed to turn a potentially exciting event with the launch of a brand new phone, into something that had all the excitement of watching an internal corporate presentation. Worse than having to experience its tedium, there was only one phone launched. I think it is a fair assessment to say that most Nokia observers, including myself, were expecting something a lot more substantial from the day's event. Yet, if we look at the substance of what Nokia did, I do think there are genuine grounds to be bullish on Nokia. In this article, I review the 11 key takeaways we gained from Tuesday's presentation. The eleventh one in particular makes me very bullish.
1. It still knows how to produce beautiful phones - It is only fair we start with what we saw Nokia actually present to us. The Lumia 925 is unquestionably a beautiful phone. The evolution of Nokia's design aesthetic from polycarbonate shells to having a touch of aluminum is also a welcome development. While many of us love the robustness of the Lumia 920, it is definitely a thick and heavy phone. Nokia successfully dealt with these drawbacks by producing the best of the Lumia 920 in a better body. If we do a direct comparison, we can see just how much of an evolution this is, especially in thickness.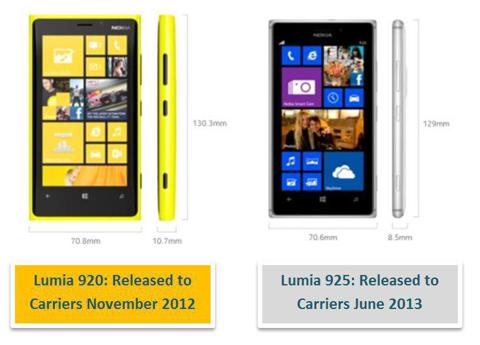 Click to enlarge
Source: Nokia L920 link, L925 link
2. Nokia is on an accelerated development cycle - Nokia clearly recognizes it is still fighting for its economic survival. Its R&D departments are thus working overtime to produce new phones to appeal to customers. From the point of view of investors this can only be a good thing. As investors, we do not need to worry about the long 6-month tail of declining sales for the Lumia 920 as we await its successor. Its successor is already here and it is well capable of generating renewed interest in the Nokia flagship. We thankfully will not then have a repeat of Q3 2012 when Lumia sales dropped to 2.9 million while we awaited the launch of the Lumia 920. To put into perspective how positive this development is, Nokia has now launched two flagship phones while the iPhone 5 has been in existence. It is highly likely by the time the iPhone 5s is launched, Nokia will have another new flagship waiting in the wings. This brings us to point 3.
3. If this was launched just 6 months after L920, we can expect something new for Q4 - Back in January, I wrote an article, which laid out what I expected to see over the coming 12 months. With Nokia being so quick in launching a new phone, it is highly reasonable for us to expect it will launch a L920/925 successor for Q4. I actually don't think this will be the "Eos," the 41MP camera phone, which I still expect to be launched in the summer, but something different. This is because the L925 consists of most of the same internals as the L920. The L920's internals were not ground breaking, but were satisfactory for a 2012 smartphone. I do not think Nokia will expect a phone with such internals to be competitive in December 2013, so it is reasonable to expect a substantial update.
4. Every major US carrier now has its own unique Lumia - As Nokia watchers, we know that most of its revenues derive from Europe and Asia. Nevertheless, the US is a highly lucrative market, which is important to pay attention to. It also sets global trends and it's not coincidental that the US is home to iOS (NASDAQ:AAPL), Android (NASDAQ:GOOG) and Windows Phone (NASDAQ:MSFT). Nokia's success in the US is thus very important. With the new Lumia 925 going to T-Mobile (NASDAQ:TMUS), the new Lumia 928 to Verizon (NYSE:VZ) and the existing Lumia 920 to AT&T (NYSE:T), Nokia has now successfully introduced a flagship phone to all three key US carriers. Broader availability should result in increased sales. I do hope however that T-Mobile does market this phone and does not treat it in the same way as the Lumia 810, which it discontinued after a mere 6 months.
5. Nokia has deepened its partnership with Vodafone & Verizon - At Tuesday's presentation, we saw a Vodafone (NASDAQ:VOD) executive expound the benefits of partnership with Nokia. Despite his faux pas, which led to the memorable Techradar headline "Nokia bashed at Nokia press conference," his presence alone was a positive development for Nokia. Vodafone is an especially powerful partner. It is the world's second largest operator and is certainly the most global having operations in over 70 countries, including a 45% stake in Verizon Wireless. I think it is very interesting indeed that Nokia has brought out the Lumia 928 for Verizon and appears to have directly listened to feedback from Vodafone to bring out the Lumia 925. I genuinely hope this translates into concrete sales.
6. It expanded global carrier coverage - The Lumia 925 will hopefully help Nokia move away from carrier exclusives outside of markets such as the UK and US. By being available freely around the world, it will help drive Nokia Lumia sales upwards. This very usefully included both China Mobile (NYSE:CHL) and China Unicom (NYSE:CHU), the two biggest carriers in the world's largest market.
7. It also knows how to deliver value to both consumers and carriers - Linked to 6, Nokia succeeded in keeping the price point low on the Lumia 925 at 469 Euros (~$608). It is probable the actual figure will be lower on T-Mobile which will make it an even cheaper phone to own than the iPhone 5, which starts at $649. This price points makes it an attractive buy to both consumers and carriers as it offers value for money, yet is very much a flagship phone.
8. Nokia is hyper-attuned to consumer and carrier requirements - If one reads through the comments of this article, or look at the round-up of reviews here, you can immediately see how much of the criticism at the Lumia 920 was directed towards its weight and the fact it didn't have an aluminum body. Within 6 months, Nokia successfully answered this criticism. This is quite a feat for a large multinational to do and indicates how much Nokia has learnt over the last decade. We know how in the early 2000s Nokia was famously ambivalent towards clamshell designs which led to it being briefly outshone by the Motorola Razr. We also know how in 2007, Nokia was outmaneuvered by the iPhone which led to its current predicament. I think Nokia learnt these lessons very well and is looking to deliver exactly what its customers want. This has to be a good thing from the shareholder point of view.
9. Its presentation techniques are terrible - There are of course some negatives. Most readers won't have seen the presentation, which can be found here. Nokia unfortunately brought out two Nokia senior managers, who while undoubtedly passionate about the company, are not natural presenters. It was terrible to watch. Most importantly, if one does a Google News search for the "Lumia 925," there will be very few images directly from the event itself. In one memorable moment, VP of smart devices, Jo Harlow, changed into a basketball outfit to do a slam-dunk. This was then captured by the Lumia 925. Now, this was a golden opportunity to bring out a basketball star to do something sensational. These images would then have been broadcast to the world and been on most of the news media. It utterly baffles me how Nokia can go to the trouble of setting up a basketball net and then proceed to not invite a basketball player to do something photogenic for the news media. I really hope for its future presentations, Nokia does something better. In defense of the two presenters however, they did seem more personable afterwards such as in this BBC interview.
10. Microsoft is the laggard partner, not Nokia - Since November 2012, Nokia has brought to market: the Lumia 920; Lumia 820; Lumia 720; Lumia 620; Lumia 520 and now introduced to the world the Lumia 925 and Lumia 928. While doing all of this, it has also heavily upgraded its Lumia software suite bringing out apps such as Nokia Music+ and kept on bringing developers to the platform through its Nokia collection. Since November 2012, what has Microsoft done? There are several deficiencies in Windows Phone that Microsoft needs to tackle immediately. This includes giving VPN support for businesses and a decent notification center. I think this is a less complex task than managing a global supply chain to introduce a new phone to the market. It was a shame that Microsoft was not on stage to announce new Windows Phone developments. It was interesting however that Nokia took the lead in announcing the Lumia Amber update. These will possibly introduce some updates which Microsoft has failed to provide.
11. Nokia has a "summer of announcements" planned - Just before the end of the presentation, Jo Harlow announced that we can expect a "summer of announcements." This is very exciting because it means between June, July and August, we should expect at least two more announcements. Personally I would expect the "Eos" to be announced and a new product category. Possibly a tablet or a phablet. This is very good news for Nokia shareholders indeed. I was not expecting more than two product announcements before today. While I was disappointed only one was unveiled today, the prospect of three new Nokia flagship products in the marketplace excites me.
Conclusions
While the share price on Tuesday which dropped 22 cents (to $3.62 at the time of writing) was disappointing, it was not unexpected. I think Nokia's share price will recover based on today's takeaways as well as its other positives. Fellow Seeking Alpha contributor Jacob Steinberg has written several excellent articles which give a very good insight into Nokia's true valuation. As such, I do remain bullish on Nokia. I would love to hear your thoughts in the comments as to how you feel Tuesday's events will impact Nokia's price from the short to the long term.
Disclosure: I am long NOK. I wrote this article myself, and it expresses my own opinions. I am not receiving compensation for it (other than from Seeking Alpha). I have no business relationship with any company whose stock is mentioned in this article.