Seth Klarman, famous investor and writer of one of the most expensive books on investing, "Margin of Saftey," just reported Baupost's holdings as of 3/31/13. As an alternative to shelling out $2,000 for his book and/or hunting for a public library that has managed to safeguard the gem, investors can learn a lot from Klarman by following the actual moves he and his fund have made throughout the year. March 15, is a busy date for all fund followers and in anticipation of this report, I highlighted his worst/most contrarian 2013 (YTD) investments prior to the release. Before we begin, anyone interested in this information can find it here.
New Holdings
Other Purchases
Sell Outs
Other Sells
Other Holdings / No Change
Below is a visual look at the portfolio's changes (from largest to smallest holding). Please let us know what you think! Do you own any of these companies?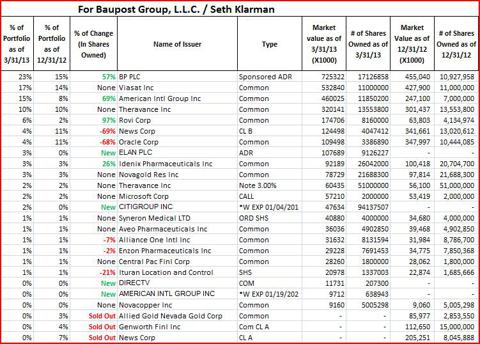 Disclosure: I am long NG, NCQ, GNW. I wrote this article myself, and it expresses my own opinions. I am not receiving compensation for it (other than from Seeking Alpha). I have no business relationship with any company whose stock is mentioned in this article.