In the present article we would like to evaluate exposure to country risk for Gold Fields (NYSE:GFI) and their spin-off company Sibanye Gold (NYSE:SBGL).
In a series of recent articles we quantified the country risk of various mining jurisdictions. We collated country risk ratings for numerous countries from eight different sources and averaged these ratings into compounded country risk scores. Compounded country risk ratings range from 0 to 100 with low numbers indicating low risk and high numbers indicating high risk. The most recent results from this work can be found in this article. Most definitions of country risk include factors such as political risk, exchange rate risk, economic risk, sovereign risk, transfer risk, socio-economic risk and others. Depending on the source, various contributing factors of country risk are weighted differently. Readers interested in the specific definitions are encouraged to follow the links to our sources given in this article.
Gold Fields took the bold decision to spin off some of its South-African assets into a separate company late last year. This decision was taken in order to reduce exposure to South Africa which is increasingly viewed as an unstable and unpredictable mining destination by investors. Half a year later the two entities Gold Fields and Sibanye Gold are trading at $6.34 and $3.54 respectively (down from around $12 before the split). Gold fields presently has a market capitalization of $3.6B and a forward P/E of 6.5. Sibanye Gold's market capitalization stands at $647M and the forward P/E is at 1.7. These valuations give an indication of the rough welcome provided to the two companies by Mr Market.
Even though the split was performed late in 2012 we are treating the two entities separately for the purpose of this article. The tables below provide summary information on 2012 attributable production, reserves and resources for assets now belonging to each of the two companies. We used a silver-to-gold ratio of 50, a platinum-to-gold ratio of 1 and a palladium-to-gold ratio of 0.5 and only considered precious metals for the assembly of the data for Gold Fields.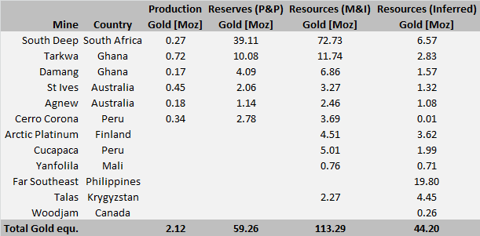 (Gold Fields)
When considering Gold Field's asset profile the table above can be consolidated showing summations for each country of exposure resulting in the table below. The data is already calculated in percentages of gold-equivalent ounces. Country risk ratings as documented here are also shown in the central column of the table. The right side of the table shows the weighted risk contributions for each country separately for production, reserves and resources with summarized scores in the bottom line. The individual ratings can be interpreted as ratings going from present risk (production) into the future (inferred resource).

(Gold Fields)
Observations
Sibanye Gold only operates in South Africa and therefore country risk exposure is to this one country only. Using our system described in this article the compounded risk rating for South Africa computes to 36.6 which indicates moderate country risk. We assume that this risk rating is bound to rise over time given the ongoing problems in the South African mining sector.
The country risk rating for Gold Fields based on production data computes to 39.68 indicating considerable exposure. This rating is driven by production in Ghana which accounts for 42% of 2012 gold output. When considering reserves and measured & indicated resources the country risk rating remains at very similar levels (40.22 and 39.23 respectively). However, when using indicated resources as a basis the rating is increased to 47.4 owing to the Far Southeast project in the high-risk jurisdiction of the Philippines. Gold Fields' ratings are perhaps best comparable to Kinross Gold (NYSE:KGC) which is also a company of similar size.
The split between Gold Fields and Sibanye Gold has led to a situation where future country risk exposure of the junior sibling Sibanye Gold is linked to the future of gold mining in South Africa, an outlook that many investors are shunning at the moment. On the other hand, Gold Fields with only one mine in South Africa in the new portfolio has exposure to some very risky jurisdictions such as the Philippines and Mali as well as some exceptionally safe and predictable ones such as Canada and Finland.
Disclosure: I have no positions in any stocks mentioned, and no plans to initiate any positions within the next 72 hours. I wrote this article myself, and it expresses my own opinions. I am not receiving compensation for it (other than from Seeking Alpha). I have no business relationship with any company whose stock is mentioned in this article.