A number of economic indicators have been showing signs of improvement. Housing prices, starts, and permits have all been on the rise. And, despite the incredibly low civilian participation rate, initial jobless claims and nonfarm payrolls also continue to improve. Yet there are a few numbers that are heading in the wrong direction.
The ISM manufacturing and services indices are weakening. The manufacturing index recently declined to 50.7 for the month of April. That's down from 51.3 in March and 54.2 in February. In fact, it has been in a downward trend since 2011. As for the services index, it fell to 53.1 in April from 54.4 in March and 56.0 in February. Any number above 50 indicates expansion, while a number below 50 signals contraction. While both indices are above the critical level, the deterioration in both is worrisome.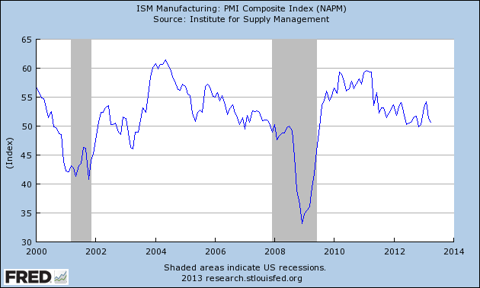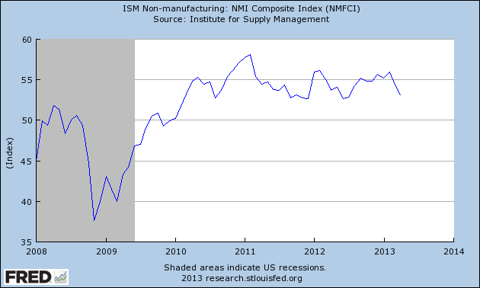 Furthermore, the Empire State Index dropped to -1.3 in May. That's down from 3.05 in April and 9.24 in March. The critical level in this index is zero. This means that the manufacturing sector in the state of New York is contracting. This is the first negative reading since January.
Industrial production and capacity utilization are much stronger than they were during the financial crises, but the most recent results for these economic indicators are also disappointing. Industrial production fell 0.5% in April after rising 0.3% in March and 0.9% in February. Capacity utilization fell to 77.8% from 78.3% in March and 78.2% in February.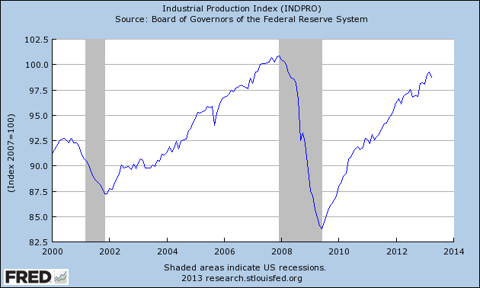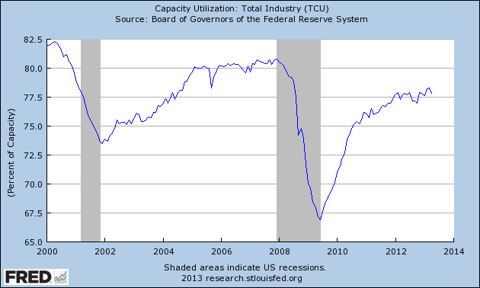 The longer-term trend in both industrial production and capacity utilization is still favorable; however, the most recent figures are not encouraging. Of course, it is much too early to tell if they point toward another slowdown in the economy. Clearly, the stock market is not buying the slowdown story. Despite anemic revenue growth at best, stocks keep going higher. Are stocks signaling an expectation that economic growth will improve, or are they climbing simply because of central bank actions? I suspect it's the latter.