Cisco Systems (NASDAQ:CSCO) just finished its 2013 Q3 earnings conference call. Here is the skinny: net sales of $12.2 billion (an increase of 5% y/y) and a non-GAAP EPS of $0.51, therefore beating the Street consensus by 2 cents. In my article, Cisco Earnings Preview: Momentum Analysis And 8 Reasons To Be Long, I stated my expectations in a very clear fashion:
Earnings: at least 50 cents per share. This number beats the Street consensus but is also a decrease in the surprise percentage q/q.

A dividend announcement (a Cisco tradition).

A positive market reaction to the announcement.
In a nutshell, everything came out as I expected. The positive market reaction to the announcement is clearly on this way. Cisco was actually down 0.28% Wednesday, reflecting the fact that a great proportion of investors were worried about a possible worse-than-expected EPS. At 4:30 PM, Cisco presented the results. Almost immediately, after hours movements started showing a sudden improve in upward momentum. There is an 8.68% increase in stock price so far.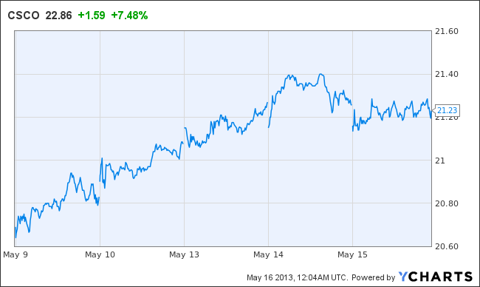 This article reviews the earnings call in detail. I also finish the note with 3 potential risks in the mid run. However, my overall view is positive. A 8.68% increase could be seen by many as an overreaction, considering that the surprise percentage is significantly lower than in the previous quarters. But I do not expect a major correction, as Cisco remains well positioned in core markets. The real value of Cisco is much higher (my price target is $30). In this context, using the word "overreaction" is a misnomer.
Earnings overview: The Good
- Consistent growth in revenue: For the ninth consecutive quarter, Cisco delivered record revenue, operating income and net income. Despite a difficult macroeconomic environment, it had 3rd quarter net sales of $12.2 billion, net income (GAAP) basis of $2.5 billion or $0.46 per share, and non-GAAP net income of $2.7 billion or $0.51 per share.
- It had better-than-expected results, as the Street consensus was $0.49 per share.
- Cisco remains well positioned in core markets. The cloud data center revenue growth came out at 77%. The wireless business was up 27% and the SP Wi-Fi business up over 100%.
- Cisco keeps its tradition of delivering consistent capital returns to its shareholders: of the $3.1 billion generated in operating cash flow, $1.8 billion was returned to shareholders in share buybacks and dividends.
Earnings Overview: The Bad
- The results just barely beat analyst expectations. Furthermore, the surprise rate by which Cisco beats the consensus is decreasing: 2.1% in April 2012, 2.2% in July 2012, 4.3% in October 2012, 6.3% in January 2013; and now 4%. As Cisco continues to deliver record growth figures, investors and analysts will continue raising their expectations, making it harder to beat the consensus. The EPS guidance provided for the next quarter is $0.50 - $0.52 per share. That is, the company is indirectly admitting that they could deliver, in the worst of cases, $0.50 per share in the next quarter, a one cent decrease. This could cause a severe adjustment of expectations in the next quarter.
Earnings Overview: The Ugly
- Growth figures in Asia are not as strong as they look. At first glance, results in key emerging market economies look robust. But revenue is growing at the same rate as in the U.S., 13% y/y. Revenue in emerging economies (where the economic growth rate is double the one in the U.S.) should be higher. John Chambers, Chairman and CEO, noted:
We were especially pleased with the progress we made in Q3 in the emerging countries with growth of 13%, as a reminder, emerging countries grew 6% in Q2. We are also pleased with the balance across emerging countries with India growing 29%, Russian growing 16%, Brazil up 14%, China up 8% and Mexico up 4%. The remaining emerging markets around the world which is approximately 50% of our total business from emerging countries, was also very solid with growth of 13% as well.
However, he later added:
The Asia-Pacific, Japan and China region orders 1%, we have over the last several years seen tremendous growth in Japan. And last year fiscal year '12 there was growth year-over-year of 30%. This has created some tough comparisons. We also continue to see challenges in China, largely Cisco specific, relating to the business environment. We do believe we are making progress, although we expect these challenges in China to last several more quarters.
- The security business segment saw a decline of 4%.
3 mid-term Risks
| | | |
| --- | --- | --- |
| | Effect | Probability |
| High expectations are reducing the surprise percentage by which Cisco beats the Street consensus. An adjustment of expectations for the next quarter is very feasible. | Negative | Medium |
| Cisco shows weakness in its Asian figures. Furthermore, Abenomics could cause the margins in Japan (a key market for Cisco) to decrease in the next quarter. | Negative | Medium |
| Cisco is under transition, shifting to new technologies, like software defined networking (SDN) and the promising cloud computing. The portfolio of Cisco's products will be very different in one year. While these technologies are promising, competition is already very fierce. The upside is that Cisco has the means to buy any early star in order to consolidate its position in some emerging technologies, like small cell technology. | Negative | Low |
Final Remarks
Rate: Buy
Investment Horizon: 1 year
Price target: $30
Strategy: Value | Event-driven
Uncertainty: Low
See the presentation slides here.
Disclosure: I have no positions in any stocks mentioned, and no plans to initiate any positions within the next 72 hours. I wrote this article myself, and it expresses my own opinions. I am not receiving compensation for it (other than from Seeking Alpha). I have no business relationship with any company whose stock is mentioned in this article.