A Sumzero buy call by Andrew Diaz from Catalus Capital on Crocs (NASDAQ:CROX) last week got my attention immediately (keep in mind that Diaz is not alone, Tomas Lott also published a bullish Pro article in January here). Crocs sandals have become an ubiquitous product, but the company (with a $1.4B market capitalization at the moment) is often left forgotten. That is, when it is not being shorted: in 2008, shares were trading at $1. Things have got much better now, with the stock price enjoying a great upward momentum: 9.96% up in the past month.
This article provides 5 reasons to buy Crocs. We take a value investment strategy, prioritize fundamentals and a one year investment horizon. Our current price target is $20 per share.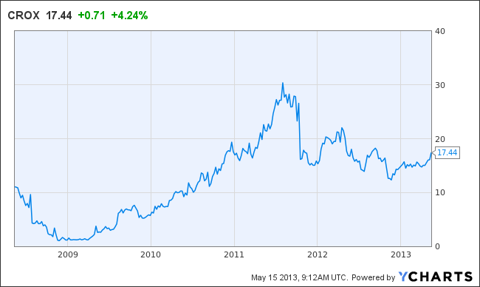 The 5 Reasons
1. Incredibly cheap
The current market capitalization of Crocs does not reflect its real value. First, notice that although the growth rate of revenue has decreased enormously since 2001, the company only experienced negative growth rates in 2008 and 2009. The 14.66% achieved in the latest quarter also shows that the company is more alive than ever.
Diaz estimates that CROX has grown revenue since 2008 at a CAGR of approximately 12%, causing EBITDA to turn from -$70 million in 2008 to $200M in 2012.
Assuming $200M for the current EBITDA, this implies that Crocs is currently trading at a very modest ~6x EBITDA multiple. See, for example, Sketchers USA (NYSE:SKX), which manufactures footwear for men and women (therefore, a direct competitor). It closed $1.6B in sales and trades at ~14x EBITDA. If Crocs were to trade at the same multiple, market cap would be as big as $2.8B, which implies a share price of $31.8 dollars.
2. Amazing Revenue Growth
In the last earnings call, Crocs announced $312M in revenue, about $2M above the high-end of their guidance and the highest first quarter in the history of the company. If we assume that the company manages to keep the same level of revenue per quarter (that is, assuming a 0% growth rate per quarter, which is very conservative, to say the least, since the company expects revenue of $360M to $370M and EPS of $0.60 to $0.63 per share, for the next quarter), we have a guaranteed $1.248B revenue figure for this fiscal year. Considering that revenue last year came at $1.123B; we obtain at least 11% growth in revenue, y/y. However, since Crocks has experienced a positive growth rate q/q in the past 3 years, we expect the real figure to be much higher, possibly in the $1.3B - $1.35B interval.
3. Catalyst: Strong growth in Asia
It seems that Asia is in love with Crocs. Business in Asia, where most of the world's population resides, is doing great. It increased 56% in China, and 49% in South Korea over the 2012 level. Japan is an exception: wholesale business declined 6%. Furthermore, due to Abenomics, margins were also damaged. However, this fact does not damage the excellent margins the company enjoys in the region, ~30% or more. The upside is that internet revenue in the island increased 33%.
In the words of John McCarvel, President and CEO:
"...our overall Asia-Pac business continues to grow and develop. Asia-Pac grew 34% for the quarter on a broad range of initiatives in the region and countries namely China, Korea and the Middle East. All channels showed strong growth in the quarter, strong pre-books in the wholesale coupled with new products and better weather pattern assisted the region in the first quarter."
4. Catalyst: Potential LBO candidate
This thesis comes from Diaz, who believes Crocs is an excellent LBO candidate for Leonard Green Partners or Golden Gate Capital, amongst others. This is not fantasy for a firm that has achieved more than $1B revenues in each of the past two years. Remember that Apax Partners recently agreed to purchase Cole Haan from Nike for $570M in cash.
5. Clean balance sheet
Total assets stand at $773M. Total liabilities are $243M. The result: a healthy balance of $500M, a third of today's market capitalization.
See the balance sheet here.
Final Remarks
Price target: $20.00 / from N.A.
Rating: Buy / from N.A.
Investment Strategy: Value
Investment Horizon: 1 year
Uncertainty: High
Disclosure: I have no positions in any stocks mentioned, and no plans to initiate any positions within the next 72 hours. I wrote this article myself, and it expresses my own opinions. I am not receiving compensation for it (other than from Seeking Alpha). I have no business relationship with any company whose stock is mentioned in this article.