In "Zelig" Woody Allen plays a human chameleon who takes on the appearance of those around him. Tech companies need to adapt to their surroundings as fast as Leonard Zelig. In just a few years Groupon (NASDAQ:GRPN) has already exhibited a chameleon-like nature. It started as a daily deals company, then branched out and built a marketplace. More recently, Groupon is becoming a mobile/local company. The bears have argued that these transformations are a sign of weakness in the business model and there is some truth to that. However, following the huge post-IPO crash a lot of negativity is priced-in and maybe there is room for upside. Groupon's stock price has been resilient lately despite bad news and traded up to multi-month highs. In this article I will analyze the opportunities and risks involved in investing in Groupon. I am bullish on Groupon as it has attractive assets that can used to compete in mobile/local e-commerce space.
Investment Thesis
The following is a summary of my investment thesis:
Large user base, merchant base and geographic footprint
Gaining traction in mobile
Brand value
Growing despite many challenges shows resilience and upside potential with better management
Low expectations and cash position provides some downside protection
Potential acquisition target
Background & Stock Price
Groupon will long be remembered as a high profile IPO flop. However, the stock seems to have bottomed and is now trading at highs that date back to last August.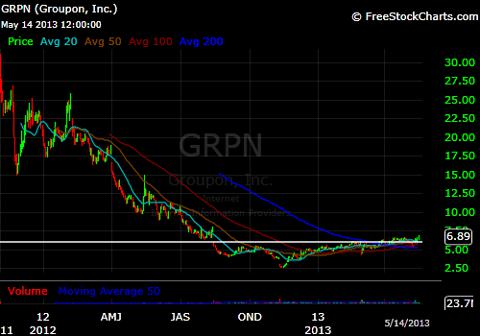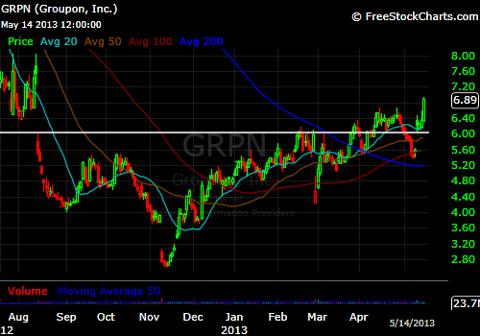 (Source: FreeStockCharts.com)
Groupon is even trading above its 20, 50, 100 and 200 day moving averages, which indicates a shift in sentiment.
Groupon's rally since the November lows is impressive because it has come despite a string of bad news, including the firing of CEO Andrew Mason in February.
Groupon released Q1 earnings on May 8. Investors drove down the stock going into earnings, but the results came in a bit better than expected and the stock price rebounded to new multi-month highs. The results were not great and underscored the challenges and opportunities for Groupon in the future.
Short Interest
Groupon has had high short interest and some of the stock price gains may be attributed to short covering.
Currently, Groupon has 34.6 million shares short (source: Nasdaq.com) compared to 660 million shares outstanding and a float of 308 million (source: Yahoo Finance).
The short interest as a percent of the float is approximately 11%, which is high, but not extreme.
Groupon's average daily volume over the last 50 days is approximately 15.8 million shares. This liquidity means that the potential for a short squeeze is low.
The following compares Groupon's short interest to its stock price. The data is bi-monthly through April 30, 2013.
(Source: Nasdaq.com)
Financials
One of the key bearish arguments against Groupon is that the original daily deals business is in decline. The income statement below shows the revenue breakdown between the original daily deals business, which comprises most of the "third party" revenue, and the newer Goods business ("direct"), which is the Amazon-like marketplace.
Groupon's revenue growth only came from the fact that the Goods business made up for the decline in the daily deals business.
(Source: Groupon's Q1 2013 10Q)
The problem with this mix shift is that the Goods business has a lower gross margin. Almost all of the gross profit comes from the "local" business, which is the daily deals.

(Source: Groupon's Q1 2013 Earnings Release Tables)
Another source of weakness (and potential opportunity) for Groupon is the international business. The international business provided much of the growth that enabled the IPO, but has recently lagged. In fact, the international business was down year-over-year and generates lower margins.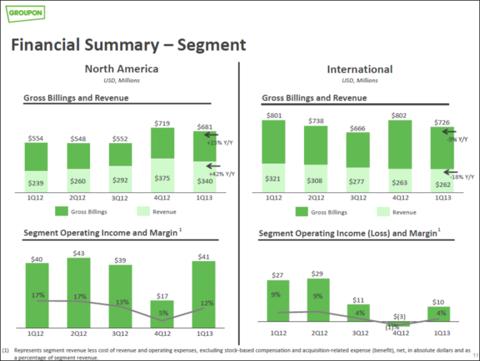 (Source: Groupon's Q1 2013 Earnings Slides)
There is no doubt that Groupon's financials show some weaknesses. However, with the stock price down so much, the negatives are not news. The question is if there is value in the stock at this level.
One last point about the financials. Groupon has had accounting issues. For a good critique of Groupon's accounting, please see this post from Grumpy Old Accountants.
SWOT Analysis
Because of Groupon's complex situation it is useful to use a SWOT analysis. Here is a summary and the following sections go into each point in more detail.
Strengths
Large base & attractive assets
Brand
Power users represent an attractive demographic
Cash position
Opportunities
Mobile opportunities
Local
International turnaround
Weaknesses
No CEO, lack of stability
Decline in daily deals business
Deal fatigue and Yelp (NYSE:YELP) effect
Threats
Large Base & Attractive Assets
The next two charts show the potential for Groupon.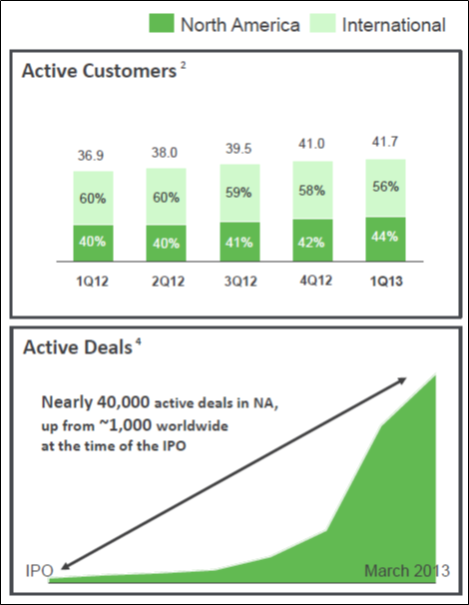 (Source: Groupon's Q1 2013 Earnings Slides)
Despite all the problems over the last year, including lack of management, Groupon increased its base of active customers to 41.7 million. There are obviously many people that find value in Groupon and the company has been able to add to these ranks quarter over quarter. I do not expect much growth in this metric going forward, but it would be impressive if Groupon just maintains this base and find ways to monetize it better.
The second chart shows the increase in active deals. Not only do many users stick with Groupon, but the company has been able to get more merchants to offer deals. Impressively, Groupon is also getting merchants to offer long term deals on the site.
In the Q1 2013 earnings call, management said the following:
"...in March over 60% of all merchant contracts in North America opted to feature in our pool marketplace with a monthly recurring deal which fueled the growth in our active deal count." (Source: Seeking Alpha)
Despite all of Groupon's problems, merchants are also finding value in the company and are willing to sign up for longer term deals.
A company that does not lose its customer (and merchant base) despite bad management and many problems has a lot of potential.
Brand
Groupon's brand was tarnished by the bad press surrounding the IPO. Furthermore, there were lots of reports about merchants not profiting from Groupon deals.
Nonetheless, I would argue that there is value in Groupon's brand. There are tons of e-commerce sites and many do daily deals. However, only a few that have the brand recognition to rival Groupon. Groupon's brand awareness is not going away and the company may be able to take advantage of it in the future. Furthermore, Yahoo (NASDAQ:YHOO) and AOL (NYSE:AOL) are examples of new management teams leveraging old internet brands.
Power Users Represent An Attractive Demographic
Fortune recently reported, "Groupon's 'power user,' in fact, is a 42-year-old, urban mom with two kids, household income of $100,000, and an iPhone."
I do not know what this is based on and would like to get more detail from the company about its "power users." Nonetheless, this seems like a very attractive demographic with a lot of purchasing power.
Cash Position
Groupon's cash position provides downside protection for the stock and gives the company time to work through its problems.
As of March 31, 2013, Groupon had $1.166 billion of cash (Groupon's market cap is approximately $4.5 billion).
Its total current assets are $1.431 billion compared to total current liabilities of $1.101 billion (including $620 million of accrued merchant and supplier payables).
Some would argue that the cash provides little downside protection because of the liabilities. Still, Groupon has cash on hand and should not need to dip into its cash position to fund operations. This gives it time to turn around the business.
Mobile Opportunities
Groupon has been making notable progress in mobile, especially in North America.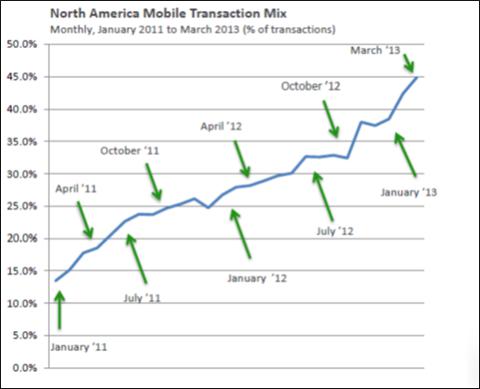 (Source: Groupon's Q1 2013 Earnings Slides)
It would be nice to get a breakdown of the mobile mix by product line to see how much is coming from the Local (deals) business and how much is the Goods business.
Nonetheless, Groupon has already achieved a strong base in mobile, which, at least, could make it an attractive acquisition target.
Local
The local merchant space is an attractive frontier that many internet/technologies companies are going after. Groupon's transformation from a daily deals site to a broader e-commerce company gives it a stronger platform for local merchants.
Many local merchants have unsophisticated technology systems and limited advertising capabilities. Groupon's various products are addressing this market.
For example, Groupon just announced Breadcrumb POS - its point-of-sale solution that runs on iPads.
International Turnaround
From a financial perspective, one of the greatest opportunities is a turnaround in the international segment. The challenges for the international segment include declining revenue and low margins.
For various reasons, Groupon's international operations suffered from lax oversight and lagging technology systems. Management seems focused on turning around the international business and is working to upgrade the technology systems to be on par with the North America business.
The following is one example of the opportunities in the international segment. Groupon's international salesforce is much bigger than the North America salesforce.

(Source: Groupon's 2012 10-K)
On prior earnings calls management discussed the big gap in efficiency between the two segments. It is fair to assume that with better technology systems the gap will close and Groupon's international business will improve. If there is no improvement over the next few quarters I will become more concerned that the problem is deeper.
No CEO, Lack of Stability
Since February Groupon has not had a permanent CEO. It is somewhat reassuring that the major shareholder is filling in, but the company needs a more permanent solution.
Although this is currently a weakness, it is also a potential opportunity. If Groupon can attract the right person, the next CEO may accelerate Groupon's turnaround and act as a catalyst for the stock.
Decline In Daily Deals Business
As mentioned above, Groupon's core business has been in decline. Although it is making up for this with growth elsewhere, it is important for the company to, at least, stabilize the daily deal business.
Deal Fatigue and Yelp Effect
The biggest weakness for Groupon has been the assaults on its business model.
Many have said that users are tired of getting daily deal emails and the amount of quality deals is limited. The hype about daily deals quickly passed.
Although this concern will always exist, Groupon's shift from a "push model" to a "pull model" means that it is becoming less relevant. An increasing portion of Groupon's business is coming from users actively looking for deals or goods on Groupon and not from emails.
A bigger concern for Groupon is the theory that it attracts customers that merchants don't want. A few years ago some merchants complained that they lost money by offering Groupon deals. A Groupon deal does not work for everybody and it makes sense that it took time for the company and merchants to figure out how to best use deal promotions. The fact that Groupon is now signing up merchants for recurring deals shows that there is a critical mass of merchants that utilize Groupon successfully.
Nonetheless, it seems that Groupon is always going to face the allegation that it is bad for merchants. A 2012 paper "The Groupon Effect on Yelp Ratings: A Root Cause Analysis" stated the following:
"Daily deals sites such as Groupon offer deeply discounted goods and services to tens of millions of customers through geographically targeted daily e-mail marketing campaigns. In our prior work we observed that a negative side effect for merchants using Groupons is that, on average, their Yelp ratings decline significantly. However, this previous work was essentially observational, rather than explanatory. In this work,we rigorously consider and evaluate various hypotheses about underlying consumer and merchant behavior in order to understand this phenomenon, which we dub the Groupon effect. We use statistical analysis and mathematical modeling, leveraging a dataset we collected spanning tens of thousands of daily deals and over 7 million Yelp reviews. In particular, we investigate hypotheses such as whether Groupon subscribers are more critical than their peers, or whether some fraction of Groupon merchants provide significantly worse service to customers using Groupons. We suggest an additional novel hypothesis: reviews from Groupon subscribers are lower on average because such reviews correspond to real, unbiased customers, while the body of reviews on Yelp contain some fraction of reviews from biased or even potentially fake sources. Although we focus on a specific question, our work provides broad insights into both consumer and merchant behavior within the daily deals marketplace."
Competition
Groupon faces a lot of competition. Amazon (NASDAQ:AMZN) is its most direct competitor, especially Amazon's Living Social unit. eBay (NASDAQ:EBAY) is another significant competitor. In addition to competing with Groupon's marketplace, eBay also has solutions that compete with Groupon's new products. The daily deal space has lots of participants that all compete with Groupon on some level.
EPS Estimates & Valuation
The following are analyst EPS estimates for Groupon: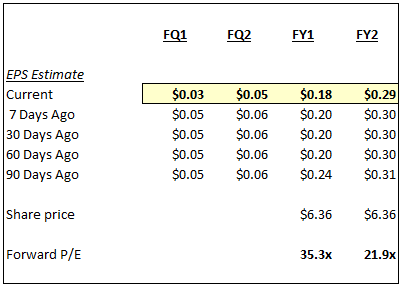 (Source: Yahoo Finance)
If Groupon succeeds there could be significant upside to these EPS estimates. Because the business is in transition and lacks a CEO it is hard to make projections for the future. Analysts probably prefer to err on the side of caution.
At the current valuation it is hard to make an argument that Groupon is overvalued or undervalued. It is more important to see if there is positive or negative momentum in the business.
Comps
Groupon has a unique business model, so I use three sets of comps:
Premier e-commerce companies: Amazon and eBay
The following is a comparison of Groupon and its comps: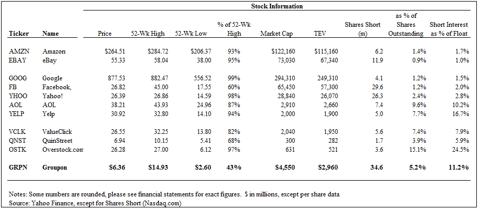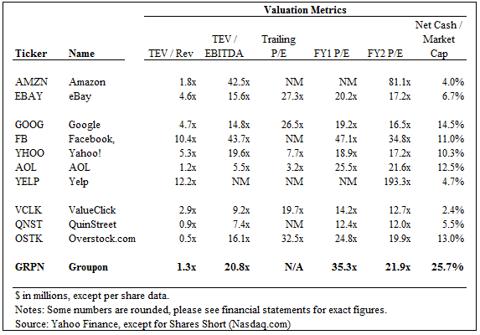 Conclusions
There are many risks involved in investing in Groupon and it has experienced many problems since its IPO.
However, I am interested in Groupon because it has grown its large base of customers and merchants during this turbulent period. Furthermore, the company is successfully transitioning its business to mobile and to a "pull model" instead of an email-based "push model." Groupon's cash position gives it time to turn around the business and figure out ways to better monetize its customer base.
Finally, Groupon's assets could make it an attractive acquisition target for a number of companies. E-commerce companies like Amazon or eBay may be interested in buying it to put it out of business and capture its customer base. Adtech companies like Google or Yahoo may be interested in extending their e-commerce platform and capture the synergies on the salesforce side. Finally, traditional retailers like Wal-Mart (NYSE:WMT) may be interested in Groupon to accelerate their push into e-commerce.
Groupon's stock price reflects a lot of negative sentiment. It has challenges ahead, but also opportunities. I am bullish that Groupon can capture some of the opportunities, which may drive the stock price higher.
Disclaimer: The opinions expressed above should not be construed as investment advice. This article is not tailored to specific investment objectives. Reliance on this information for the purpose of buying the securities to which this information relates may expose a person to significant risk. The information contained in this article is not intended to make any offer, inducement, invitation or commitment to purchase, subscribe to, provide or sell any securities, service or product or to provide any recommendations on which one should rely for financial, securities, investment or other advice or to take any decision. Readers are encouraged to seek individual advice from their personal, financial, legal and other advisers before making any investment or financial decisions or purchasing any financial, securities or investment related service or product.
Information provided, whether charts or any other statements regarding market, real estate or other financial information, is obtained from sources, which we and our suppliers believe reliable, but we do not warrant or guarantee the timeliness or accuracy of this information. Nothing in this article should be interpreted to state or imply that past results are an indication of future performance.
THERE ARE NO WARRANTIES EXPRESSED OR IMPLIED AS TO ACCURACY, TIMELINESS, COMPLETENESS, OR RESULTS OBTAINED FROM ANY INFORMATION IN THIS ARTICLE OR ANY LINKED WEBSITE.
Disclosure: I am long GRPN, GOOG, AOL, WMT. I wrote this article myself, and it expresses my own opinions. I am not receiving compensation for it (other than from Seeking Alpha). I have no business relationship with any company whose stock is mentioned in this article.
Additional disclosure: I may trade any of the securities mentioned in this article at any time, including in the next 72 hours. I am long Groupon through call options, not common stock.