Investors who have been buying dividend stocks on pullbacks have done very well during the past couple of years. With rates likely to remain low for the foreseeable future, this strategy is likely to continue working. In recent days, shares of Invesco Mortgage Capital (NYSE:IVR) have come under a little pressure which appears to be another solid buying opportunity for a number of reasons. First of all, the stock is down just a little from about $21 to a current $19.82 per share and it appears to be over concerns about the Federal Reserve tapering its asset purchases later this year (which could impact interest rates and bond prices). However, those concerns seem overblown as Invesco has had a business model that has been working for years even before the Federal Reserve stepped in. Let's take a look at the chart below along with some more reasons to consider the slight pullback as a buying opportunity: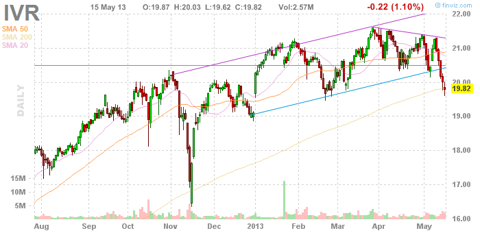 As the chart shows, Invesco shares have been in a solid uptrend through 2013, although the stock has seen a few pullbacks in the past few months, all of which were buying opportunities. This recent pullback seems to be no different, as it looks like a nice chance to buy the shares a bit cheaper. Of particular note is the fact that this stock is now trading right around the 200-day moving average of $19.80 (which is defined on the chart by the light brown trendline). This is a key support level and the stock may have little downside from this area unless significant and negative news were announced or if a market correction were to take place soon.
Invesco invests in residential mortgage-backed securities which are backed by a U.S. Government agency (which is called "agency" paper) and in residential mortgage-backed securities which are not issued or guaranteed by a U.S. government agency (non-agency), and commercial mortgage-backed securities. Some investors believe Invesco is well-positioned since it has exposure to non-agency paper, as this is less likely to be refinanced while low rates are available.
Invesco's portfolio is allocated as follows: about 51.9% is agency-backed, 26.8% is non-agency, 19.1% is commercial mortgage-backed securities (or CMBS), and the remaining 2.2% is in equity investments. This diversification reduces risks for investors, however, interest rate risks and management execution risks should be considered by investors as well. Another risk is that companies in this sector raise capital with relative frequency and that can put downward pressure on the stock. However, Invesco already had a secondary offering in January of 2013 at $21 per share and investors can now buy at a discount to that price today. Furthermore, companies like Invesco tend to announce secondary offerings when the stock is trading at the high end of the recent range and this is not the case now.
At about 12.6%, Invesco has a yield that is very attractive for income investors. Furthermore, the dividend looks relatively safe and
sustainable as analysts expect the company to earn $2.50 per share or more for both 2013 and 2014. It is also now trading at a discount to book value which is $20.44 per share. Another positive is that this stock was recently upgraded. On May 7, 2013 analysts at Ladenburg Thalmann upgraded the stock from neutral to buy and set a $23 price target. The combination of the fact that this stock is trading at a key support level, while offering a generous 12.6% yield and potential capital appreciation, makes it worth considering now.
Here are some key points for IVR:
Current share price: $19.82
The 52 week range is $17.40 to $22.26
Earnings estimates for 2013: $2.50 per share
Earnings estimates for 2014: $2.52 per share
Annual dividend: $2.60 per share which yields about 12.6%
Data is sourced from Yahoo Finance. No guarantees or representations are made. Hawkinvest is not a registered investment advisor and does not provide specific investment advice. The information is for informational purposes only. You should always consult a financial advisor.
Disclosure: I am long IVR. I wrote this article myself, and it expresses my own opinions. I am not receiving compensation for it (other than from Seeking Alpha). I have no business relationship with any company whose stock is mentioned in this article.