Two Harbors Investment Corp. (NYSE:TWO) is a mortgage REIT, which focuses on investing in, financing, and managing RMBS and related investments. Its main target assets until now have been Agency RMBS, non-Agency RMBS, and other financial assets (about 5% to 10% of the portfolio). It is externally managed and advised by PRCM Advisers LLC, a wholly owned subsidiary of Pine River Capital Management LP.
Many worry that the dividend is falling now, but one cannot legitimately say that is the case. In 2011 TWO declared an annual dividend of $1.60. In 2012 TWO declared an annual dividend of $1.71. In 2013, due to the special dividend associated with the Silver Bay Realty Trust Corp. (NYSE:SBY) distribution, TWO already declared (and paid) $1.33 per share in dividends. The total by the end of 2013 should easily be over $2 per share (or greater than 17%).
Some might worry that the special dividend associated with the SBY stock distribution was just paying out book value. However, this does not seem to be the case. TWO paid $1.33 in dividends for Q1 (a $1.01 special dividend and a $0.32 regular dividend). TWO had a stated book value of $11.54 at the end of Q4 2012. At the end of Q1 2013, it stated its book value at $11.19 per share. When you consider that even top mortgage REIT players such as American Capital Agency Corp. (NASDAQ:AGNC) lost book value in Q1 2013 (-$2.71 or -8.57% loss for AGNC), TWO's book value loss of -$0.35 or about -3% seems quite tame by comparison. When you consider that TWO paid out $1.33, or a dividend of 11.2%, in Q1 alone versus AGNC's $1.25 or 4.3%, you have to say that TWO has been doing well for its investors.
Late in Q1 TWO completed a public offering of 57.5 million shares. This brought the total number of shares outstanding to approximately 365 million (+18.7% more shares). It raised approximately $763 million. The company intends to use these monies to purchase Agency and non-Agency MBS and credit sensitive loans (CSLS). It further intends to deploy some monies into MSRs (mortgage servicing rights). As of March 31, 2013, TWO's total portfolio was approximately $15.5B. Of this $12.3B was Agency securities, and $3B was in non-Agency and other investments.
In addition to the new stock, approximately 6 million warrants were exercised in Q1 2013. Another 3 million warrants have been exercised since the quarter end. This leaves just 4.5 million warrants outstanding (of the original 33 million). Some of the conversions were surely motivated by the special dividend of SBY stock. The net result was that TWO stock was diluted by another 9 million shares (6 million in Q1 or about +1.64% more shares outstanding). This too led to a slightly lower dividend. This makes TWO's dividend performance (and earnings performance) that much more impressive. Roughly +20% more shares were paid the dividends with almost no extra income. Not coincidentally, the regular dividend was smaller by about -20% ($0.32 versus the $0.40 norm of many prior quarters). Income should increase to cover the 18.7% new shares in Q2 as the $763 million will be more fully put to work. There will still be a slight lag in Q2 results, but on this basis it seems likely the regular dividend will be restored to approximately its former norm of $0.40 per quarter per share in either Q2 or Q3 2013.
TWO generated $248 million in comprehensive income for Q1 2013 or $0.81 per diluted weighted average share. TWO has core earnings of $0.29 per weighted average share. This represents an annualized ROE of 9.7% (and that was with the roughly 20% extra shares). TWO had GAAP earnings of $0.47 per weighted average share. Leverage decreased to 3.1x from 3.4x, but the company expects leverage to trend toward 4.0x (6x to 7x for the Agency portfolio and 1x to 1.5x for the non-Agency portfolio). The Agency portfolio had some of the same troubles as other Agency mortgage REITs experienced in Q1 due to slightly rising interest rates. The non-Agency portfolio by comparison had a great Q1. It generated $274 million in economic return. This was due to improving home prices, declines in severe delinquencies, and better overall borrower performance compared to recent quarters. This diversity of profit streams is a good reason to like TWO as an investment, especially with the US housing market improving. The chart below shows the relative stability of TWO's core earnings.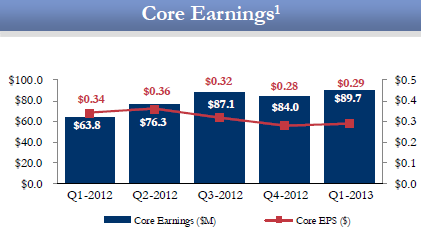 The chart below tracks the portfolios yields, and the table below it shows the net interest rate spreads.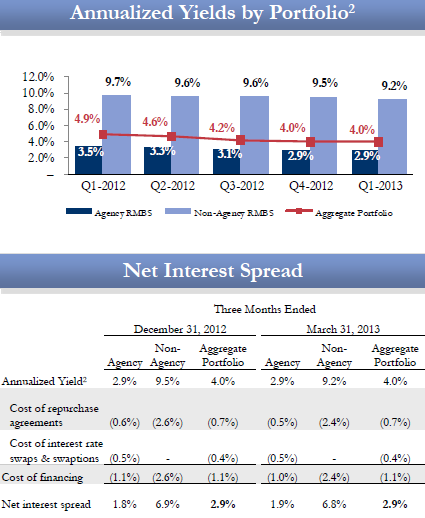 The yields have weakened a bit, but they have outperformed those of most of the other mortgage REITs. The same can be said of the net interest rate spreads. Plus, revenues should increase as the $763 million acquired from the stock offering near the end of Q1 are put to work.
On top of these main portfolios, TWO is moving into new areas that it hopes will mean great profits as the housing market continues to recover. These include:
Prime Jumbo Securitization -- TWO participated in a prime jumbo securitization in Q1 2013. It intends to continue to build on this capability.
Credit Sensitive Loans -- this is very similar to performing residential mortgage loans in subprime / Alt-A deals. TWO will control the servicing of the loans. As of April 30, 2013, TWO had purchased or contracted to purchase approximately $600 million CSLs (approximately $450 million in market value). Most of this is new purchases in April 2013.
Mortgage Servicing Rights (MSRs) -- these are a natural interest rate hedge for TWO's Agency portfolio. It also leverage's TWO's strength in prepayment analysis. On May 2, 2013 TWO announced it had acquired Matrix Financial Services Corp. for exactly this purpose. It has approvals from Fannie Mae, Freddie Mac, and Ginnie Mae to hold and manage mortgage servicing rights.
GSE Credit Investments -- this is a future consideration.
All told, TWO's execution and its planning for future expansion in the changing housing market make it seem like a tremendous investment. Cramer may be put off by the drop in price and the drop in dividend. However, I believe I have adequately explained that the drop in dividend was due mostly to the roughly +20% new shares without most of the $763 million being put to use in Q1 2013. The dividend is likely to be restored to approximately the $0.40 per share per quarter level soon.
The price drop I called in another article, "It's Time To Take Profits In Great Dividend Payer Two Harbors Investment Corp." At that point the stock was at $13.95 per share. I made good money on that call as most, if not all, of those that listened to me did. I have no reservations about reversing that call now that the roughly 20% fall has occurred. There does not seem to be anything wrong with TWO. In fact there seems to be a lot that is right with the company. Yes, there are new investment areas being tried, but aren't Apple (NASDAQ:AAPL) and others applauded for new revenue streams? TWO should be too. It is a buy.
The two year chart of TWO provides some technical direction for this trade.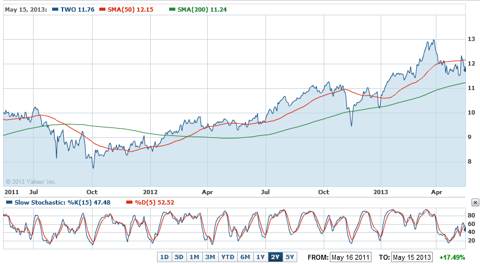 The slow stochastic sub chart shows that TWO is neither overbought nor oversold. The main chart shows that TWO is in a strong uptrend. This has weakened lately as TWO is below its 50-day SMA. However, TWO is still firmly above its 200-day SMA; and the fundamentals are still solid. My expectation is for the dividend to go back up to approximately $0.40 as the $763 million from the March stock offering is more fully put to work. This was the dividend consistently from December 2010 through June 2012. A $0.40 per share quarterly dividend would amount to a 13.6% annual dividend; and that is without considering other possible positives. The +1.7% net insider buying over the last six months tends to support this thesis. TWO is a buy. It has a five star CAPS rating (the highest rating).
The main caveat is that the overall market is currently far overbought. It could pull back at almost any time. TWO would probably be dragged down with such a pullback. Averaging in over 2013 is probably a good strategy. Investors may have their own averaging in time frames, but they should consider a time frame of several months at least.
NOTE: Some of the above fundamental financial data is from Yahoo Finance.
Good Luck Trading.
Disclosure: I have no positions in any stocks mentioned, but may initiate a long position in TWO over the next 72 hours. I wrote this article myself, and it expresses my own opinions. I am not receiving compensation for it (other than from Seeking Alpha). I have no business relationship with any company whose stock is mentioned in this article.