Overview
ARM Holdings (NASDAQ:ARMH) markets and designs intellectual property of RISC based microprocessors primarily in smartphones and tablets. ARM operates with substantial market share in the fast growing market segment's smartphones and tablets. As a result, the market has valued the company at healthy multiples of ~22x sales. The markets which ARM operates in are compelling growth stories as we enter a post-pc era. However, I believe the story (and how ARM is modeled) is fundamentally flawed due to increasing competition. The multiple attached to ARM can perhaps be argued if dominance of its markets remains a certainty over the next 5-10 years. However in a rapidly evolving tech space this would be a silly presumption to make. To continue, we must examine the impact on ARM with changes to market share in their most competitive markets, namely tablets and smartphones. My short thesis is based upon these two fundamental factors: sensitivity to changes in market share and the overall valuation of the company.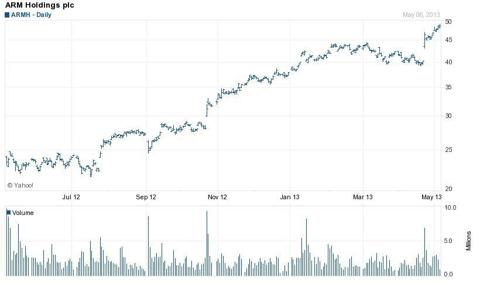 The Competition Heats Up
Competition for ARM Holdings comes from two primary competitors. First, ARM faces competition from a chip designer, Imagination Technologies (OTCPK:IGNMF). Imagination's success has come from graphics licenses which ARM holdings has been recently ramping-up. A potentially game changing acquisition occurred when Imagination acquired MIPS technology on December 2012. This gives Imagination a cohesive platform to compete with ARM. MIPS is no newcomer to RISC processors which was founded in 1984 and made a variety of processor designs for home entertainment, networking, and commercial platforms. Imagination provides MIPS with logistics to win contracts since their graphics products are widely used in mobile devices. Nonetheless ARM is entrenched in this market, and the combined business may not be able to effectively compete in the tablet and smartphone microprocessor market for 3-5 years.
Yes, in case you were wondering the other is Intel (NASDAQ:INTC). Intel possesses strong competitive advantages in its key markets, the PC microprocessor and Server processor. As an integrated fab, Intel is able to leverage its market share in PCs in order to achieve process nodes faster than the standalone fabs. Intel is targeting 14nm (including their mobile chip Atom) in 2014 well ahead of TSCM and other fabs. As Intel ramps up its mobile development and its fabs, the looming threat of competition will become more apparent. The integrated model has proven to be superior in both the PC market and server, so there is no reason this model cannot succeed in the tablet and smartphone market. The fundamental difference is that the measurement of performance is a function of both power efficiency and processor speed. On top of that Intel can ride on the coattails of Microsoft's (NASDAQ:MSFT) entry into tablet computers. Windows 8 tablets rapidly gained a 7% market share in Q1 2013, of which Intel has ~90% market share. Gains from Windows 8 and Intel-based Android devices position ARM for short-term market loss in the tablet business.
ARM Holdings' barriers to entry may not be as high as perceived by the market consensus. Because Android is programmed on the Java platform, it allows for the support of different instruction sets with relative ease. Java was designed to be a high level language with portability on numerous devices. In fact, Android currently supports the MIPS and x86 based instruction sets. Apple (NASDAQ:AAPL) maintains tight control of its products and supply chain. With only a couple of products, there is no reason Apple would not be capable of switching processor design and instruction sets. The decision for Apple to switch would likely be due to significant performance gains (performance measured as energy efficiency and speed). Ultimately the decision switch will come from the phone/tablet manufacturers. To cause these manufactures to switch, Intel must have a superior product. In addition SoC's manufacturers may also offer MIPS based processor designs as a way to diversify their offerings from solely ARM's products.
A sensitivity analysis on market share was conducted assuming constant royalty rates and a 20% CAGR in smartphones and tablets through 2017. A 20% clip may be overly optimistic given the low growth macroeconomic environment. This growth forecast seems inconsistent with Apple and Samsung trading at 10x earnings. Nonetheless, the tables below summarizes the impact of differences in market shares and growth rates are listed below.
Value of $100 of Revenue in 2017

CAGR

Market Share

12%

16%

20%

24%

90%

$176

$210

$249

$293

80%

$157

$187

$221

$261

70%

$137

$163

$194

$228

60%

$117

$140

$166

$195

50%

$98

$117

$138

$163

40%

$78

$93

$111

$130
Growth rates expressed as a CAGR.
ARM Revenue CAGR

Market Share

CAGR

90%

12%

16%

20%

24%

80%

9%

13%

17%

21%

70%

7%

10%

14%

18%

60%

3%

7%

11%

14%

50%

0%

3%

7%

10%

40%

-5%

-1%

2%

5%
The growth story dissipates rather easily as market share slips. ARM's market share falling to 60% lowers the revenue CAGR to 11% even assuming 20% end market growth. The loss of a major customer would be catastrophic to ARM and should not be discounted. Apple and Samsung both have ~20% and 30% of the smartphone market by units respectively. A loss of either of these either of these customers is certainly a realistic possibility. Strategically, Apple switching to Intel would make sense. Apple would gain access to some of the best fabs in the world for its tablets and smartphones. In addition Apple would then be able to build iOS on a cohesive x86 environment. I believe Apple would lose too much computing power to change its Macbooks to ARM chips. Samsung may wish to diversify itself away from the Google OS. The mobile OS Tizen has been backed by Intel and Samsung. From a strategic perspective, it makes sense for Samsung to diversify from Google (NASDAQ:GOOG), especially if Google shows favoritism toward Motorola regarding software releases. ARM is a supported platform for Tizen, but I think it could make sense to switch processors in the event of a large software change on Samsung's mobile devices. Furthermore, ARM is poised to suffer from an unfavorable mix as lower-end smart phones outgrow the higher-end smartphones in emerging markets. Meanwhile growth is modeled by changes in volume, and this mix is set to negatively impact average royalty rates. Unless ARM is able to continually grow royalty rates (through gains in product levels), this shift in mix works against ARM.
Valuation and Performance
So far I have only addressed the top-line. There are several factors driving margin expansion of ARM. First the U.K. patent box lowers taxes on patents to 10%. It has been estimated by analysts that this means an long-term tax rate ~15%. This gain from the tax rate is having a large effect upon EPS growth through the next year. Lower taxes are good, but the growth is not coming entirely from the fundamentals of the business. In addition analysts are forecasting operating margins to expand from 40% to over 60%. Higher R&D and SG&A spend from competition may have this expansion overstated. A completely unfair argument compares the scale of Intel's operating expenses to ARM's. It is unfair because Intel competes in the entire processor vertical. In 2012, ARM's R&D expense was $270 million and SG&A was $277 million. Intel on the other hand spent $12 billion in R&D and $8 billion in SG&A. While unfair, it is illustrative of the financial resources of Intel.
The Upshot
Opportunities for ARM Holdings lie in a couple of areas: the opportunity to gain in license revenue, and growth into new areas. ARM has the potential to gain from growing average royalty rates. Growth in providing more services or IP in either the smartphone market or tablets such as graphics IP can stem any loss in market share. Under this argument the loss in market share would be more than offset by growth in royalty rates. Furthermore a rise in applications of 32-bit processors represents an opportunity for growth for ARM. These low priced, commodity processors are in an area which ARM can dominate. In summary, ARM Holdings has a strong position in a highly desirable market. However, I believe the threat of competition and valuation makes ARM an excellent short candidate over the next 12 months.
Guidance
A final issue I have with the company is the manner in which they issue guidance. ARM's guidance in essence is based upon consensus estimates for the year. It is certainly an odd practice to assume that analysts covering the company have better information than ARM's management about the next year outlook. This practice benefited ARM's share price recently as their business consistently exceeded analysts' expectation. However, I think analysts may overestimate growth at ARM in the next couple of years. As the momentum slows, I believe management's guidance will be slow to catch up causing a sharp rerating of the stock.
The Catalyst
All of this analysis is meaningless unless there is a catalyst to cause a rerating of the stock. While the valuation remains lofty, there must be a fundamental driver to rerate the stock. There are a variety of ways which may cause a rerating over the next 12 months. A better than expected unveiling of Intel's mobile chip architecture, Silvermont or a successful launch of Haswell in June. Windows 8 continued momentum into tablets would work against ARM's market share and could pressure the multiple. Finally, I think decelerating growth in the company's results could cause a multiple contraction from ~40x to ~25x. Regardless, I think the risk reward is attractive. Upside to earnings would be around $1.25/share, at a 40x multiple pricing the stock at $50. Unless there is significant growth ahead of consensus ~$1.14/share, according to yahoo finance, the upside of the stock is priced in. While I believe the fundamental value is very low in the long-term, in the short-term I am pricing this company at 25x 2014 earnings ~$28/share. This represents a downside of approximately 42.5% from Friday's close of $49.59. I remain uncertain of what the driving catalyst is, but at the current valuation ARM is an attractive short given long-term competitive threats.
Disclosure: I am short ARMH. I wrote this article myself, and it expresses my own opinions. I am not receiving compensation for it. I have no business relationship with any company whose stock is mentioned in this article.
Additional disclosure: I am long INTC and AAPL