When the market is soaring as it has over the recent months, stocks that have been demolished over the last year or so begin to spark. We have seen great recoveries among many stocks, and investors have captured extraordinary gains from these picks. In this article I plan on pointing out a stock that I believe could make one of these great recoveries, and the similarities it has with companies that have already made the journey.
ITT Educational Services Inc. (NYSE:ESI) offers postsecondary-degree programs in the U.S. that provide diplomas as well as associate's, bachelor's, and master's degrees in information technology, electronics technology, drafting and design, business, criminal justice, and health sciences. As of Mar. 22, the company operated 140 ITT Technical Institutes in 39 states that primarily offer career-oriented degree programs to about 70,000 students. Headquartered in Carmel, Ind., ITT was started in 1946.
What Caused the Recent Spark:
On 4/25/13 ESI reported their Q1 earnings. They reported $1.33 per share in the first quarter of 2013 which surpassed the Zacks Consensus Estimate of $1.28 by 3.9%. The beat could possibly be caused by unemployment dropping and the demand for skilled individuals increasing. This is an incentive for students to get additional education for a better opportunity to find an employer. Regardless of the reason, this caused a pop that got shorts to start worrying. Recent earnings beats have caused massive runs in stocks with high short interest like Molycorp (MCP) for example. On 5/9/13 MCP began a 38% run that isn't over yet. This run started from them reporting that net revenues for the quarter were $146.4 million, up 9% from the fourth quarter of 2012. This perfect example of a massive run starting from good news is helped by large short interest.
High Short Interest:
High short interest in a stock can cause huge short squeezes that can prove very profitable for those on the long side. A short squeeze is when a lack of supply meets an excess demand of a stock and the price is forced upwards. During a short squeeze, those holding short positions are usually forced to purchase shares where the price increases rapidly, in order to exit their short position. These situations escalate as price rises higher and more shorts are forced to cover the higher it goes. In this case, ESI has one of the top short interests in the S&P 1500 which sits at 37.65% of the entire float. This means there is currently 8,753,617 shares short as of 5/13/13. Now, with the new upwards pressure on the stock after a 92% decline from its highs in the recent years, shorts are being tested and it is likely that they will cover their positions.
Low Float:
The float of a stock is the total outstanding shares that are currently being traded by the public. This figure is derived by taking a company's outstanding shares and subtracting from it any restricted stock. When a stock has a low float, it means that there are less shares to be traded. This is significant because it takes less money to move the stock higher. With only 23.25 million shares in the float, it is much easier to cause the short squeeze talked about above.
Oversold Price Action Creates Limited Downside:
After selling off from $133.75 to $11.69 in the recent years, the share holders have de-risked a ton causing limited downside. This shows that if the company turns things around like it is appearing to, the share price can soar. A 92% decline is pretty significant, and has offered value investors an amazing opportunity to enter. Great declines have seen great recoveries in the past. For example, First Solar Inc. (NASDAQ:FSLR) sold off from $317.00 to $11.43 and has now made a recovery of more than 400%+. Their earnings beat and catalyst deal sent them flying just like I believe ESI is soon to do. Again, this was another company with large short interest and also had the "Recovery Breakout Chart" that I will explain next.
Near Perfect Technical Chart:
One main chart breakout that is very powerful is what I call a "Recovery Breakout Chart."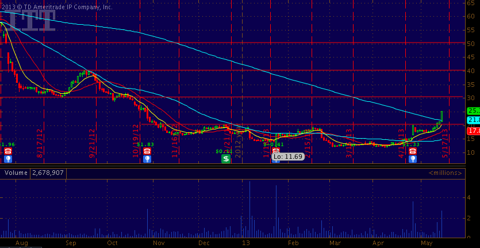 As you can see on the farthest bottom red line, $20.00 had proved tough resistance for many months. When ESI beat earnings estimates, it spiked again to that resistance, but could not break it. This time however, it remained above key EMA's (9, 20, and 50). This significant base above the EMA's pushed the stock higher and broke the important resistance of $20.00 on 5/10/13. When stocks break former highs, it usually triggers a breakout as longs pile on for new highs and shorts scramble to get out of the way. ESI also broke the 200 SMA at 22.70 and closed above it. This is significant because it was the last resistance point until $30.00. With nothing but thin air above this stock, it could easily run another 20% to my next target of $30.00.
Conclusion:
US indexes continue to print fresh highs, thus creating massive profits for bulls early in 2013, most notably Netflix Inc. (NASDAQ:NFLX) and Tesla Motors Inc. (NASDAQ:TSLA).. could ESI be next?
Disclosure: I am long ESI. I wrote this article myself, and it expresses my own opinions. I am not receiving compensation for it. I have no business relationship with any company whose stock is mentioned in this article.