Baytex Energy (NYSE:BTE) is a Canadian oil and natural gas producer with assets located mostly in Western Canada. Baytex's production is heavily tilted towards heavy oil (also known as thermal oil). The stock has recently declined as the spread between heavy oil and WTI was at historic highs during Q1 2013. Baytex currently offers a monthly dividend of $0.22, or $2.64 per year. At current prices, Baytex yields about 6.90%.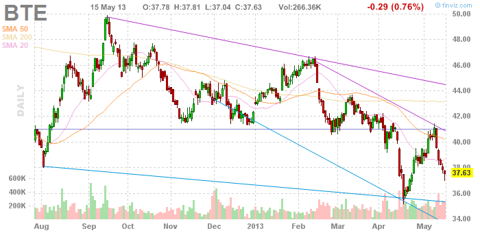 Baytex is very exposed to heavy oil, at about 75% of its FY 2013 anticipated production mix. In addition, most of Baytex's reserves are heavy oil, at about 77%. Light oil represents about 14% of production and 16% of reserves, while natural gas is only about 11% of production and 7% of reserves.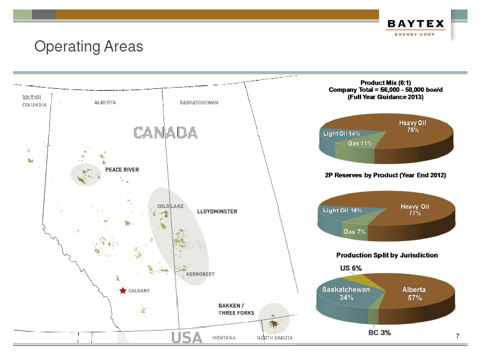 On May 9, Baytex reported its Q1 2013 results. Production for the quarter was 51,957 boe/d, of which 87% was liquids. This is a decrease from the 53,433 boe/d last year, of which 86% was liquids. Q1 2013 production was impacted by the drilling activities and asset sales in the Kerrobert area. However, Q1 production was inline with previous guidance. Baytex also announced that the current quarter's production is approximately 56,000 boe/d, and that its full year production guidance is unchanged at 56,000 to 58,000 boe/d.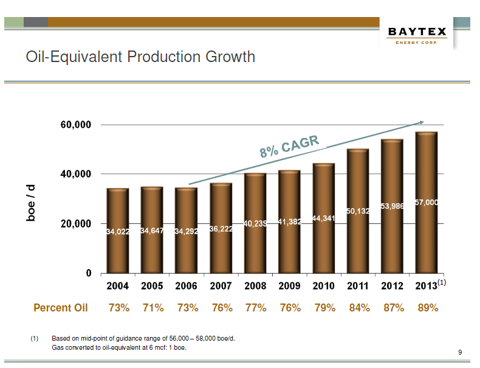 Baytex generated $102M, or $0.83 per share, in funds from operations ("FFO") in the quarter. This is a 28% decrease from the $142M in FFO generated last year and 20% from last quarter. The decrease related to Q1 2012 was the result of lower realized energy prices, lower production volumes, and higher operating expenses, while the decrease related to Q4 2012 was the result of lower production volumes and higher operating expenses.
The average WTI price for Q1 2013 was $94.37 per BBL, an 8% decrease from Q1 2012 and a 7% increase from Q4 2012. However, this was not the main issue for Baytex. What really hurt was that the discount for Canadian heavy oil, as measured by the Western Canadian Select ("WCS") price differential to WTI, averaged 34% in Q1 2013, compared to 21% for both Q1 2012 and Q4 2012. Due to this massive price differential, Baytex's realized price (excluding hedges) for its oil and NGL was $58.00 per BBL, down 15% from $68.54 in Q1 2012 though up slightly from the $57.39 in Q4 2012. Baytex's average realized price per BOE was $52.89 in the quarter, down 13% from $60.98 in Q1 2012, but up slightly from $52.37 in Q4 2012. The quarter on quarter increase was due to higher realized prices for natural gas, which increased 15% to $3.46.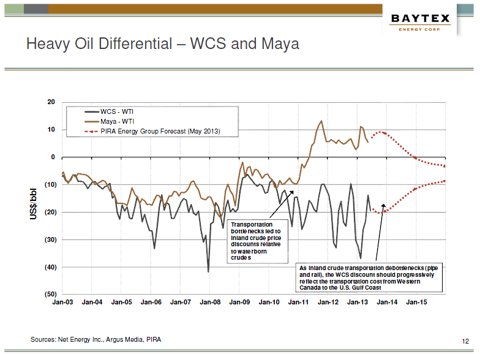 Most of the problems that Baytex is facing are due to bottleneck and other related transportation issues. There is frankly not enough pipeline to transport Canadian crude to the areas that need it. Q4 2012 saw a major 'glut' of oil accumulating in Western Canada from a sudden drop in demand from Midwestern refineries due to maintenance. However, there has been some recent good news. Refiners, such as Northern Tier Energy (NYSE:NTI) and Phillips 66 (NYSE:PSX) are taking advantage of cheap Canadian crude to boost profits. US imports of Canadian crude have increased by more than 250,000 bbl/d since November 2012. The Seaway Pipeline expansion in January 2013 is providing a potential 100,000 bbl/d outlet for Canadian heavy oil to the US Gulf Coast refineries. In addition, other refineries, such as the BP Whiting refinery in Indianapolis and the Marathon Detroit refinery, are repositioning themselves to add much more heavy oil to their feedstock mix. Refiners and oil producers are using rail cars to transport this cheap oil to where it is needed.
Baytex is attempting to provide sales to new markets via rail. During the quarter, Baytex moved about 12,000 bbl/d of heavy oil via rails.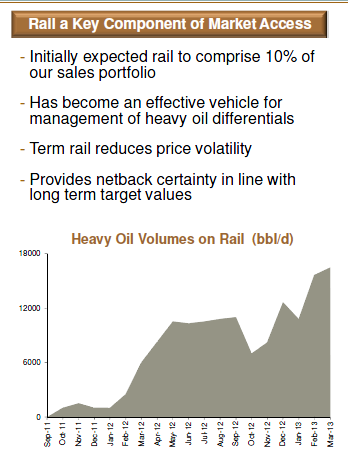 Market conditions for heavy oil have improved recently with the WCS average differential at approximately 20% for Q2 2013. As noted above, railways are playing an expanding role in the transportation of Canadian crude to new markets. Baytex should see a major benefit from this narrowing of the spread. A 1% decrease in the heavy oil differential would increase Baytex's FY 2013 FFO by about $10.6M. Assuming the current 20% differential holds throughout Q2 2013 and stable WTI prices, Baytex would see a nearly a $37M increase in FFO in the quarter. For the FY, this lower differential would increase FFO by an even larger amount.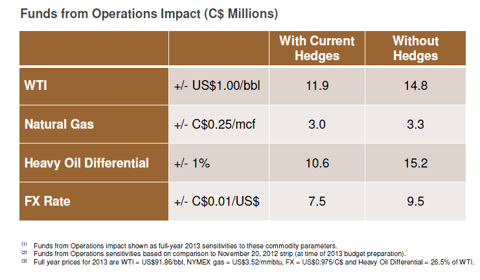 Conclusion
Similar to Penn West (NYSE:PWE), Baytex's Q1 2013 FFO did not cover its capital spending and dividend payments. During the quarter, capital spending was about $166.5M while dividend payments were about $55M. Combined, dividend payments plus capital spending were about $221.5M, or about 2.2X Baytex's Q1 2013 FFO of $102M.
However, unlike Penn West, Baytex is in much better financial shape, with a TTM debt to FFO ratio of only 1.4x. Baytex also has the benefit of higher production volumes for Q2 2013 and a lowering of the heavy oil differential. These two factors should help boost FFO next quarter.
Disclaimer: The opinions in this article are for informational purposes only and should not be construed as a recommendation to buy or sell the stocks mentioned. Please do your own due diligence before making any investment decision.
Disclosure: I am long NTI, PSX. I wrote this article myself, and it expresses my own opinions. I am not receiving compensation for it (other than from Seeking Alpha). I have no business relationship with any company whose stock is mentioned in this article.