Is it just me or are the shareholders of Tesla Motors (NASDAQ:TSLA) exceptionally prone to the bandwagon effect? First they followed the naysayers and aggressively short sold the stock, without stopping to assess the company's growth potential and the strength of their products. They were then crushed by the two resulting short squeezes when Tesla beat its Model S sales target, reaching GAAP and Non-GAAP profitability, and analyst estimates on both their top and bottom lines.

The stock price has more or less doubled since March, and now many investors are making bullish bets with complete abandon. They are assigning absurd valuations to Tesla Motors based on their misinterpretations of the financial results, and are ignoring the risks and hurdles the company faces.
Model S Sales
Tesla delivered 4,900 Model S's in the first quarter, exceeding its target of 4,500 units, and the company raised its full-year target to 21,000 units. While this is certainly good news, I would argue that it is not nearly as significant as many investors seem to think it is. To understand why, we will look at how the process of purchasing a Model S is unique.
How to Buy a Model S
Purchasing a Model S is not quite as simple as walking into a dealership, test driving it and taking one home if you like it. Because Tesla has only reached manufacturing capability this past year, and because that capability is still very much limited, there has been an extensive waitlist for more than two years now. To reserve a place on this waitlist, one must put down a $5,000 deposit (or $40,000 for the signature edition) that is fully refundable if he or she ultimately decides not to purchase the car. When my family made a reservation over a year ago, we were around 10,400th in line.
So why is this of particular significance? Well, this means the better-than-expected sales was a success on the supply side, not necessarily because of demand. What we have here is two years worth of potential customers being served right now. This is why analysis such as this and comparisons like the one below are incorrect.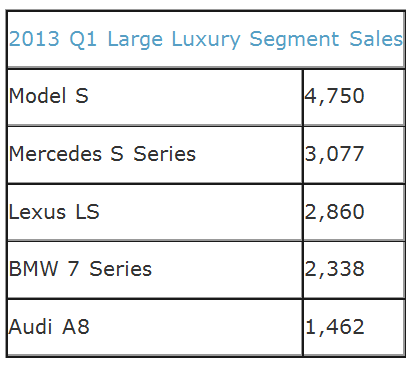 Comparing Model S sales to Audi (OTCPK:VLKAY), Mercedes (OTCPK:DDAIF) and BMW (BAMXY.PK) sales is a classic apples to oranges comparison, and paints an unrealistically optimistic picture. While it may seem like the Model S became more popular than these other luxury full size sedans, this is certainly not the case. For Tesla, these sales reflect more than two years worth of demand that is just being supplied now.
As such, it is difficult to comment on the long-term sustainability of these sales. At this point in time, it is reasonable to assume that the majority of its customers are enthusiasts, as they would have been among the first to make reservations. However, the mainstream market is integral to Tesla's success, and it still remains to be seen how well the company will perform in this segment.
While I am certainly not suggesting that Tesla will be unable to appeal to the mainstream consumer, I would encourage investors to consider the risks. We would need to observe how sales progress throughout the year, and know how many of the reservation holders are actually going through with their purchase to make an accurate judgment.
In the meantime, I would exercise caution when investing in Tesla Motors. I believe that much of the recent price action can be attributed to the short squeeze. Once the squeeze ends, it is possible that the stock will correct quite violently.
Disclosure: I have no positions in any stocks mentioned, and no plans to initiate any positions within the next 72 hours. I wrote this article myself, and it expresses my own opinions. I am not receiving compensation for it (other than from Seeking Alpha). I have no business relationship with any company whose stock is mentioned in this article.