Investors of Hecla Mining Co. (HL) appeared unstirred this last Wednesday despite a boost of confidence from the company's CEO. Amidst his large insider purchase, the company stock continued to fall another 2.2% alongside the price of gold. According to the Form 4 filed that day, CEO Phillip Baker Jr. purchased 150,000 shares on the open market for a transaction roughly valued at $478,260. The insider's purchases were made at an average price of $3.19/share. Altogether, Baker now controls 931,432 shares of Hecla Mining Co., and his latest transaction represented an increase to his holdings by 19.2%.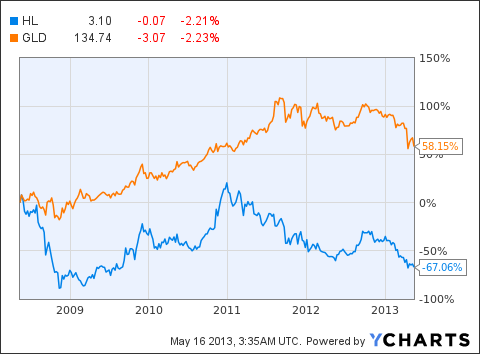 HL data by YCharts
What makes the latest open market purchase a noteworthy event is that it comes at a time in which the company's stock has been facing a steep decline amidst weakening precious metal prices. This can be seen in the chart above as the company's shares are contrasted against the SPDR Gold Shares (GLD), an ETF entirely invested in physical gold bullion. Interestingly enough, this large transaction also marks the company's first significant open market purchase made by an insider since August 2011. At that time, Baker had also purchased 33,000 shares at $7.36 for a transaction valued at $242,880.
On May 10, Hecla Mining released its Q1 2013 results with the ensuing conference call transcribed here. The following were several key highlights of the call:
The CEO announced that shareholders of Aurizon Mines Ltd. (AZK) approved the acquisition offer by Hecla Mining. Aurizon's primary mine is projected to produce between 125,000 and 130,000 ounces of gold in 2013 at a cash cost of approximately $810/oz.

Successful restart of the Lucky Friday mine, a deep underground silver, lead, and zinc mine. The mine had been closed for a year in order to clean out the main shaft to comply with Federal mine inspectors' guidelines.

Completion of a $500 million notes offering to support the Aurizon acquisition. The offering was completed in April subsequent to the first quarter and significantly supports the company's balance sheet.

The timing of shipments shifted $30.5 million in revenue to the second quarter. As a result, the company only raked in $76.5 million in Q1 2013, which was 16% lower than the previous year.

Management reiterates their expectation to produce more than 2 million ounces of silver at Lucky Friday in 2013.
Despite a rapidly declining share price, it remains clear that the company continues to bring on line significant revenue-generating assets. As it stands now, Hecla Mining remains valued with a market capitalization of $884 million, a valuation that is sure to change with the acquisition of Aurizon. Nevertheless, with such a valuation, the company currently supports a price-to-book ratio of only 0.79 while maintaining a forward price-to-earnings ratio of 7.95. Additionally, the company maintains a current ratio of 2.87 while carrying total liabilities of $236.9 million against its total assets of $1.38 billion.
The company appears to be in a rather opportunistic position in the present for investors looking for an entry point. While it's true that metal prices continue to decline, Hecla Mining remains in excellent condition and continues to build upon stable assets with premium margins. The company maintains a corporate history that spans over 120 years, and the confidence of management can clearly be seen by the latest insider purchase. Perhaps one the most telling indicators for investors comes from a rather frank response during the conference call from the CEO himself:
I think all of us sitting in this room, and I think I can speak for the board, are very excited about where Hecla Mining Company is. In some cases we've got some people that have seen this company their whole lives, and I think they can attest to the fact that the company is in the best position that it's in, and that the market is not fairly valuing the company.
With such confidence being expressed by management, investors should continue to watch this company as a potential value play in the present. The latest decline in share price has been lengthy, but the low valuation is beginning to diverge from operational reality. With multiple growth factors going forward and the share price already reflecting a lower valuation to book, Hecla Mining Co. may finally be touching a new level of support at these levels.
Disclosure: I am long HL. I wrote this article myself, and it expresses my own opinions. I am not receiving compensation for it (other than from Seeking Alpha). I have no business relationship with any company whose stock is mentioned in this article.