Not Even Germany Can Pull It Up – Sixth Negative Quarter in a Row
The economic news from Europe isn't getting any better, in spite of the abatement of crisis conditions in the financial markets. Once again the news were "worse than expected", which has become standard operating procedure.
"Falling output across the bloc, from France to Finland, meant the 17-nation economy shrunk 0.2 percent in the January to March period, the EU's statistics office Eurostat said.

That was slightly worse than the 0.1 percent contraction forecast by economists polled by Reuters and highlighted the devastating impact of the euro zone's debt and banking crisis that has driven unemployment to a record 19 million people.

While Germany managed to grow 0.1 percent in the first quarter, the bloc's recession is now longer than the five quarters of contraction that followed the global financial crisis in 2008/2009 and dampens optimism of a quick recovery.

The European Central Bank's promise to buy the bonds of struggling governments has removed the threat of a euro zone break-up, but the crisis that began in Greece in 2009 has seeped across the bloc to suck in the wealthy nations such as France."
(emphasis added)
We have left out the part where the Reuters correspondent repeats the shibboleth that the "reason" for this weak showing is that there is allegedly "not enough government spending". In fact, there is way too much government in Europe, in every respect. That is the main reason for the poor performance. Too much spending, too high taxes, too many regulations, including, but not only, absolutely sclerotic and absurdly over-regulated labor markets and expensive and complicated licensing regulations. If someone were able to cut the size of government in Europe in half overnight, we would soon read about how surprisingly strong the economy is. As it is, the political and bureaucratic classes have thoroughly botched things in Europe, and are evidently utterly incapable of doing what actually needs to be done. A lot of things could and should be done, but more deficit spending isn't one of them.
In another article on the topic, a little bit more color is provided:
"The misery continues," said Carsten Brzeski, a senior economist at ING in Brussels. "Almost all core countries bar Germany are in recession and so far nothing has helped in stopping this downward spiral.

As well as France, the economy shrank for the quarter in Finland, Cyprus, Italy, The Netherlands, Portugal and Greece. Data last month showed Spain's economy contracted for a seventh consecutive quarter.

Germany, which generates almost a third of the euro zone's economy, grew by a weaker than expected 0.1 percent, skirting the recession that France succumbed to, but highlighting the devastating impact of the euro zone's debt and banking crisis that has driven unemployment to a record 19 million people.

France's downturn was its first in four years, after contracting by 0.2 percent in the first three months of the year, as it did in the last quarter of 2012.

Italy, the euro zone's third largest economy, reported its seventh consecutive quarter of decline, the longest since records began in 1970."
(emphasis added)
Barroso is right about one thing: there is a limit to the political sustainability of the euro experiment under such dire circumstances.
More Monetary Pumping Coming?
It is important to keep in mind though that while euro-land has evidently become the world's major economic basket-case, it has at least been spared the Bernankean bubble faux-prosperity that comes from excessive money printing and which will inevitably lead to yet another devastating crash down the line. So far, that is. Now there is incessant talk that the ECB will have to take fresh easing measures. In fact, it has become almost deafening. Luckily the ECB's possibilities with regard to euro debasement are fairly limited, but that doesn't mean it won't give it its best shot.
"The euro slipped against the dollar and German bond prices rose on Thursday on investor positioning for more monetary easing by the European Central Bank following a run of weak economic data.

Those expectations are likely to be reinforced when euro zone inflation data for April is released at 0900 GMT (5 a.m. EDT), which is expected to show an annual rate of just 1.2 percent, well below the central bank's target range.

"I think it will confirm in everyone's mind there is no inflation risk," said Sarah Hewin, senior economist at Standard Chartered Bank.

The euro slipped 0.2 percent to $1.2860, having hit a six-week low of $1.2843 on Wednesday. The main German bond futures contract was 10 ticks higher at 144.78."
(emphasis added)
Whether there is or isn't inflation risk depends on one's definition of inflation. For instance, the fantastic surge in the US money supply since 2008 means that inflation is no longer just a distant "risk", but that the risk has become manifest. Of course in a Reuters article inflation is generally defined as one of its possible effects, namely rising consumer prices. Effect has become cause, so to speak. Still, in Europe's case it is actually true that there appears to be very little inflation risk on the horizon at present. Monetary inflation briefly revived following the ECB's LTROs and the "OMT" announcement, but private banks are once again pulling back from credit expansion, and in the so-called periphery there is now probably outright deflation in a number of countries. Prices are reacting to these developments with a lag.
The ECB is undoubtedly aware of this, hence all the recent talk about requiring a larger ABS market – the central bank is looking for things it can monetize. It will be interesting to see what it comes up with. As for the euro, it is weakening against the dollar in expectation of an easier ECB, but in reality dollars are printed at a rate that is so much faster that there should actually eventually be upward pressure on the euro – provided it survives.
---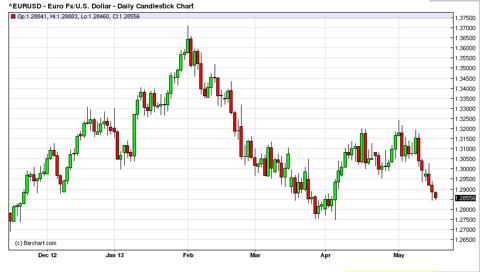 Click to enlarge
(Click to enlarge)
The wilting euro – via BarCharts.