When I think about portfolio construction and decisionmaking, I see a world of a difference between these two actions/thought processes:
(1) I currently own Coca-Cola stock. But I see Coca-Cola (NYSE:KO) trading at over 22x earnings. It usually trades around 19-20x earnings. Since it may be a bit overvalued based on traditional P/E metrics once you adjust for periods of unusual valuation like the dotcom bubble, I think I will sell the stock and buy something undervalued like Total SA (NYSE:TOT), which is offering investors an initial earnings yield of 14% once you adjust for one-time events.
(2) I currently own Coca-Cola stock. Considering that the company appears slightly overvalued by traditional P/E metrics, I think I will just let the dividends accumulate on my personal balance sheet, and be an "owner" of the company in the true sense of the word as I reap the benefits of business ownership by receiving a cash dividend check every ninety days. If fresh cash is available/becomes available, I will use it to buy something I consider undervalued, such as Total SA, to add to the portfolio.
*Note: I felt comfortable characterizing Coca-Cola as a "first-tier" company because the firm has increased cash flow per share in every year since 2000 (with only one exception), almost always achieves 25-30% returns on shareholder equity, has a stable of over 500+ brands, and has been raising dividends annually for over half a century. I felt comfortable characterizing Total SA as second tier because the company is currently paying a 55.0% income tax rate, and is dealing with a national government regime that wants to raise taxes on the company even more.
Both of these moves have the same net effect of lowering the overall earnings quality of the portfolio.
But logistically, they are worlds apart.
The first option is the current temptation for dividend investors. You look around the landscape, and you see that Pepsi (NYSE:PEP), Colgate-Palmolive (NYSE:CL), and General Mills (NYSE:GIS) are trading above their traditional ten-year ranges, and decide to sell on the basis that the stocks are moderately overvalued. The problem with that decision is that you are actually removing income excellence from your portfolio.
Pepsi has been raising dividends since Mark Spitz won seven gold medals at the 1972 Summer Olympics. Colgate-Palmolive has been paying dividends since Babe Ruth's birth in 1895, and General Mills has been paying out dividends since the St. Louis Cardinals baseball team was called the St. Louis Perfectos in 1899. When you have that kind of earnings quality in your portfolio, it may be foolish to discard that kind of dividend safety simply because you think the stock is trading for 10-15% above what you consider fair value because it can be difficult to replace the preeminent dividend machines of the 20th century that continue to do what they have always done.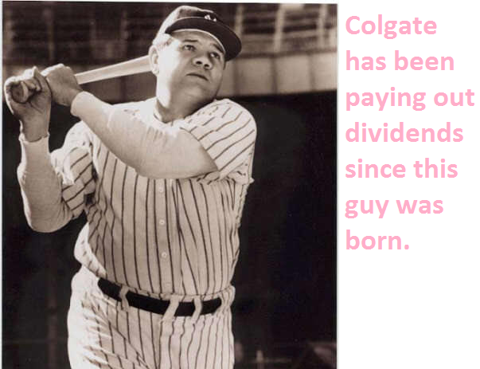 Click to enlarge
The second option, while still diluting the earnings quality of your portfolio by adding a "second tier company", does not harm the dividend foundation that you have laid. You don't necessarily want to mess with your income infrastructure. Adding a few interesting pieces to the house is a much different endeavor than messing with the foundation. I have not sold anything recently, but if I did, I would keep an eye on replacing anything I sell with a stock of equal earnings quality (and if I did have to replace a company with a stock of lower earnings quality, I would feel an obligation to craft a strategy to hedge myself against the effects of that decision).
Every market comes with its own set of risks and temptations, and it seems that a current temptation at today's prices is to remove the dependable consumer staples, utilities, and (certain) conglomerates and replace them with certain bank, tech, and/or energy companies. The risk of doing that is that you could be lowering the earnings quality of your portfolio by exposing yourself to more fluctuations in future earnings (some investors can handle this fact fine - the point is to consciously recognize it and determine whether that risk is worth accepting or rejecting). In my case, I have no problem buying BP at today's prices. But I wouldn't sell something slightly overvalued like Procter & Gamble (NYSE:PG) to do it. Once you have a good thing going in your portfolio, think twice before messing with it. Those reliable dividend payers may be nice to have around when the business cycle turns.
Disclosure: I am long PG, BP. I wrote this article myself, and it expresses my own opinions. I am not receiving compensation for it (other than from Seeking Alpha). I have no business relationship with any company whose stock is mentioned in this article.