On Tuesday, May 14, David Tepper was a guest on CNBC and commented that equities should continue to appreciate as the U.S. Federal Reserve's policies continue, and also after the Fed's buying slows down. Subsequently, Appaloosa Management LP, the hedge fund run by Mr. Tepper, filed its 13F, which reports the fund's equity positions at the end of the first quarter of 2013. According to the filing, the fund scaled back on some of its largest and most high profile positions.
One notable reduction for Appaloosa would be to Apple (NASDAQ:AAPL), where the hedge fund significantly scaled back its exposure to the technology powerhouse. The hedge fund shed 41 percent of the Apple holdings it previously reported having at the end of 2012. Apple declined by about 21 percent during the quarter, following losing about 20 percent in Q4 of 3012.
It is unclear at what price Appaloosa trimmed its Apple stake in Q1, but the 540,000 shares it continued to hold at the end of March have had a volatile six weeks. The hedge fund ended up fully divesting itself of its position in the Nasdaq QQQ Trust (NASDAQ:QQQ) which is about 11.9 percent Apple. Apple shares are up about 3.3 percent through the first half of the Q2, often move by that much in one day, and are still down about 19 percent for the year. See a recent performance chart for Apple: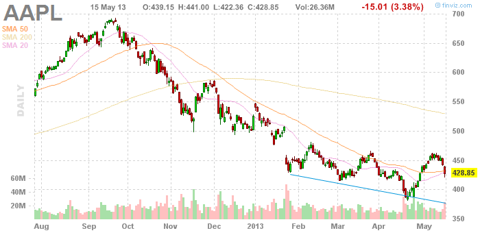 (Click to enlarge)
Appaloosa reduced its stake in several of its financial holdings during the first quarter. Unlike Apple, these financials all appreciated in 2013. Appaloosa cut its stake in American International Group (NYSE:AIG) to 4.3 million shares, from 6.1 million at the end of 2012. See a recent performance chart for AIG: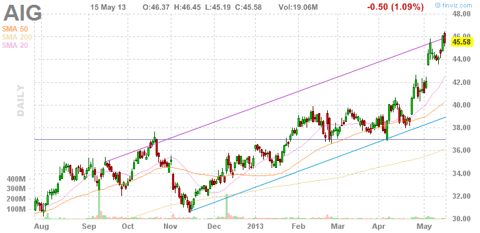 (Click to enlarge)
The hedge fund also reduced its position in Citigroup (NYSE:C) to 8.5 million shares, from 9.2 million at the end of 2012. Appaloosa also disclosed a put option position on Citigroup that provides Appaloosa the right to sell more Citigroup stock. This option position, though possibly just a hedge, may indicate the fund was planning on further scaling back its position in Citigroup during Q2. See a recent performance chart for C: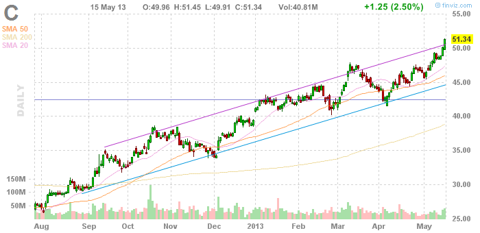 (Click to enlarge)
Appaloosa substantially reduced its stake in J.P. Morgan Chase & Co. (NYSE:JPM). The hedge fund sold 1.3 million shares of the bank in Q1 of 2013 and held one million JPM shares at the end of the quarter. See a recent performance chart for JPM:
Despite the rather significant reductions made to many of these large positions in well known and widely held equities, there appears little reason to not take Tepper at his word regarding his generally bullish long-term attitude towards U.S. stocks. In the case of his financial positions, it appears most probable that Appaloosa was harvesting gains from a sector that has largely outperformed the market and which may be overdue for a minor correction.
In the case of Apple, it appears likely that Appaloosa reduced its position because of the company's downward trend and the mounting concern that the tech giant will find it increasingly difficult to innovate at its prior pace. The sizable Apple position that Appaloosa maintained indicates Tepper is either not immediately abandoning the company or that the prior position was simply too large to divest in a single quarter, and that it may further reduce it in Q2. Nonetheless, given Tepper's continued bullishness, it would not be terribly surprising if Appaloosa again increased its stakes in all of the above-mentioned equities upon any significant market correction in the coming months.
Disclosure: I am long C. I wrote this article myself, and it expresses my own opinions. I am not receiving compensation for it (other than from Seeking Alpha). I have no business relationship with any company whose stock is mentioned in this article.