Back at the end of October I penned a piece titled "Apple Versus Microsoft: The Tide Is Turning." The article postulated that Microsoft's long underperformance versus Apple could well be coming to an end. At the time Apple (NASDAQ:AAPL) was selling at ~$600 a share and Microsoft (NASDAQ:MSFT) was going for ~$28.50 a share. The performance of two tech giants could not be more different since that piece appeared (see chart).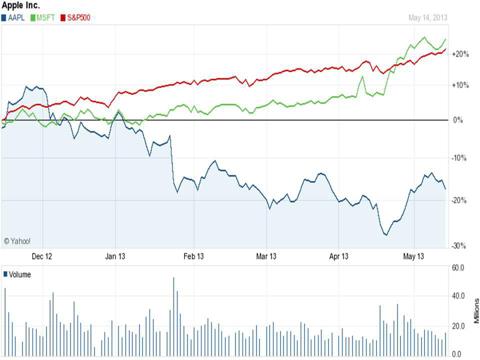 Apple had been in a consistent decline mode until recently. Its announcement in mid-April that it would increase its stock repurchase program by a record $50B and would also raise its dividend by some 15% arrested its sell-off. The news that Apple will be returning ~$100B to shareholders by 2015 provided the biggest two-week boost to the stock since 2009. However, the stock has pulled back over the last couple of trading sessions even as the market has rallied higher.
I believe Apple is probably going to be stuck in a trading range until the next earnings report or any significant new product announcements, which I do not expect until summer. The huge amount of stock that Apple has committed to buying over the next ~3 years should provide solid support under its shares at some point. I will be watching to see if the $419 - 420 level holds. It tested this level several times successfully before falling through past $400 on the fourth try and then bouncing back after Apple's capital allocation decision took hold. I would not be surprised if the shares trade in a narrow range of around $420 and its recent high of ~$460 for some time. Hard to see it going much lower with the buyback, 2.7% dividend and priced at just over 6x forward earnings if you subtract its massive cash/marketable securities hoard.
Microsoft is the much more interesting story right now. It is finally getting some credit for its "cloud" efforts. I even heard a pundit on CNBC yesterday stating accurately that it gets more revenue from its cloud products than any tech player not named Salesforce (NYSE:CRM). Both Azure (Web services) and Office 365 are running at better than $1B in annual revenues and its new Xbox console will be unveiled later this month and should have enhanced streaming capabilities.
Stifel Nicolaus raised its price target to $38 from $36 a share earlier this week on "upcoming catalysts." The stock is still a solid bargain at $33 even given its recent rise. The shares yield 2.7%. I also expect an announcement of a dividend hike in the range of Apple's (15%) and Cisco's (21%) recent payout increases before the end of summer. Microsoft has over $70B in net cash/marketable securities and Apple's recent capital allocation decisions should increase pressure to deliver more for shareholders. The stock sells at just 11x forward earnings (~8.5x if you subtract cash) and is projected to grow revenues in a healthy 7% to 8% range over the next two fiscal years.
In summary, I expect Microsoft's outperformance to continue for a while as new products (Ex, Windows 8.1) hit the market and it continues to grow its cloud businesses smartly. Apple is a deep value stock now but one whose appreciation is probably capped until new product announcements hit the wires. Investors will also be watching second quarter earnings to show its current products are still generating solid results and maintaining market share. One has to love its recent capital allocation moves as well as its valuation, but the stock is probably going to be a second half story in 2013.
Disclosure: I am long AAPL, MSFT. I wrote this article myself, and it expresses my own opinions. I am not receiving compensation for it (other than from Seeking Alpha). I have no business relationship with any company whose stock is mentioned in this article.