The PC industry has been the worst affected segment in the broader technology industry due to the advent of Apple's (NASDAQ:AAPL) iPad. While tablets used to exist earlier, Apple was the first company to create a commercial market for tablets amongst consumers. Google (NASDAQ:GOOG) then took the tablets to the masses by giving Android OS free to white box vendors in Asia. Tablet shipments have surged since iPad's launch in 2010 and almost 200 million tablets will be shipped in 2013. This is a tremendous achievement given that the PC industry took almost three decades to reach the ~350 million mark. Top PC players like Intel (NASDAQ:INTC) and Microsoft (NASDAQ:MSFT) have seen their stock prices flounder even as mobile centric companies like Qualcomm (NASDAQ:QCOM) and Google have seen their stocks touching new all time highs. The lower tier of the PC ecosystem is now fighting for survival as volumes shrink at an increasing pace. Dell (NASDAQ:DELL) is caught in a takeover war, while HP (NYSE:HPQ) has seen its market value dip alarmingly. However, the PC industry has found a powerful new weapon against the tablet onslaught - Haswell. Intel's new 4th generation Core processor will drastically improve the graphics and battery performance of PCs/laptops. This will give a new lease of life to PCs which are suffering due to their battery performance. While tablets can easily give 10 hours or more on a single battery charge, laptops struggle to give 2-3 hours. The current expectations for Intel's new processor are quite low with PC OEM partners being conservative in ordering the new processor. However, if the new laptops /convertibles/ detachables sell well, then these OEMs could become aggressive. I think that the next few months will be crucial in deciding the future of the PC industry. If Haswell fails, then it will be difficult for pure play PC OEMs to survive and Intel may also shift its resources towards the mobile market. However, I think Haswell has a good chance to succeed and remain very positive on Intel's stock.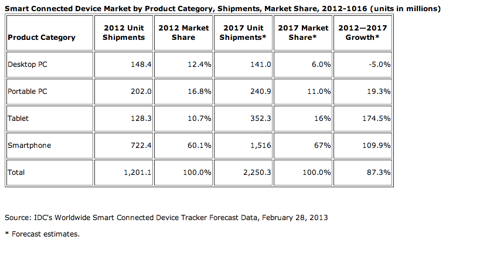 Click to enlarge
(Click to enlarge)
Why is Intel's 4th generation Core processor important?
Intel and Microsoft have been trying to stem the decline in PC shipments as they have the most to lose from PC industry's demise. Intel introduced ultrabooks which were nothing but thinner and more powerful laptops. The high price of ultrabooks and lack of new features meant that tablets continued to cannibalize the sale of higher priced PCs and laptops. However with Haswell, Intel is finally taking the game to tablets. Not only will Haswell power laptop-tablet hybrids, but also consume half the energy of equivalent Ivy-Bridge processors. They will also have much better integrated graphics chips. The icing on the cake will be the pricing, which will be same as that of Intel's current Ivy Bridge chips.
Haswell expectations are low at this point
Nobody expects that Haswell can turnaround the PC industry's fortunes and even PC OEMs have not been too aggressive, given the current state of the PC industry. Even Intel expects that only 20% of its total PC processor shipments in 2013 will comprise of Haswell processors.
The sources pointed out that notebook ODMs' shipments will only grow slightly in May due to brand clients' conservative attitudes and their shipment performances in June will depend on the feedback of Haswell-based models from the market. Intel also estimated that the Haswell platform will only account for less than 20% of its total desktop CPU shipments at the end of 2013.
Haswell is all set to surprise on the upside
The PC industry has performed poorly due to lack of innovation and poor marketing. While smartphones and tablets see new launches and features almost every other week, laptops and PCs remain staid and boring. There has been no major improvement in PCs for the last 4-5 years, as the Wintel duopoly was content to milk the PC cash cow. However, the mobile industry is now threatening the very existence of the PC players. This has made everyone in the PC industry scramble to save their skins. Microsoft has not only made Windows 8 mobile friendly, but also the company is accelerating the Windows product cycle.
Last week, Reller acknowledged that Microsoft plans to have Windows Blue available by holiday 2013. (I continue to hear the release to manufacturing will be around August 2013.) Julie Larson-Green, the head of Windows engineering, also confirmed last week that Microsoft plans to make a public preview of Blue available by the end of June, 2013, around the time of the Microsoft Build 2013 conference.
Intel has already started to ship Haswell processors to its partners and Japanese company NEC has become one of the first companies to release a laptop spec based on the new generation Intel processor. I expect many more computing devices will be released in May and June based on Haswell. I think many of these new products will be big sellers and change the fortunes for many of the PC players like HP, Acer (OTC:ASIYF) and Lenovo (OTCPK:LNVGF).
NEC has apparently jumped the gun, releasing the full specs of a laptop based on Intel's 4th Generation Core processor, aka, Haswell. In addition to the Haswell chip (about which NEC provided little additional data), the LaVie L will sport a 15.6-inch IPS touch screen (1,920x1,080 resolution), 8GB of memory, 1TB hard drive with a 32GB solid-state drive cache, Windows 8, and Microsoft Office Home and Business. The first Haswell processors out of the chute are expected to be the quad-core variety aimed at high-end laptops.
Why the next 7 months are important for the PC industry
I think the next 7 months will be the most crucial time for the PC industry. Major PC OEMs like HP and Dell are under massive pressure due to shrinking volumes. Dell has painted a very bleak picture of its prospects in regulatory filing.
In a 274-page filing Friday with the Securities and Exchange Commission, numerous people involved in the deal-from Dell's own financial chief to those financing the deal-said the tech giant was increasingly fighting for market share in an industry that appeared in a downward spiral. Numerous times, various parties involved in the deal cited weaker-than-expected customer demand, reductions in PC shipments and falling gross margins, according to the filing.
While HP's stock has jumped up from its all time lows, the upside remains limited because its core PC segment is declining. The 2nd largest PC seller Lenovo is aggressively entering the mobile device market. Acer and Asustek are good at small computing devices and are making a rapid transition into the tablet industry. If Haswell fails to revive the PC industry, many of the leading players may completely abandon the industry. Intel will release its next generation Silvermont Atom products during the 2013 holiday season. If Haswell fails to perform, then it is unlikely that the next generation processor "Broadwell" at 14 nm will change anything much. Intel may be forced to shift more resources to the mobile devices space. Microsoft is already changing its strategy to focus on the mobile software industry.
Stock Performance and Valuation
Intel's stock has climbed up in sync with the market rally and is currently trading at ~$24, which gives it a forward P/E of ~12x. While other PC stocks like HP and Dell have pulled back after a strong run, Microsoft has seen a big rally due to better than expected Q113 results. Like Microsoft, Intel has got a number of revenue streams apart from PCs. The market is starting to recognize that the older technology giants have strengths beyond the PC industry and has started giving them a better valuation. Intel also continues to give a very good divided yield.
Summary
I have been bullish on Intel's stock since it was ~$20, based on the company's tremendous technology and manufacturing advantages. It has one of the biggest moats in the technology industry and does not deserve to trade at a discount to S&P 500. Haswell will mark the start of a big product refresh by the company, which will culminate with the launch of "Baytrail", "Avoton" and "Merrifield" chip families during the end of the year. Intel has also got a roadmap for 2014, when it will upgrade the current semiconductor chips to the 14 nm node. This will further enhance Intel's lead over competitors which are still struggling to get to the 20 nm node. Even if PCs do not revive with the Haswell launch, Intel remains a great buy due its server dominance and upcoming mobile processors. I think Intel is a technology stock that you should buy and forget.
Disclosure: I have no positions in any stocks mentioned, and no plans to initiate any positions within the next 72 hours. I wrote this article myself, and it expresses my own opinions. I am not receiving compensation for it (other than from Seeking Alpha). I have no business relationship with any company whose stock is mentioned in this article.