The market is on quite a run right now, and it has pushed 90% of the stocks in the S&P 500 above their 50-day moving averages. Below is a list of the 40 stocks in the index that are the farthest above their 50-days as of late Tuesday afternoon. Keep in mind that 10% above the 50-day is pretty high, so the fact that all of the stocks shown below are more than 11.5% above their 50-days is pretty crazy.
As shown below, Advanced Micro (NYSE:AMD) tops the list at more than 50% above its 50-day! First Solar (NASDAQ:FSLR) ranks second at 44.58% above, followed by Regeneron Pharma (NASDAQ:REGN), GameStop (NYSE:GME) and Actavis (ACT). Other notables on the list include Netflix (NASDAQ:NFLX), JC Penney (NYSE:JCP), Biogen (NASDAQ:BIIB), Whole Foods (NASDAQ:WFM), Coach (NYSE:COH), Disney (NYSE:DIS) and Yahoo! (NASDAQ:YHOO).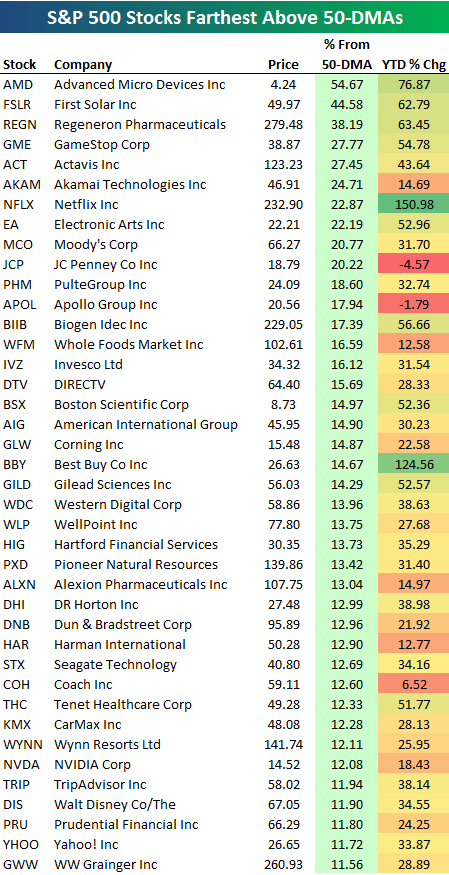 While the S&P 500 is up 15.5% year to date, the average stock in the index is now up 18.07%, meaning an equalweighted index of the 500 names is doing better than the regular cap-weighted index. Below is a list of the 40 best performing S&P 500 stocks year to date. Netflix (NFLX) currently ranks first with a huge gain of 150.98%, followed by Best Buy (NYSE:BBY), Advanced Micro (AMD), Micron (NASDAQ:MU) and Celgene (NASDAQ:CELG). Other notables on the list of 2013's big winners include Biogen (BIIB), Hewlett Packard (NYSE:HPQ), TripAdvisor (NASDAQ:TRIP) and even Campbell Soup (NYSE:CPB).