Digital media and access to high definition theaters create an addiction to movies for many people. This is the reason the trend of watching movies in theaters with friends and family has been increasing over a period of time. The trend of watching the premiere showing is becoming so addictive that movie lovers will do anything to buy a ticket for the very first show. The table below shows the number of movie tickets sold and revenues in a given year. The drop in the years 2010 and 2011 represent the tough economic conditions in the country, but the increase in 2012 indicates the reviving of the economy.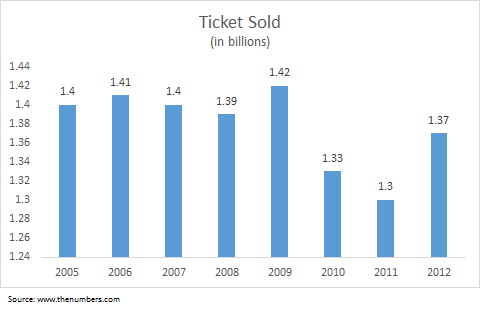 In an effort to promote movies in the future, Warner Bros., a subsidiary of Time Warner (NYSE:TWX), signed an agreement with Wal-Mart (NYSE:WMT) that will allow WMT to give superhero fans a chance to watch the upcoming movie "Man of Steel" a day before its official launch.
"Man of Steel" is an upcoming American superhero Superman movie directed by Zack Snyder, produced by Christopher Nolan, and scripted by David Goyer. Superman returns to theater this summer on June 14, 2013 as Henry Cavill stars as the "Man of Steel." Other major cast members include Diane Lane, Kevin Costner, Russell Crowe, Amy Adams and Laurence Fishburne, which promise to bring the legend of Superman to all-new heights.
Grand promotion:
WMT will start selling the tickets on May 18, 2013 as a part of a massive promotion in its 3,700 retail stores across the country. Fans will have to visit WMT stores to physically purchase a ticket from the electronics department, near the DVD and Blu-ray selection. This is a cunning way to lure fans into the promotional trap because the tickets will allow fans to pre-order the Blu-ray combo pack of "Man of Steel" with an exclusive digital comic written by the movie screenwriter David Goyer.
Moviemakers have long used stores and fast food chains to promote their movies with offers such as Happy Meal toys, but this time the partnership between WMT and Warner Bros. is unique. This is the first time in history that any store has partnered with a movie studio to launch a promotional campaign for a movie this big. I believe that this could be a breakthrough in movie marketing techniques.
Historic efforts:
In the past, WMT has made bets on film promotions, but that had limited appeal because people usually bought the stuff online without any visitation to the store. But this time WMT pulls movie fans into its stores to buy movie tickets and other promotional materials. And if it is successful, then you will certainly see many more promotional materials and special screenings of other movies as well.
Other in-store promotional materials include apps that let movie fans put their faces beside Superman in digital photos, in-store point-and-click access via mobile devices to buy promotional items, and a new line of "Man of Steel" merchandise in stores starting April 28, 2013.
What's in it for WMT:
Besides selling tickets and promotional materials, WMT will be able to increase foot traffic to its stores. Because for big stores like WMT, attracting customers is their biggest problem, due to the increasing trend of online shopping. Online shoppers usually buy only target items as per need. But if they can buy stuff from stores directly, these big stores know how to entice shoppers to buy the items that are at the bottom of their priority lists.
Fundamental Analysis:
Over the years, Wal-Mart has established itself as not only a dominating giant in the retail industry but also as an organization, which is financially stable in terms of top line growth. Since FY08, the company's revenues have projected a CAGR of 5.3%.
.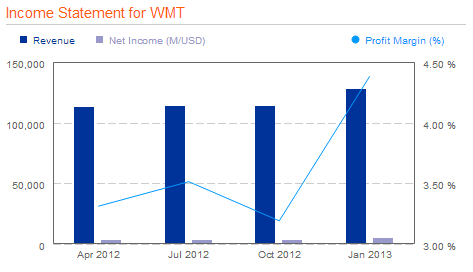 Source: Bloomberg
The above chart shows the financial performance of the company in the last four quarters. The revenues have remained quite stable in the first three quarters. A substantial improvement was witnessed in the last quarter as the net income has showed an upward movement. The overall profit margins have improved substantially from approximately 3.3% in April last year to 4.4% in January this year. This growth in profit margins can be traced back to top line growth. At the same time, the company's revenues are not very volatile which means that the risk associated with these revenues is limited.
Source: YCharts
The above chart shows the increase in quarterly revenues of the three major players in the industry since the beginning of FY09. The stability and consistency in the revenue growth of Wal-Mart as compared to Costco Wholesale Corp. (NASDAQ:COST) and Target Corp. (NYSE:TGT) is evident.
Source: YCharts
The above chart illustrates the (diluted) quarterly earnings per share of the three major companies in the industry since the beginning of FY09. We can clearly see that Wal-Mart has maintained its earnings above its competitors and this has occurred despite the higher revenue growth of competitors. Wal-Mart's risk with respect to volatility in revenues has been very limited compared to its competitors and at the same time, the earnings have projected dominance over other players.
Conclusion:
I believe that the increasing foot traffic into WMT will definitely push its revenues stream upward. Though the impact will not be so big in the beginning, it will attract new customers for WMT. This move will also help WMT to fight off Amazon (NASDAQ:AMZN) - one of the biggest online shopping platforms. The impact of this new movie will be evident over a period of time. On the basis of this news, I am bullish on this stock.
Disclosure: I have no positions in any stocks mentioned, and no plans to initiate any positions within the next 72 hours. I wrote this article myself, and it expresses my own opinions. I am not receiving compensation for it (other than from Seeking Alpha). I have no business relationship with any company whose stock is mentioned in this article.