By Jason Napodano, CFA
On May 13, 2013, Trius Therapeutics (TSRX) announced that it had received a notice of allowance from the USPTO for a patent application relating to the use of its tedizolid phosphate antibiotic in combination with Cubist Pharmaceuticals' (CBST) antibiotic Cubicin (daptomycin). The application claims the use of sub-therapeutic doses of tedizolid for preventing bacterial resistance development when daptomycin is used long term (we assume over 28 days). In this article, we explore the potential utility of this combination, project what the clinical development and regulatory path might look like, and hypothesize the extent to which this new intellectual property will lead to genuine commercial exclusivity. We conclude with a look at what the commercial strategy for such a combination might look like, and provide an estimate of the potential value of this combination to Trius. TSRX is up 30% since PropThink called weakness in the stock "undue" just two weeks ago.
The Increasing Need for Alternatives to Vancomycin
Vancomycin, daptomycin, and linezolid (Zyvox) are the leading drugs for the treatment of infections caused by gram-(+) bacteria, especially those acquired in the hospital. The most common and virulent of these gram-(+) organisms is Staphylococcus aureus. Variants that have become resistant to the antibiotic methicillin are known as methicillin-resistant Staphylococcus aureus, or MRSA. This name understates the danger of these strains, as most MRSA are highly resistant to all but a handful of antibiotics. MRSA and other gram-(+) pathogens are particularly common causes of acute bacterial skin and skin structure infections (ABSSSI), pneumonia, septicemia (bloodstream infections), osteomyelitis (bone and joint infections), and endocarditis (infections of the heart). Generic vancomycin is the most commonly used antibacterial agent for hospital acquired gram-(+) infections, but rising resistance rates are eroding its share of total treatment days.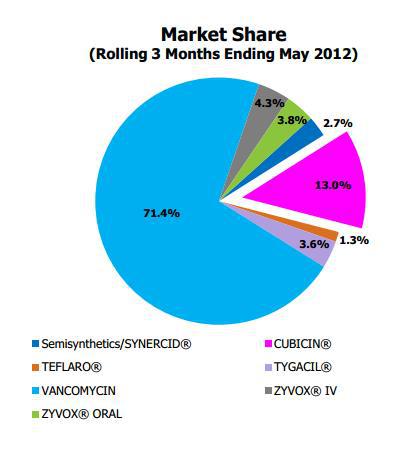 Source: Cubist Pharmaceuticals.
Tedizolid to Fill Much Needed Void
Trius' tedizolid recently completed two Phase III clinical trials, ESTABLISH-1 and ESTABLISH-2, for the treatment of acute bacterial skin and skin structure infections (ABSSSI), and is in Phase I for the treatment of hospital acquired pneumonia. We predict it will become the second antibiotic of the oxazolidinone structural class to reach the market, sometime around the middle of 2014. The prototype of this class, Pfizer's (NYSE:PFE) Zyvox (linezolid), was approved in April 2000, and achieved $1.35 billion in worldwide sales in 2012. Zyvox is approved for the treatment of gram-(+) infections, including hospital and community acquired pneumonia (HAP and CAP), skin and skin structure infections, and any infection caused by vancomycin resistant enterococci (VRE). Its commercial success has arisen in large part due to its excellent activity against a broad spectrum of gram-(+) pathogens (including MRSA), its high barrier to resistance development, and its availability in both oral and IV formulations.
That being said, we believe tedizolid exhibits several advantages over Zyvox, including a bactericidal mechanism versus bacteriostatic, once daily versus twice daily dosing, and a shorter course of therapy at only six days vs. the 10 to 14 days recommended with Zyvox. Another key potential driver of tedizolid is that the drug demonstrates activity against most linezolid-resistant strains. Finally, tedizolid lacks monoamine oxidase activity (an important source of drug-drug and drug food interactions for Zyvox) and apparently has reduced propensity to cause myelosuppression, a side effect that has limited the use of Zyvox for applications requiring long-term therapy.
Cubicin Is Widely Used for Infections Requiring Long-Term Therapy
Cubicin (daptomycin) is a lipopeptide antibiotic used in the treatment of serious infections caused by gram-(+) positive infections, especially SSTIs, bacteremia, endocarditis, and osteomyelitis caused by methicillin-resistant Staphylococcus aureus (MRSA). It is available as an IV formulation only, but is used in preference to Zyvox in many situations because it is bactericidal rather than bacteriostatic, and because of Zyvox's tendency to cause myelosupression as noted above.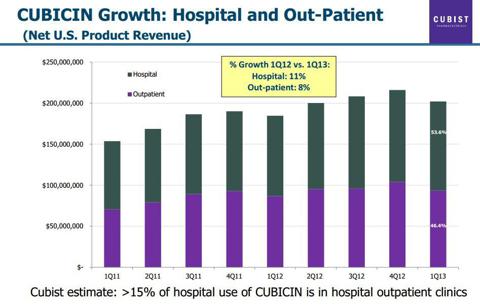 Cubicin worldwide revenues totaled $860 million in 2012. Data from the European Cubicin Outcomes Registry and Experience (EUCORE) dataset shows that the major use of Cubicin is in SSTI, accounting for 44% of treatment days, of which 33% were complex SSTIs. Bacteremia followed at 22%, followed by endocarditis at 12% and osteomyelitis at 6%. Standard treatment of osteomyelitis involves at least four weeks treatment. For example, data from the daptomycin registry concluded that the average duration of treatment of osteomyelitis was 35 days and 37 days for infective endocarditis. Treatment for endocarditis is similar.
A U.S. study of patients treated with daptomycin for more than 14 days found that ABSSSI were slightly more common among this group than osteomyelitis, so we assume that about 6% of Cubicin treatment days correspond to long-term treatment for ABSSSI. Thus it appears that at least 24% of Cubicin treatment days are as part of a long-term therapeutic regimen. These treatment days corresponded to at least $206 million in revenue in 2012.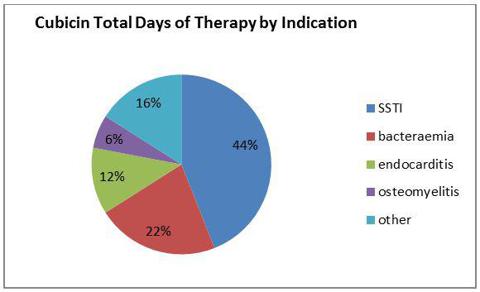 Subtherapeutic Administration of Tedizolid May Prevent Daptomycin Resistance
U.S. Patent Application 13/655,704, "Therapeutic Combination of Daptomycin and Protein Synthesis Inhibitor Antibiotic, and Methods of Use" describes the use of subtherapeutic doses of tedizolid to inhibit resistance development in bacteria treated with therapeutic concentrations of daptomycin. Tedizolid appears to be unique in this mutant prevention activity given that seven other antibiotics tested, including the oxazolidinone linezolid, failed to show the same mutant preventing activity. As described in the application, an MRSA strain was repeatedly cultured in the presence of daptomycin, with the most resistant bacteria used each time to start the next culture. After 30 repetitions, the bacteria were able to grow in the presence of 32 ug/mL daptomycin, compared to only 0.25 ug/mL at the beginning of the experiment.
Similar results were obtained when the culture medium contained both daptomycin and a subtherapeutic concentration of vancomycin, clindamycin, tetracycline, or tiamulin. The best results were obtained with tedizolid, which at one quarter the therapeutic concentration, prevented the minimum inhibitory concentration from rising above 2 ug/mL. A second Trius oxazolidinone and a two drug combination of trimethoprim/sulfamethoxazole gave the next best results.
Regulatory and Commercial Strategy
These findings and the notice of allowance from the USPTO provide Trius with 20 years market exclusivity for combinations of daptomycin with subtherapeutic amounts of tedizolid. From a development and regulatory point of view, this combination is very similar to the combination of a beta lactam antibiotic plus a beta lactamase inhibitor, such as ceftazidime/avibactam. Phase III trials of these combinations are designed like any other antibiotic trial, with demonstration of non-inferiority to a currently accepted standard of care as the primary endpoint. Demonstration of superiority to monotherapy is not required. While a clinical demonstration of superiority of daptomycin/tedizolid to daptomycin monotherapy would be useful, it is likely to be difficult to achieve in practice. We believe that most physicians faced with a patient who will receive extended daptomycin therapy would likely be attracted based on a demonstration of clinical efficacy plus an improved in vitro resistance profile.
The commercial strategy will likely reflect the expiration of Cubist's patent exclusivity in 2017 (composition of matter) or 2019 (dosing), which is about the earliest that a daptomycin/tedizolid combination product could reach the market. The most likely strategy for Trius would be to develop an IV co-formulation of Cubicin with tedizolid in the appropriate proportions (perhaps a once daily dose around 75 to 100 mg). If approved, we believe the U.S. FDA would recognize daptomycin/tedizolid as a "New Combination," and thus provide market exclusivity to Trius.
While this product would likely face some competition from "home brew" combinations of tedizolid with generic daptomycin, we believe the threat of triple damages for willful patent infringement and the extensive paper trail created by the reimbursement process will tend to minimize this risk. Assuming that vancomycin market share continues to fall due to rising resistance and equal market shares for generic daptomycin and daptomycin tedizolid combination therapy among patients requiring long-term treatment, we estimate that sales could easily run in the $350 million per year range.
Conclusion
We have been and continue to be big fans of Trius Therapeutics and tedizolid. We believe the commercial opportunity for Trius' tedizolid monotherapy is significant, at roughly $750 million worldwide. We see the story as mostly de-risked, given the positive and consistent results from the two Phase III studies in skin infections. We believe tedizolid can gain meaningful market share after commercialization based on superior dosing, safety, tolerability, and potentially improved efficacy in a growing number of vancomycin and linezolid-resistant strains. Upside comes from adding bacteremia and pneumonia to the label.
Trius owns unencumbered U.S. and EU rights to tedizolid. The company has partnered with Bayer Healthcare for the commercialization of tedizolid in the Asia/Pacific market. We believe the company is seeking a European commercial partner and in talks to close a deal hopefully soon. As of now, we suspect that Trius would like to keep U.S. rights to tedizolid themselves, and follow the model that Cubist has successfully developed with Cubicin. Keep in mind though that Cubicin will lose exclusivity in 2017. However, the news that Trius has now obtained a patent that could extend the market exclusivity of daptomycin beyond 2017 certainly should raise eyeballs from Cubist management. We believe investors should pay up to $12 per share for Trius -- Cubist could pay a whole lot more. See PropThink's latest report on Cubist, released early this week, here.
Disclosure: I have no positions in any stocks mentioned, and no plans to initiate any positions within the next 72 hours. I wrote this article myself, and it expresses my own opinions. I am not receiving compensation for it. I have no business relationship with any company whose stock is mentioned in this article.
Additional disclosure: PropThink is a team of editors, analysts, and writers. This article was written by Jason Napodano, CFA. We did not receive compensation for this article, and we have no business relationship with any company whose stock is mentioned in this article. Use of PropThink's research is at your own risk. You should do your own research and due diligence before making any investment decision with respect to securities covered herein. You should assume that as of the publication date of any report or letter, PropThink, LLC and persons or entities with whom it has relationships (collectively referred to as "PropThink") has a position in all stocks (and/or options of the stock) covered herein that is consistent with the position set forth in our research report. Following publication of any report or letter, PropThink intends to continue transacting in the securities covered herein, and we may be long, short, or neutral at any time hereafter regardless of our initial recommendation. To the best of our knowledge and belief, all information contained herein is accurate and reliable, and has been obtained from public sources we believe to be accurate and reliable, and not from company insiders or persons who have a relationship with company insiders. Our full disclaimer is available at www.propthink.com/disclaimer.