By Abdul Saleh
Shares of Pervasive Software (PVSW) have moved up nearly 59% (as of close on Tuesday) since its recent low of $3.32 on March 3. Although much of this move may be attributed to the overall trend in the sector itself, the significant share price performance may also be partly tracked to the company's FY2010 outlook. Analyst estimates appear to be slowly trending up for FY2010, although year-over-year comparisons remain relatively flat.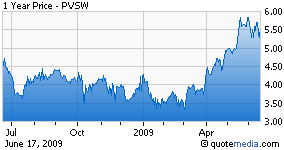 Both Q3 (March quarter) revenues and EPS were at the upper-end of the company's pre-announcement, driven mostly by a large database transaction of around $3.0 million, without which revenues would most likely have come in line with our estimate of $11.3 million. Bottom-line results were also impacted positively by this transaction, adding around $0.04 to our estimate of $0.06 on a pro-forma basis.

The company's Q4 guidance was also in-line with the pre-announcement: total revenues are expected to be in the range of $10.5 million-$11.5 million. GAAP EPS are expected in the range of $0.04-$0.07 and pro forma EPS are expected in the range of $0.05-$0.08.

The company did not provide any guidance beyond the current quarter (June), and the current consensus for FY2010 is for revenues of $48 million and non-GAAP EPS of $0.32. The latter has trended up compared to earlier consensus in the range of $0.25 - $0.30. Part of this may come from integration of new product innovation and expectation of a visible revenue stream from quicker adoption of these products.

Achieving and maintaining consistent profitability in trying times has been the underlying theme in the PVSW story, and the company has succeeded in achieving growth in both the top and bottom lines. This allows PVSW to focus on growth drivers, including accretive M&A opportunities.

The company has roughly $44 million in cash in its balance sheet with no debt and has generated $2 million in free cash-flow during Q3. The company also anticipates further cash-flow generation of approximately $1.5 million-$2.0 million in Q4.