If there was ever a minefield investors might want to avoid, the regional banking sector in the U.S. might be it. However, those paid to navigate through it might uncover some opportunities-- companies like First National Bancorp (NYSE:FNB), according to top-rated banking analyst Mike Shafir at Stern, Agee and Leech.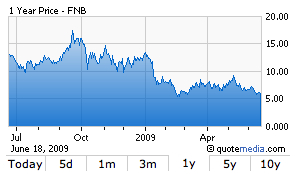 Having been through the eye of the storm, F.N.B. appears to have come through with sufficient capital to conduct its business, consisting primarily of consumer and commercial loans in Pennsylvania and surrounding areas. The company announced a $115-million common equity raise in June that raises tangible common equity relative to tangible assets to 6.0% and its dividend, which was cut in half early this year, and currently yields close to 8%, appears well-covered.

F.N.B.'s current capital position will see it through worst-case-scenario for loan losses based on stress tests by Stern, Agee and Leech. The current ratio of non-performing loans relative to assets are at an 18-year high and will edge higher, but loan loss reserves are not expected to rise much further.

Despite the economic headwinds, F.N.B. managed to grow revenues by 5% in 2008 excluding acquisitions. Moreover, net interest income increased by 29.3% over 2007 on higher interest margins.

Valuations are low based on current profitability says Shafir. F.N.B. stacks up well to the competition based on several measures of profitability and deserves to trade at a substantial premium to its peer group based on valuation measures. It currently trades in line with the peer group, sporting a price that is 10.6 times 2010 earning estimates.

The $8.00 price target for F.N.B. represents a 13.7 times multiple of 2010 earnings estimates and a 30% premium to its current share price.