In a much anticipated announcement, Nokia (NYSE:NOK) unveiled its latest Windows Phone from the Lumia family, the Lumia 925, on Tuesday this week. Nokia had hyped up the event quite a bit, with a video teaser released on Monday captioned "More than your eye can see." Since the video clip focused on the camera lens and dual flash, it fueled rumors that Nokia could unveil the rumored Lumia EOS with a 41 megapixel camera and xenon flash. However, Nokia stock dropped more than 5% on the day of the release as investors appear to be disappointed with the latest addition to the Nokia Lumia portfolio. In this article, I will discuss whether there is any real reason to be disappointed with Nokia's latest phone.
A Short Review
The table below shows Lumia 925's specs compared with competitors' flagship devices: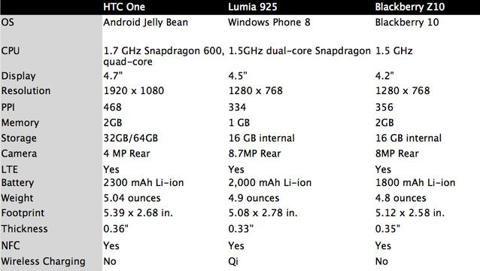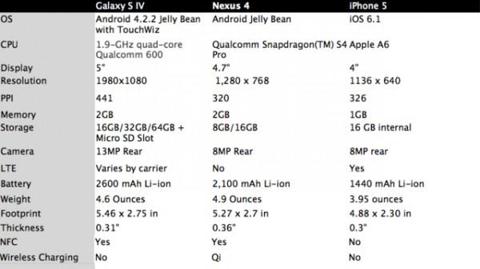 Source: Gizmodo
The Lumia 925 runs on Microsoft's (NASDAQ:MSFT) Windows 8 and is powered by a 1.5 GHz dual-core Qualcomm (NASDAQ:QCOM) Snapdragon S4 Plus MSM8960 processor with 1GB RAM and 16GB internal storage space. The phone features a 4.5-inch AMOLED display with a 1280x768 pixel screen resolution. The phone also comes with an 8.7 megapixel PureView camera.
The reason that investors might be initially disappointed with this phone is that as Nokia's flagship Windows Phone, the Lumia 925's specs won't blow you away. Nokia's latest flagship carries a dual-core processor when competitors Samsung (OTC:SSNLF) and HTC's flagship devices feature quad-core processors. The phone also comes with just 1GB RAM at a time when competitors' flagship smartphones come with 2GB RAM.
Although the internal specifications of this phone are pretty much the same as the Lumia 920, Nokia has made significant improvements to the look and feel of this phone that answer many of the criticisms against the company's previous flagship device. The Lumia 920, which weighed 6.5 ounces was criticized for being on the heavier side; Lumia 925 is almost 1.6 ounces lighter at 4.9 ounces. Lumia 925 is just 0.33 inches thick as compared to 0.42 inches for the Lumia 920 which is also quite impressive. Perhaps the most exciting change in Lumia 925 is that it comes in an aluminum frame, which gives it a premium look and feel and attacks one of the weaknesses of Samsung's Galaxy S4 that is accused of having a cheap plastic build.
Nokia is also boasting that the latest Lumia phone features a significant camera upgrade. On the hardware side, Nokia has added a 6th glass lens to its five plastic lenses based camera in the Lumia 920 and most other smartphones; the additional lens is expected to bring sharper and crispier images. On the software side, Nokia has introduced a smart camera app, which it lauded as "the next generation of image processing software." The smart camera app comes with a burst mode, which allows users to capture ten 5 megapixel images at once, and gives users various editing options including Best Shot, Action Shot and Motion Focus to edit the images to their liking. With the latest hardware and software technology, Nokia claims that the new Lumia produces top quality photos and "the best low light images." Tech blog Gizmodo was certainly impressed by the new camera, calling it "a big step up." "The Lumia 925′s camera displayed incredibly impressive low-light performance," Sam Gibbs of Gizmodo says.
The Carrier Debate
Some investors also appear to be disappointed that Nokia gave Lumia 925's distribution in the US exclusively to T-mobile, which is the smallest nationwide carrier network. CEO Elop's strategy of releasing the company's flagship phones exclusively to specific carriers is a controversial one. The idea behind carrier exclusives is that in return for giving a carrier the exclusive rights to sell a phone, Nokia would expect the carrier to invest heavily in marketing that phone as well as give buyers a healthy subsidy on the device. However, this comes at the cost of a limited addressable market as the flagship device would not be available to subscribers from other networks unless they switch networks.
I believe that some of the criticism against the carrier exclusive strategy is unwarranted. You cannot compare Nokia's Lumia devices to Samsung's Galaxy series or Apple's iPhone that are available on all networks- Nokia just doesn't have the same level of popularity or leverage over carriers. Therefore, to some extent Nokia is forced to give carrier exclusives to make sure that its phones get the right subsidy and proper shelf space and positioning with vendors. I can see what Nokia is trying to do by having three variations of its flagship Lumia phones on three different networks with the Lumia 920 on AT&T (NYSE:T), Lumia 928 on Verizon (NYSE:VZ) and Lumia 925 on T-Mobile. Nevertheless, Nokia's decision to give the Lumia 925 exclusively to T-Mobile and Lumia 928 to Verizon doesn't make sense. In my opinion, it should've been the other way round; Lumia 925 is clearly the better phone and is currently Nokia's global flagship device so it should be made available to Verizon, which is the larger U.S. carrier.
As an investor, it doesn't make that much of a difference though- the U.S. market has never been Nokia's strong point. In Q1 2013, Nokia's Devices and Services sales for the North America region accounted for just 3.5% of its total sales for the segment. What matters is that this is a great phone that is going to be available globally, especially in China through the country's two largest carriers, China Mobile (NYSE:CHL) and China Unicom (NYSE:CHU).
Final Thoughts
Although it's easy to be disappointed with the Lumia 925 due to its similar specs to the Lumia 920 and 928 and its carrier exclusivity with T-Mobile in the U.S., I believe that this would be the wrong way to look at it. The Lumia 925 is sleek, slim, and stylish and comes with one of the best cameras in the market- the phone rectifies most of the weaknesses of the Lumia 920. Yes, there are some people who buy a smartphone based on comparing internal specifications such as the processing power and RAM, but there are many other laymen whose choice to buy one smartphone over the other is based on the outlook, interface and camera performance, and for such people, the Lumia 925 represents a significant upgrade over the Lumia 920. Although I am slightly disappointed by the exclusive deal with T-Mobile in the U.S., I believe that Lumia 925 is another step in the right direction for Nokia.
Disclosure: I have no positions in any stocks mentioned, and no plans to initiate any positions within the next 72 hours.
Business relationship disclosure: This article was written by Dividend Pros' analyst covering technology.