Important Historical and Sociological perspective on current and future vaccination technology
Historically vaccines are thought of as one of the greatest achievements of modern medicine, as is shown by the eradication of Smallpox, near eradication of Polio, and the controlling of Hepatitis A/B, typhus, and rotavirus. However, certain major diseases still remain, such as HIV, Hepatitis C, and Malaria, diseases that if a vaccination were to be developed, would be monumental.
In a sociological perspective the human race has been proceeding into a new era following the successful deciphering of the human genome, an era centered on major biotechnological advances that will greatly impact our lives.
How do these perspective tie together?
Traditional vaccine are created by use of a live or weakened variation of the disease is introduced into a person and creates an immunity to the pathogen should the person be introduced to it in the future. While effective, these weakened vaccines carry a risk that the introduced pathogen can revert to its dangerous form and cause the disease in the vaccine recipient. A second form of traditional vaccination attempts to introduce a dead variation of the pathogen into the recipient to build an immunity, however they are ineffective at generating specific immune responses to many diseases.
With the recent decoding of the human genome we now understand and have the capability to advance medicine through the use of gene therapy, which has most recently been applied through the creation of a new vaccination method known as DNA vaccination.
In DNA vaccination a section of DNA that has been genetically engineered to produce an immunity to a disease is injected into the cells of the body, where the hosts body reads this DNA and uses it as a blueprint to create an immunity. This has been proven to be an incredibly safe method of vaccination as there is no weakened form of the virus being introduced to the vaccine recipient that is able to potentially revert to its dangerous form. It is also remarkably more effective as it can target multiple strains of a disease (such as influenza) instead of being developed for each concurrent strain as it mutates. While still under development for use in humans, DNA vaccines have most recently been approved for use in animals, specifically the treatment of infectious hematopoetic necrosic vaccine for salmon [Novartis (NYSE:NVS)] and for West Nile Virus in Horses [Pfizer (NYSE:PFE)].
One company, Inovio Pharmaceuticals (NYSEMKT:INO), is poised to take center stage in this new era with their role in the development of these DNA vaccines for humans, vaccines which are currently being developed towards treating many forms of Cancer, HIV, Hepatitis C, Leukemia, Malaria, and Influenza.
Inovio - Staff
As discussed in my previous article, Minimizing Risk When Investing In Biopharmas, one of the key criteria when considering to invest in a biopharma is to take a look at the staff that comprises it. Inovio's staff management is composed of strong scientific minds, with a vast history of vaccine development and discovery, and many with ties to big pharmaceutical corporations.
CEO Joseph Kim is an Ex-Merck (NYSE:MRK) employee who worked on the development of HEP A/B, and HIV vaccine R&D.

David B. Weiner, PhD and Chairman is known as the "Father of DNA vaccines" and is a member of the Dept. of Pathology & laboratory Medicine, U of PA.

Philip Greenberg, MD is an expert in T-Cell Immunology and head of the Immunology Program, Fred Hutchinson Cancer Research Center.

Adel Mahmoud, PhD is a professor at Princeton University and a former President of Merck Vaccines responsible for Gardasil, Zostavax, Proquad, and Rotateq.

Anthony W. Ford-Hutchinson, PhD is also a former Senior VP of Merck vaccine R&D, and oversaw the development of Singulair, Januvia, Gardasill, Zostavax, Proquad, and Rotateq.

Stanley A. Plotkin, MD developed the Rubella and Rabies vaccine, and oversaw the Sanofi (NYSE:SNY) flu vaccine.

Simon X. Benito is a former Senior VP of Merck Vaccine division.
Pipeline and Funding:
With a large pipeline, most of which have passed phase I clinical trials showing a best-in-class immune response, many important validating clinical milestones are expected very shortly over the next quarters, most within the first half of 2013.
It is important to note that the funding for these trials comes heavily from the sponsoring institutions, leaving Inovio with $0 in overall debt.
Third-party funding includes:
Bill and Melinda Gates are funding the preclinical development of Syncon synthetic vaccine for malaria
The HIV Vaccine Trial Network is providing $23.5 million in funding for Pennvax-B

The U.S. Military HIV Research Program (MHRP) is sponsoring Pennvax-G

The US Department of Homeland Security towards a Syncon vaccine for foot & mouth disease.

National Cancer Institute

Merck pharmaceuticals
Current Pipeline:
HIV - Pennvax-B / Pennvax-G

Best response in comparison to all other previously tested HIV vaccines with 88.9% (24 of 27 subjects) showing a positive immune response
Cervical Dysplasia (Run by INO)

Phase I showed a strong immune response in 78% (14 of 18 subjects) in one measurement, and 91% (10 of 11 subjects) in another

Of these, 92% (12 of 13 responders) displayed persistent immunization response to the end of the study 9 months later.

Influenza

Syncon, a universal vaccines for influenza stains is a major development as current vaccinations can only target single strains.

Syncon has shown to protect against all 6 unmatched H5N1 strains tested

Syncon has shown to protect against all 9 unmatched H1N1 strains tested

Significant development for the elderly population, who are those most at risk for flu deaths. Has shown to increase generation of infection preventing antibodies by 100%. (from 20% to 40% efficacy in the elderly)

Leukemia

Phase II Clinical results showed an immune response in all subjects who were
Many more targets are currently being added to the pipeline, to include: Malaria, Foot and Mouth Disease, Prostate Cancer, and Hep-C. On top of this, Inovio also has a large Patent pool with 424 patents issued or pending so far.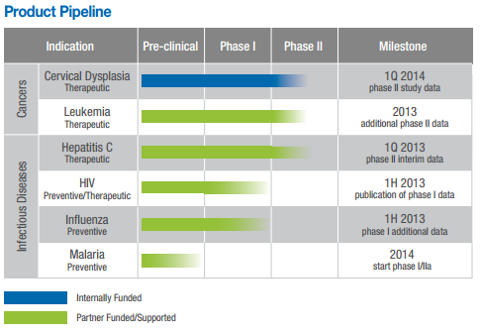 Electroporation
The most important patent is Inovio's own Electroporation technology which is essential to all DNA vaccines created in the future.

By applying an electrical current to the DNA vaccine site, the hosts cell membranes become 'porous and allow the DNA vaccine to enter the cells more effectively.
Financial
Inovio currently has a Market cap of $115 Million dollars, and most recently traded at $0.65. Note the price had dropped from its high of $0.82 to a low of $0.49 as Inovio recently underwent a common offering of $15.1 million in stocks and warrants. Inovio has a total debt of $0, and there has also been extensive insider buying over the last several months.
Share price has recently risen to as high as $0.69 after an announcement on May 14th that in a preclinical study of the SynCon DNA vaccine against Ebola and Marburg filoviruses, the vaccine induced strong and broad immune responses and demonstrated 100% protection against death following a challenge with multiple variants of the pathogen, demonstrating the efficacy possibilities with this vaccination model.
Final Analysis
As a member of the healthcare profession I am extremely excited by the prospects that Inovio's DNA vaccines could hold. For potential investors looking to establish a position in Inovio, I would take a good long look at the company's history, and potential candidates. The fact that Inovio has $0 in debt due to its third party funding, and that it has so much support from outside sources is attractive. Combine this financial stability with the proven capabilities of the DNA vaccination model, and I fully expect this stock to launch on the next positive clinical trial.
Disclosure: I am long INO. I wrote this article myself, and it expresses my own opinions. I am not receiving compensation for it (other than from Seeking Alpha). I have no business relationship with any company whose stock is mentioned in this article.