We have all heard the saying before, but "out with the old, in with the new" has never been more fitting than for the shares of AudioCodes (NASDAQ:AUDC). Last year, the company was stigmatized by poor performance from its legacy business, limited communications by its PR/IR departments, and by a prolonged transitional period in the unified communications (UC) industry. Today, AudioCodes sits in front of a massively strong secular growth curve in Microsoft (NASDAQ:MSFT) Lync/Skype integration, mobile VoIP, and UC going all-in on IP.
History of AudioCodes
AudioCodes' key organic strengths are related to voice. The company started by making chipsets and blades for media gateways that moved voice off of circuit-based networks onto IP networks. In fact, the company was No. 1 in both products in the industry. In the late 1990s, AudioCodes' leadership made a bold move and decided to design and produce its own media gateways to compete head on with Cisco Systems (NASDAQ:CSCO). AudioCodes ended up being No. 2 in the media gateway market. The company didn't go unnoticed by Wall Street as the shares rose to $76 per share and split 2:1. I believe the company is now poised to become a top player in the Microsoft Lync and SBC markets. Can history repeat itself? I believe so.
Out With the Old
AudioCodes has been faced with a deteriorating legacy business over the past 1.5 years. Unquestionably, the company has been put in the penalty box for its legacy business, dropping much faster than the pickup in its unified communications business as the poor economy has tightened wallets across the globe. The cause and effect of this was that it created a company that has preferred to stay within itself rather than open its doors to the investment world. The company had next to nothing to communicate to Wall Street during this time. AudioCodes' management decided to focus on its core strengths (technology and R&D), restructure the company to economies of scale (a 10% reduction in operating expenses), and take advantage of this undervaluation by buying back 10% (it borrowed $10 million) of the company's stock. That strategy has set the company up for a new beginning that I believe will bring many positive events in the months to come.
In With the New
During AudioCodes' recent quarterly conference call, it showed the Street that the tide has positively turned for this innovative technology- and now software-driven small capitalization company that is in the process of making a brand out of itself. The company reported its second consecutive quarter of profits, cash flow generation, and increased confidence in its core offerings. I now believe for the first time the company is without fear of its dying legacy business as its new business opportunities outweigh the potential weakness in legacy. A big risk has now been neutralized. This was reinforced by AudioCodes' CFO Guy Avidan who, in a recent interview with Globes, said:
'It may look like nothing has happened in revenue, but we're seeing big changes in our production lines and activities,' said AudioCodes CFO Guy Avidan. He said that, in line with the company's expectations, there has been a big change in its sales mix, with lower sales of gateway solutions (which connect VoIP networks with older networks) and a rise in SBC sales (which connect different VoIP networks) and products for the unified communications market.

'This is a change, and it's very good for us,' said Avidan. 'We usually feel it when one market falls, and we pray that a new market will rise, and this has already happened here. Our indication is Microsoft, which reported more than 30% growth in unified communications.'
Here are some of the positives that bring new light to the company and its shares:
Microsoft
Microsoft is pushing hard and seems to be ahead of its June schedule for integrating Lync with Skype. This launch will be the biggest and strongest driver in AudioCodes' business model in over a decade since its gateways were introduced to the market. Microsoft, with its deep pockets and widespread footprint in the enterprise, will undoubtedly be pushing voice. Currently, Microsoft has millions of seats using Lync without voice, many believe these seats will add voice with the integration of Skype this June. This could provide a mojo factor to the shares. AudioCodes is growing its pipeline with Lync and is dealing with much larger companies than it dealt with in the past. These type of deals could be announced on the company's next conference call.
Oracle Acquisition of Acme Packet
The acquisition of Acme Packet by Oracle (NASDAQ:ORCL) has opened doors that might not have been so easily opened prior to the takeover. AudioCodes is prepared to offer Acme Packet, Sonus Networks (NASDAQ:SONS), and Cisco Systems tough competition in the SBC market. The company believes that the SBC market will outpace the gateway market of 2002 as the global workforce connects to an all-IP-based network. Remember, you have a chance to buy AudioCodes at less than 1x sales just as its SBC product offering is ready to compete with the industry players it once held its own against in legacy offerings. I say, don't bet against the R&D of AudioCodes at these discount prices. I believe that it is with SBCs that we see AudioCodes' greatest strength. The company has 20 years voice experience and I believe it will be able to use that experience to design new SBCs that will take them to a new level of sophistication. As a result, AudioCodes will see its share in the SBC market rise from its current 6% to the 20%-30% level.
Software
Software is now a key part of its product portfolio. This is a new page for AudioCodes. The company stated on the call that its SmartTap call recording and logging software is generating new large opportunities in the Lync environment. The company also recently released its session enterprise management (SEM) solution and it is now also sold separately from the SBCs. This software-based product offering allows IT managers and CIOs to manage and troubleshoot their voice networks from their own computers. This new revenue stream will undoubtedly bring software type gross margins of 80%-85%, which will allow profits to flow to the bottom line that much faster and create bigger operating leverage in future quarters.
Professional Services
The company has made a concerted effort to utilize its global presence and its universal know-how and put together a world-class services group. I believe this business group will add consulting services in short order as they understand and have experience in all the legacy and current systems, which will allow them to bring cost-effective solutions to small and medium businesses and large enterprises. This is another area that will grow fast and bring profits to the bottom line. AudioCodes has been in and out of enterprises for over 10 years now and has worked on all systems in the industry and with many different system integrators, which makes AudioCodes attractive to future professional service contracts or deals. This business also carries above corporate average gross margins.
Mobile VoIP
The company touched on its acquisition of MailVision and relayed to investors that in early 2014 it will introduce its new mobile offering. I believe this offering is the real deal with big revenue implications. I also believe that we'll hear or see something on this product in late 2013. I'm not backing away from AudioCodes being a mobile VoIP play in the slightest. I think the company tried to blanket my outlook in order to keep it a surprise for the future. Remember, the world has gone mobile with smartphones and they'll undoubtedly go VoIP as it's cheaper and more consumer friendly with usually a social networking feel. This product offering has the potential to bring mojo to the shares whenever AudioCodes comes to the surface with it.
The Great Communicator
AudioCodes CEO Shabtai Aldersberg had one of his best conference calls in recent memory. Over the past year the Israel-born technologist never put that much effort in his calls as his native tongue has tended to get in the way, which made it tough listening for most investors. This past call, however, Shabtai took great pride in delivering his story, even though he maintained a conservative guidance. I believe this is where real investors make money in a name. The CEO's demeanor has changed and he has a story to tell. At one point, he described the potential for "hockey stick" growth to come in the next nine to 12 months. We welcome this new attitude.
A Unified World
The industry seems to be ready to accommodate an all-IP-based voice network. Enterprises are now comfortable with the cloud vs. expensive on-premise allocation as it's much cheaper and much more flexible to an enterprise. This is allowing Microsoft, Cisco, BroadSoft (NASDAQ:BSFT), Avaya, Genesys, and a host of others to push their systems to more welcoming CIOs around the globe. This full court press is getting up to speed on par with when corporations were convinced to jump off circuit networks to gateways back in early 2000. The enterprises are also embracing the theme of out with the old and in with the new.
Click to enlarge image.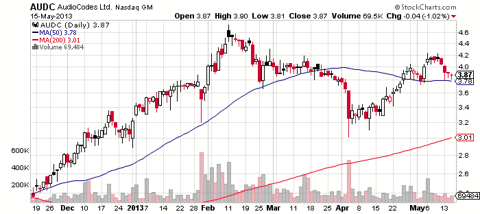 Looking at the daily chart, we can see that the 50-day is acting as support as it did when the stock moved from $2.50 to $4.75. Stocks generally make large moves in three up waves and two down or sideways waves. I believe that AudioCodes is in the beginning of its second wave up, which will take the stock to $7.50-$8.00 in the next couple of months. It could be sooner if good news hits the tape.
Microsoft's Launch of Lync/Skype Gears Up AudioCodes for Outperformance
As mentioned earlier, Microsoft will launch its Lync platform integrated with Skype for the first time this June. AudioCodes is set to benefit from this release on many fronts, as the media will surely be giving Microsoft a lot of attention on this release and enterprises will be embracing it for future systems. AudioCodes is already seeing large deal flow and this will only bolster it in the weeks to come. AudioCodes now has had two solid turn around quarters behind it and it is setting the stage to exceed expectations in the coming quarters, which should attract large institutional buying. I believe AudioCodes is setting the stage for a solid run to $6 per share in the next four weeks as Microsoft puts the spotlight on Lync/Skype and investors see the discount and upside to AudioCodes' shares at these prices.
Price Targets
Short-term price target (30-90 trading days): $6 per share
Medium-term price target (90-120 trading days): $8 per share
Momentum long-term price target (120-180 trading days):$10-15 per share
Conclusion
The shares have been stuck in a trading range as the 200-day moving average has crept up to $3.01 from $1.80 when we first initiated a buy on the shares. This is a strong indication of rising support and decreased risk in the shares. This 200-day moving average is indicative that the company has finally turned itself around. Indeed it has as the operations are profitable, cash flow positive, and debt levels are much lower over the past two quarters. Not only is the company firmer, but the whole UC industry has begun to show strength. This bodes well for the company to begin to underpromise and overdeliver in the near to long term.
In addition, AudioCodes sits in a strong position to be acquired by a system integrator like AT&T (NYSE:T), a UC player like Microsoft, or a legacy box maker that is looking to capture the enterprise business, like Hewlett-Packard (NYSE:HPQ) or Dell (NASDAQ:DELL). I'm making the call that AudioCodes has left its old investors behind over the past 12 months, and will have a bunch of new investors once Microsoft releases Lync or AudioCodes announces its SBC news. I think AudioCodes will be out as a standalone company and in with a new company in the next 12-18 months at prices north of $8 per share. AudioCodes has too much know-how and there are too few players left to be acquired for AudioCodes to be left out with the old.
Disclosure: I am long AUDC. I wrote this article myself, and it expresses my own opinions. I am not receiving compensation for it. I have no business relationship with any company whose stock is mentioned in this article.