By Timothy Lutts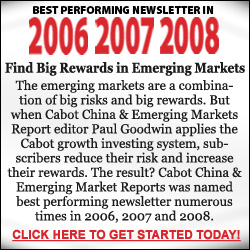 I look around to see what history is happening in the world now and I see above all the rapid development of China. While here in the U.S. we struggle to regain positive economic growth, this year China's economy will grow 8% … maybe more.
Which means China is a great place to find growth companies!
One of my long-term favorites in the country is Ctrip.com (NASDAQ:CTRP), which has the country's biggest travel-related Web site. The company's revenues were $99 million in 2006, $160 million in 2007 and $215 million in 2008. Earnings were equally impressive.
The stock came public in 2003 and had a great run into 2008, with the stock's progress mirroring the company's. But when the global recession took hold, the stock plummeted from 71 to 16, par for the course for a fast-growing highly respected enterprise.
Thursday, with the economy back on the rails and expectations for Ctrip's growth once again healthy, the stock is working hard to recover lost ground.
In fact, a month ago, when the stock was trading at 38, Paul Goodwin, editor of Cabot China & Emerging Markets Report, made it his featured recommendation, writing, "At the heart of Ctrip.com's success is its excellent Web site. If you go to http://www.ctrip.com, you will arrive at a page that asks you to choose your language, with the choices being Mandarin, Cantonese and English. The layout is clean and easy to understand, with tie-ins to packages, car rentals and the company's award-winning call center. China has developed to the point at which it doesn't make a lot of sense to describe a company as "the Chinese Google" or the Chinese anything. But looking at this Web site, you can see why Ctrip.com was known for years as "the Chinese Expedia."
In the first quarter, the company saw revenues grow 21% to $58.6 million, while earnings climbed 19% to $0.32 per share.
After that report, the stock climbed as high as 48, but it's now pulled back to 42, and I think it's a decent buy here.