As analysts (myself included), we can feverishly study the numbers and pore over research that ultimately results in a high level of false confidence in less-than-precise forecasts. Thus, making a quick decision to purchase a distressed stock gets bogged down in details. I believe a back-of-the-envelope approach can help investors be nimble enough to act when prices are out of line with fundamentals. Such is the case with Apple (NASDAQ:AAPL), and I will present to you what I call my "back-of-the-legal-size-envelope" valuation that has helped me opportunistically profit with AAPL. This rough valuation method helps to understand the downside risk and value of AAPL's existing business, while also focusing on incremental upside from new product revenue. Here are my forecasts for each operating scenario through 2013 (I have also included my base forecast and worst-case forecast details below):
Existing business worst case -- $370 @ 9x EPS
Existing business base case--- $557 @ 11x EPS
New product release/existing worst case -- $383 @ 9x EPS
New product release/base case -- $570 @ 11x EPS
Legal-Size-Back-of-Envelope Process
Sure, I could run an overly complex DCF valuation generated from spreadsheet with a balance sheet that perfectly balances and an income statement where margins are broken down on a product by product basis. I have done so previously and didn't even follow my own advice to sell when I forecast for a $700 price target. For this purpose, I am just concerned with understanding a range of earnings and applying a rationale EPS multiple to those outcomes. Share appreciation, or depreciation, in the near term will be more a function of changes in trading multiples than bottom-line growth. The only inputs that are necessary for this forecast are a historical breakdown of product revenue, iPhone ASPs, consolidated net margins, common shares outstanding (don't forget the massive share buyback program), and an educated guess of potential revenue from a TV/Watch product release in 2013.
Worst-Case Scenario
I am a value investor at heart, so studying the downside risk is the first step. Accordingly, let's talk qualitatively about the downside potential in shares over the coming years and the tech industry. It is not uncommon for large-cap tech companies as a whole to command a lower multiple than other sectors. This is due to product innovation weighing on investor sentiment and future growth potential. Think about it: Tech companies are in a continual innovation cycle where competitive advantages are acutely temporary and pricing power matched to inflation doesn't exist. A product is released and competition enters to drive down prices within just short of a few years.
Compare this to a food company where a firm with pricing power can consistently raise prices to match or outpace inflation without much innovation other than marketing. This uncertainty is one reason why multiples for tech firms are lower than other sectors (yes, some tech firms temporarily command high multiples). While this is the case, a multiple in the high single digits signals some sort of distress. Either it's a result of actual business erosion or irrational sentiment, which is still to be determined in AAPL's case. I tend to believe the latter as the AAPL brand and ecosystem are one of the strongest we've seen, and that can't be ignored when looking at the downside.
In all likelihood, AAPL will grow its EPS over the long term, but what if other handhelds gain ground quicker or what if investors determine shares only deserve a multiple of 8.0x EPS? These are the risks that should be understood in the context of risk vs. reward. I believe the greatest risk for AAPL investors pertains to iPhone units sold and the P/E multiple that investors place on shares. AAPL shares did fall below 9.0x EPS recently, although this is in distressed territory and investor sentiment was misaligned with actual results. Knowing this, I have applied a multiple of 9.0x 2013 EPS to arrive at my price target of $370 in the worst-case scenario for AAPL's existing business. This also assumes iPhone units sold of 137 million and a profit margin of 21.0%.
AAPL recently reported a 23.5% profit margin and is on track to sell more than 137 million units in 2013. Beyond 2013, I have assumed iPhone ASPs will decline 22.0% as a cheaper phone is released, and units sold will be reduced by 9.0% in 2014. These assumptions would result in large losses for shareholders in 2014 as the iPhone comprises over 51.0% of revenue ($357 target through 2014). Remember, I am making rough, aggressive downside estimates to understand how share prices will react in 2013 and beyond. In an operating scenario where AAPL introduces a new product that generates $5 billion and $10 billion in 2013 and 2014, respectively, shares would reach as low as $383. Buoying shares somewhat are AAPL's buyback efforts wherein antidilutive efforts will add approximately $25 to share prices at 9.0x EPS. I am assuming AAPL will use all of the $17 billion in recent debt issuances to repurchase shares throughout the year, and $15 billion/year beyond 2013.
Worst-Case Scenario
Click to enlarge images.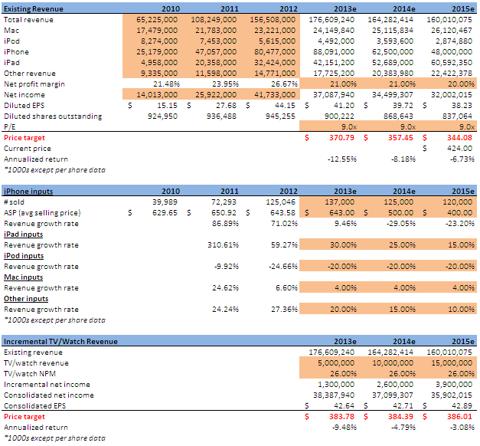 So, Let's Be More Realistic -- The Base Case

It would be unjustified to assume that a company with AAPL's brand power would deserve a single-digit multiple in the coming years. Simply put, AAPL is not distressed. Rather, the growth trajectory is less steep. The primary reason investor sentiment has declined so rapidly was primarily driven by headline risks. AAPL is now sharing more of its cash hoard with investors and there is more certainty about its growth path. In such a scenario, large-cap tech shares trade in the low single digits. I am assuming AAPL shares will trade at 11.0x EPS in 2013, and this would result in a $557 price target through 2013. Share prices in the next years will benefit more from an expansion of multiples and reduced share counts than from bottom-line growth.
My base case actually assumes a 4.0% decline in net income in 2014 -- mainly a result of declining ASPs and iPhone units sold. The offsetting factor is the massive repurchase program that AAPL is pursuing and shareholder-friendly companies can typically command a higher multiple than in the single digits. I believe a historically unprecedented shareholder return program equating to $100 billion should lead to higher multiples, in addition to clarity on product release. This forecast also lends some conservatism to assumptions in that margins will be pressured further with units sold decreasing to 140 million in 2015. Incremental income from a new product release results in even better share prices, with a target of $570 for 2013. Note that in both scenarios share price growth will be somewhat hampered by a reduction in iPhone ASPs. This evidences the importance that the iPhone plays into the total revenue pool and how a new product release will need to fill in the gap of lost iPhone sales. This is certainly a concern for investors as 2014 arrives.
Base-Case Scenario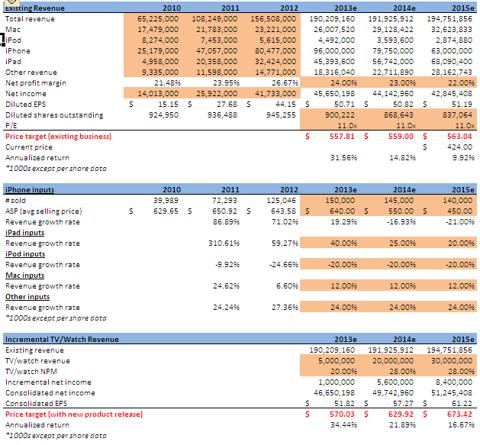 Putting It All Together
At AAPL's current price of $438, the risk/reward potential for shares in 2013 approximates 2.5x. Adding incremental new product releases, shares offer 2.8x risk/reward. Investors could possibly experience higher returns if new product revenue surpasses my rough estimate of $5 billion and margins stabilize. I used this valuation approach to quantify the risk inherent to share prices ahead of the last earnings report, when I purchased additional shares at $395.
As AAPL has sold off the last two days, I wanted to share a simple yet thorough approach that has helped me make a quick buy decision. I am happy when I can achieve a risk/reward of 2.0x or greater, and further declines will increase the probability of a profit opportunity by a good amount. Let's be honest -- your guess is as good as mine in the near term and investor sentiment's effects on price swings are a tricky factor to pin down. Risk/reward is a useful metric to utilize in this case as it can place the probability of success in investors' hands. If am wrong with my thesis, I'm OK with only losing approximately one-third of what I can gain being correct.
Disclosure: I am long AAPL. I wrote this article myself, and it expresses my own opinions. I am not receiving compensation for it (other than from Seeking Alpha). I have no business relationship with any company whose stock is mentioned in this article.