By Matthew Hougan
A new analysis by Vanguard Group founder John Bogle indicates that investors are generally making poor decisions when buying and selling exchange-traded funds.
During a webinar hosted by the Journal of Indexes and IndexUniverse.com on Wednesday, the indexing pioneer unveiled the results of his recent look into investment tendencies by ETF investors. Bogle now provides independent research and analysis through his Bogle Financial Markets Research Center.
Bogle compared the returns of 79 ETFs in a variety of major asset categories over the past five years to the returns of the average dollar invested in those ETFs over the same time period. It's a common statistical practice in mutual fund analysis, allowing investors to see whether they're buying at the bottom and selling at the top, or vice versa.
While investor returns typically trail fund returns by some margin, Bogle expressed surprise at the degree to which investor returns suffered in ETFs.
"These numbers … are unbelievably consistent," said Bogle. "Out of 79 ETFs we covered, 68 had investor returns that were … short of the returns earned by the funds themselves. "
And by no small margin. The degree of investor-lag ranged from 0.4% per year for large-cap value funds to -17.9% per year for financials ETFs. Investors seemed to do the worst in high-profile and volatile sectors like emerging markets, financials and REITS.
click to enlarge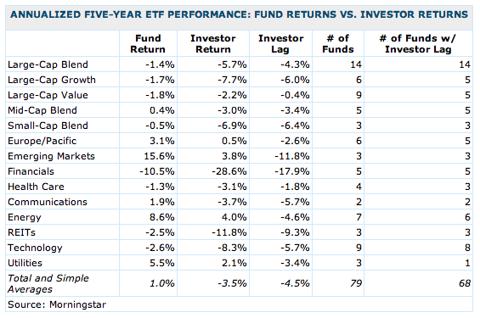 On a simple average basis, ETFs in the study delivered a 1% compounding return over the trailing five years, translating into a cumulative gain of 6%. Investors, however, earned a -3.5% average compounding return, translating into a cumulative loss of 12%.
"When you combine those, you're talking about 18% of investor capital that's been lost by all this trading," said Bogle.
To hammer his point home, Bogle compared the returns of investors in Vanguard ETFs with the returns of investors in comparable Vanguard mutual funds. The study, looking over the same five years, confirmed that investors trading in and out of Vanguard ETFs did worse, on average, than investors in Vanguard mutual funds.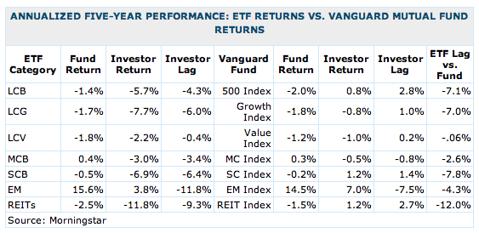 "Investor lag in the ETF category is large and significant," said Bogle. "The … mutual funds have a lag here and there, but in general, come very close to the markets they are in.
"So we have evidence—strong evidence—that exchange-traded funds, because of the timing that goes on in them, are not acting in the best interest of investors. Or, that investors are not acting in their own best interests, which may be a better way to put it."
Data for the study were compiled by Morningstar. The study looked at monthly cash flows and monthly fund returns. Bogle noted that this is not a precise format, as daily cash flows into and out of the funds could skew the results.
"Is that way of aggregating data (on a monthly basis) precise? No it is not," said Bogle. "But I'm persuaded in the absence of compelling data on the other side that these data are telling us something that is worth knowing … that mutual fund trading is about as valuable as trading individual stocks, which is to say, not valuable at all, and harmful to your returns."
A complete replay and transcript of the webinar will be available on IndexUniverse.com on Thursday.